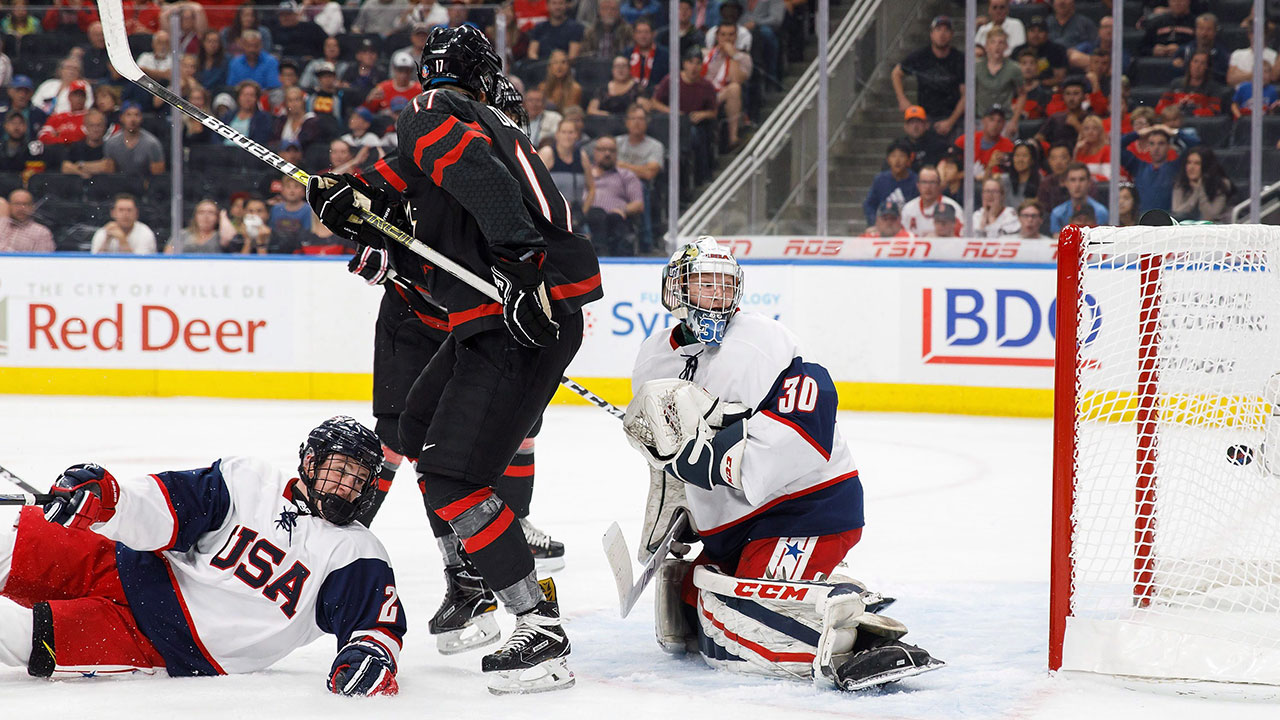 EDMONTON — An administrative decision by the organizers of the Hlinka Gretzky Cup ended up sending Canada to the tournament's gold-medal game.
Josh Williams scored twice, including the overtime winner, as Canada advanced to the final of the under-18 hockey tournament thanks to a controversial 6-5 victory over the United States on Friday.
Canada was credited with a goal on a shot by Dylan Cozens just as time expired in the third period. However, as there is no video replay available at the tournament, the goal stood, sending the game to overtime. Williams put away the winner 1:44 into the extra period.
"Prior to the competition, at the directorate meeting, it was decided there would be no video review because the three venues being used don't all have that capacity," said Hockey Canada president and CEO Tom Renney. "In the best interest of consistency and fairness throughout all three venues, it was decided by all teams — and signed off on — that the officials on the ice would make that call, as they did tonight.
"I feel for everyone — for our kids too. They know what happened."
Alexis Lafreniere, Jamieson Rees and Xavier Parent also scored for the Canadians in the semifinal. Nicholas Robertson had three goals and Aaron Huglen and Luke Toporowski replied for the Americans.
"It's hard for the guys. They played hard and battled valiantly and I think they deserved better. But we have to take the result and be men about it. It's difficult for these young kids, though," said U.S. head coach Cory Laylin.
"It's a bitter pill to swallow, for sure," added USA Hockey assistant executive director of hockey operations John Vanbiesbrouck. "It was determined before the tournament that they weren't going to use video review so we have to accept our fate."
Canada will play Sweden, which they defeated 4-3 in their final round-robin game on Wednesday in the gold-medal match on Saturday.
"For sure, if it would have been us we would have been frustrated," said Canada head coach Andre Tourigny of their tying goal being allowed. "It was a really tight call. The rules are the rules, and the call is the call.
"Our focus now is what we can do better in the final."
Canada has won gold 21 times and medalled 24 times in the 27-year history of the tournament, including winning gold in nine of the last 10 years.
The U.S. will face Russia for bronze.
The Americans started the scoring with a power-play goal 3:20 into the game, although play continued for more than a minute before it was determined that a high shot by Robertson (Peterborough, OHL) had actually gone in to the net before quickly exiting.
Canada …read more
Source:: Sportsnet.ca
(Visited 1 times, 1 visits today)