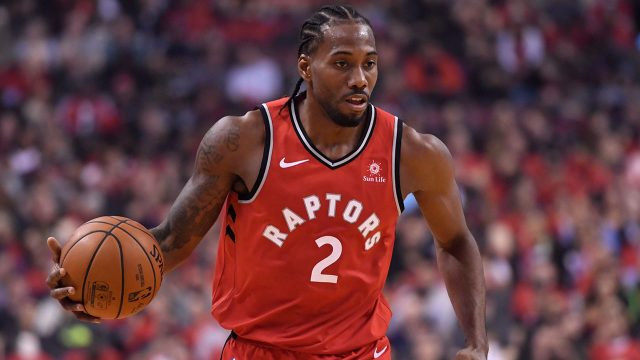 LOS ANGELES – What promised to be the most exciting match-up the early days of this Toronto Raptors season could possible bring had the air let out of it about 90 minutes before the ball went up at Staples Centre where LeBron James was waiting.
It didn't matter. All the Raptors did was go on to prove they don't need Kawhi Leonard to have fun in L.A.
Stream Raptors basketball on Sportsnet NOW
Stream marquee NBA matchups from around the league, including over 40 Raptors games. Plus, get the NHL, MLB, Premier League, CHL and more.
The last time the Raptors saw James he was breaking their hearts in Cleveland, handing them their third straight playoff loss, their 10th straight post-season defeat. Tumult followed. Good men got fired. A great player got traded.
It was a tumultuous time.
But the result was the Raptors ended up with Leonard, one of the only people on the planet Earth who can credibly claim that they bested James in a playoff series – as Leonard's 2014 NBA Finals MVP award would suggest.
How could you not be excited at the prospect of the Raptors facing James with one of the handful of players in the NBA that can match-up with him on either end of the floor?
But an innocuous-looking play with just over two-minutes left in the Raptors' win Friday night in Phoenix that sent Leonard straight to the locker-room got in the way of some must-see TV as Raptors head coach Nick Nurse delivered the news in his pre-game media availability.
"He is out for the game," said Nurse, an imaginary balloon fluttering to the ground behind him. "He has got soreness in his left foot so he is out."
Leonard's absence might have ruined an early-season storyline but it didn't affect the Raptors. Not one bit.
Instead they turned in as memorable performance as imaginable on the NBA's brightest stage as they jumped on the Lakers early and stayed on top of them late in a 121-107 win that improved the Raptors record to 9-1 while dropping the Lakers to 4-6.
It was never in doubt. Not even a little bit.
if ( "1" == true && 'undefined' !== typeof window.getIndexAds ) {
var so = {preroll:{1:{1:{siteID:191888},2:{siteID:191889}}}};
adServerUrl = window.getIndexAds( 'http://pubads.g.doubleclick.net/gampad/ads?sz=640×360&cust_params=domain%3Dsportsnet.ca&iu=%2F7326%2Fen.sportsnet.web%2FVideo&ciu_szs=300×250&impl=s&gdfp_req=1&env=vp&output=vast&unviewed_position_start=1&ad_rule=1&vid=5857590499001&cmsid=384', so, permalink);
} else {
adServerUrl = "http://pubads.g.doubleclick.net/gampad/ads?sz=640×360&cust_params=domain%3Dsportsnet.ca&iu=%2F7326%2Fen.sportsnet.web%2FVideo&ciu_szs=300×250&impl=s&gdfp_req=1&env=vp&output=vast&unviewed_position_start=1&ad_rule=1&vid=5857590499001&cmsid=384";
}
$el.after( unescape("%3Cscript src="" + (document.location.protocol == "https:" ? "https://sb" : "http://b") + ".scorecardresearch.com/beacon.js" %3E%3C/script%3E") );
$( document ).one( 'ready', function() {
$( "#video_container-336114" ).SNPlayer( {
…read more
Source:: Sportsnet.ca
(Visited 3 times, 1 visits today)