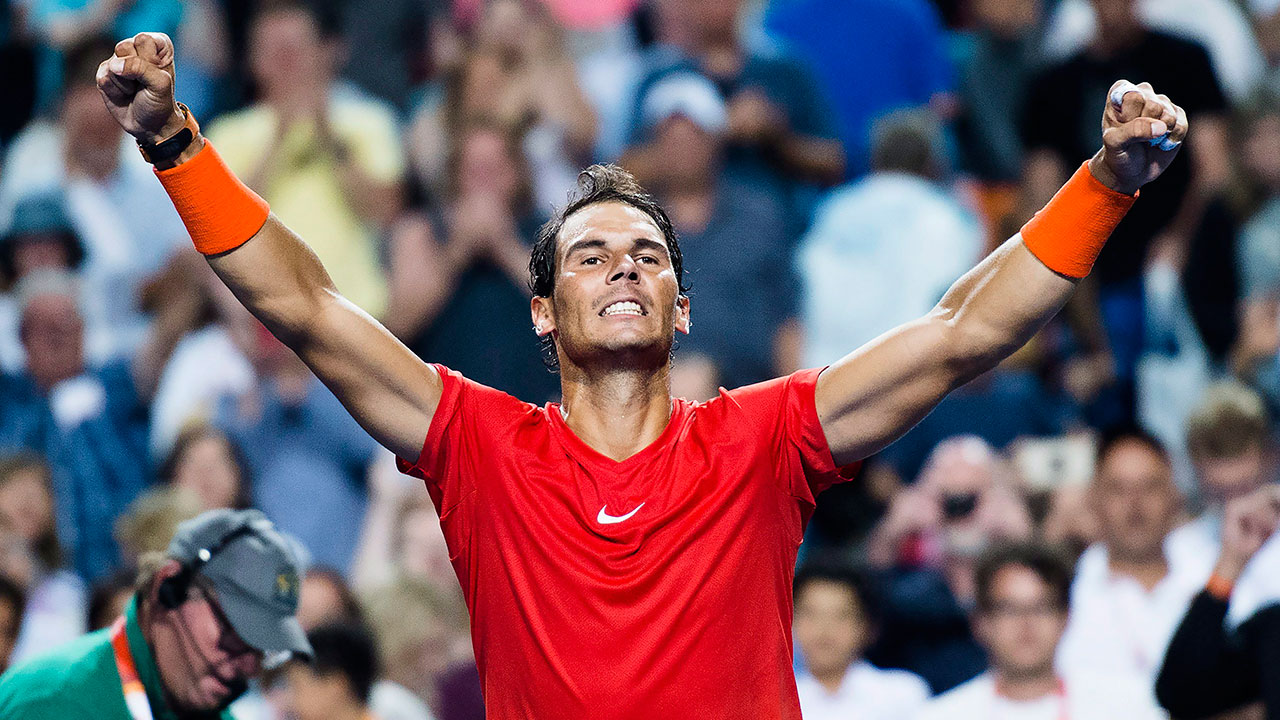 TORONTO — For more than two hours under Friday night lights, the World No. 1 had been grinding and fighting, and then finally he stared down match point in this Rogers Cup quarterfinal.
Rafael Nadal fired his backhand into the net — and then came the trumpets. Someone had sounded them a little early.
On the next point, Croatian Marin Cilic, who'd been dominant at the start of the night and near perfect for most of it, sent a groundstroke long, and Nadal had completed his comeback: 2-6, 6-4, 6-4, in just about two hours and 20 minutes.
Then it was time for trumpets.
Dressed in fiery red, Nadal threw up both arms as the crowd roared. He threw out a huge fist pump, he threw off his headband, he shook out his brown hair and he pumped his fists. After shaking hands, he tossed aside his racquet and continued celebrating, arms in the air.
"Was just because have been a very important match for me," Nadal explained afterwards, of his on-court jubilation. "Being in semifinals is great news at the start of the hard-court season in a good way. And winning three good matches in the first Master 1000, yeah, so important for me.
"And especially the way that he played in that first set was unstoppable, no? So, I resisted. I play with the right tactic. I tried to find my solutions, but was so, so difficult. So that's why it was an important celebration, no? It means a lot to me to be in the semifinals."
The 32-year-old will take on World No. 38 Karen Khachanov on Saturday. It's a good thing, too, because Nadal is clearly the fan favourite here, and the big draw left in a bracket that'll see Wimbledon runner-up Kevin Anderson take on teenaged Grecian Stefanos Tsitsipas in the other semi.
if ( "1" == true && 'undefined' !== typeof window.getIndexAds ) {
var so = {preroll:{1:{1:{siteID:191888},2:{siteID:191889}}}};
adServerUrl = window.getIndexAds( 'http://pubads.g.doubleclick.net/gampad/ads?sz=640×360&cust_params=domain%3Dsportsnet.ca&iu=%2F7326%2Fen.sportsnet.web%2FVideo&ciu_szs=300×250&impl=s&gdfp_req=1&env=vp&output=vast&unviewed_position_start=1&ad_rule=1&vid=5820754249001&cmsid=384', so, permalink);
} else {
adServerUrl = "http://pubads.g.doubleclick.net/gampad/ads?sz=640×360&cust_params=domain%3Dsportsnet.ca&iu=%2F7326%2Fen.sportsnet.web%2FVideo&ciu_szs=300×250&impl=s&gdfp_req=1&env=vp&output=vast&unviewed_position_start=1&ad_rule=1&vid=5820754249001&cmsid=384";
}
$el.after( unescape("%3Cscript src="" + (document.location.protocol == "https:" ? "https://sb" : "http://b") + ".scorecardresearch.com/beacon.js" %3E%3C/script%3E") );
$( document ).one( 'ready', function() {
$( "#video_container-877031" ).SNPlayer( {
bc_account_id: "1704050871",
bc_player_id: "rkedLxwfab",
//autoplay: false,
…read more
Source:: Sportsnet.ca
(Visited 1 times, 1 visits today)