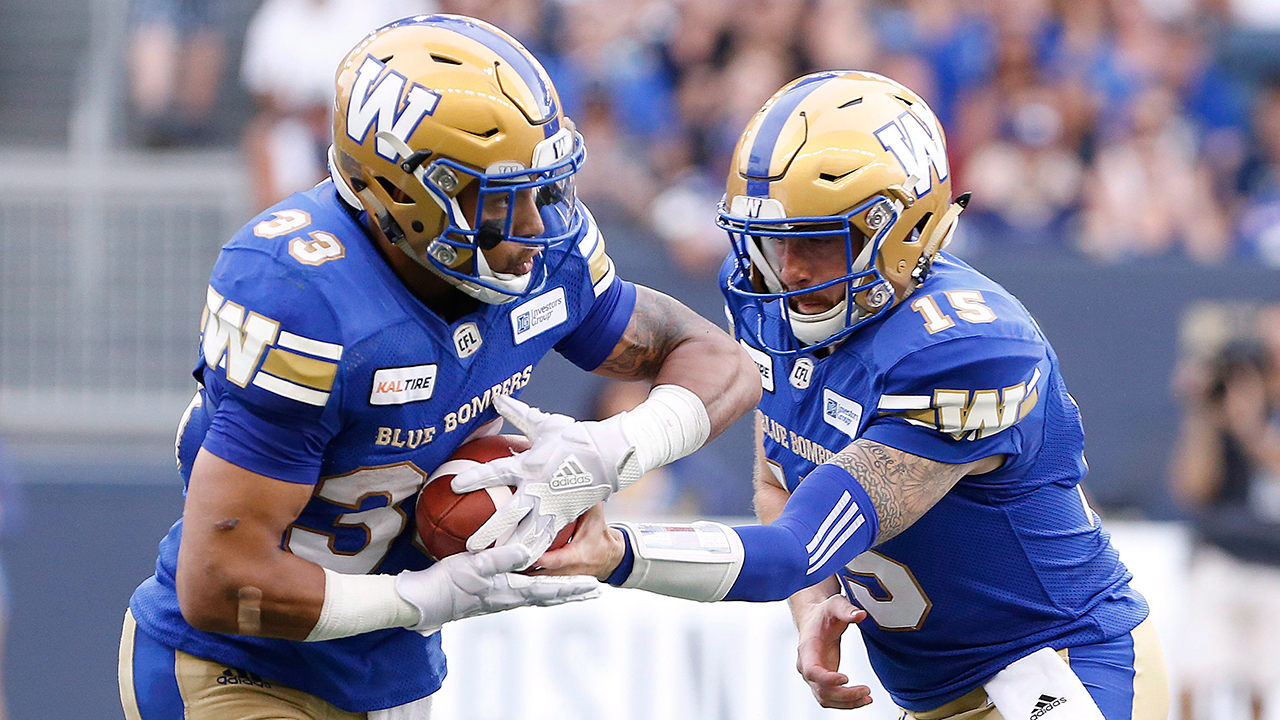 WINNIPEG — Quarterback Matt Nichols guided the Winnipeg Blue Bombers to a convincing 41-19 victory over the B.C. Lions in his season debut on Saturday.
The starting quarterback, who injured his right knee during a practice at training camp last month, tossed a 20-yard touchdown pass to Darvin Adams and didn't throw an interception.
He shared the scoring spotlight with rookie backup Chris Streveler, who started the first three games of the season. Streveler ran in a pair of one-yard touchdowns as Winnipeg evened its record at 2-2.
B.C. dropped to 1-2.
Winnipeg middle linebacker Adam Bighill, who played six seasons with B.C. (2011-16), intercepted Lions quarterback Jonathon Jennings twice, taking the second one 54 yards for a touchdown. It was the 10th interception of his seven-year CFL career and his first TD.
Bombers running back Andrew Harris also had a four-yard rushing touchdown in front of 26,567 fans at Investors Group Field, who viewed the game under sweltering conditions. It was 34 C at kickoff, but 44 C with the humidity.
Winnipeg kicker Justin Medlock made five converts and hit field goals from 31 and 21 yards out.
Lions running back Jeremiah Johnson pushed in two yards for a touchdown and backup quarterback Cody Fajardo added a one-yard TD run with 13 seconds left in the game. A two-point convert failed. Kicker Tyler Long was good on his one convert and booted field goals from 19 and 42 yards.
B.C. opened the scoring with a 19-yard field goal from Long, but Winnipeg responded with four straight touchdowns on the way to a 28-10 halftime lead.
After Long's field goal, the Bombers employed a two-pronged quarterback attack. Streveler came in for four plays, including a 26-yard run, and then Nichols finished a nine-play, 82-yard drive with the TD strike to Adams in the end zone.
Bighill picked off a ball from Jennings over the middle late in the first quarter. On the ensuing drive, Harris took a direct snap and ran four yards into the end zone 16 seconds into the second quarter.
Winnipeg boosted its lead to 21-3 after Streveler went in for three plays and ended a nine-play, 77-yard drive with a one-yard QB sneak at 6:51.
Streveler's second TD of the game completed a drive that included a 43-yard run by Harris, a 37-yard Adams catch from Nichols and B.C. penalties for illegal contact on a receiver and pass interference.
A 63-yard kickoff return by B.C. running back Chris Rainey propelled the Lions to their first TD of the game when Johnson ran two yards for the major with 1:11 left in the first half.
The teams exchanged field goals in the third quarter.
Bighill, the league's top …read more
Source:: Sportsnet.ca
(Visited 6 times, 1 visits today)