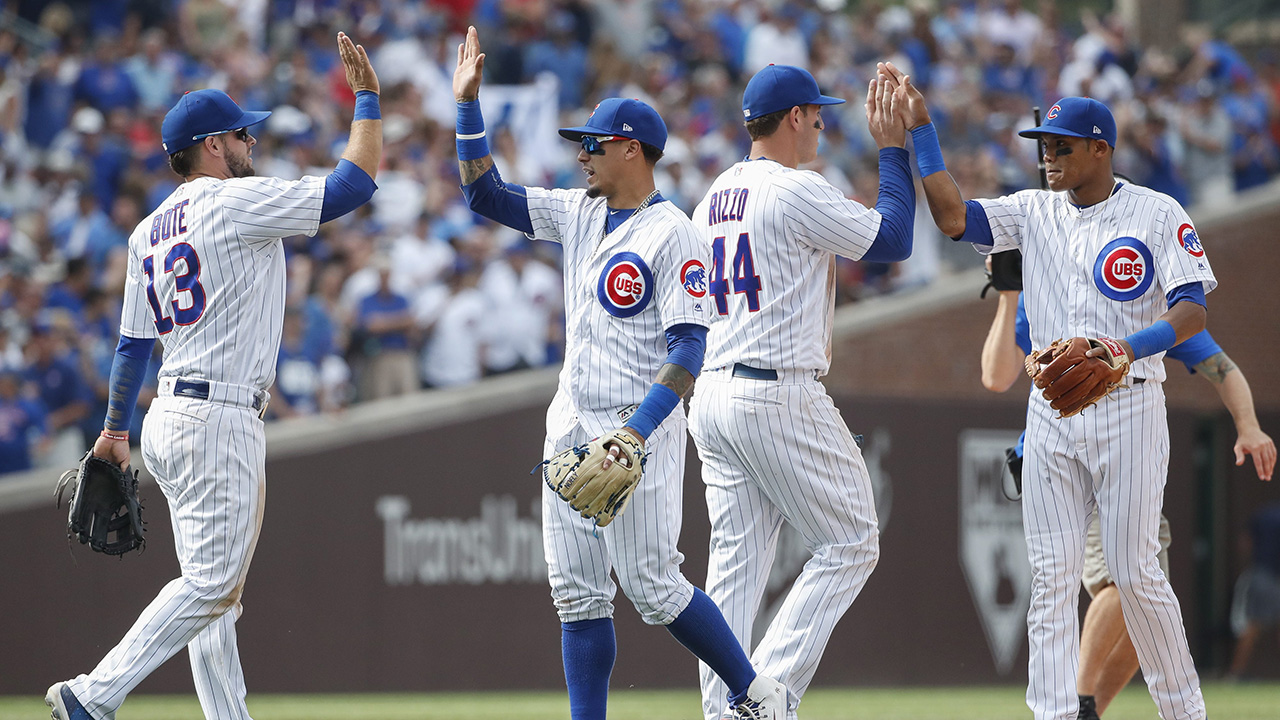 CHICAGO — Anthony Rizzo walked the Cubs to a wild victory.
Rizzo walked with the bases loaded in the seventh inning after Jason Heyward broke up a no-hitter with a two-run single in the sixth, and Chicago beat the Washington Nationals 3-2 on Friday.
In the first meeting between the teams since they beat Washington in the NL Division Series, the Cubs won even though they didn't get a hit against Nationals starter Jeremy Hellickson.
Heyward finally broke through against Sammy Solis (1-2) with two outs in the sixth. But just as big was Rizzo walking three times. He sparked the tying rally with one in a 13-pitch at-bat before forcing in the go-ahead run with another in the seventh.
Manager Joe Maddon got ejected, but the Cubs pulled out the victory.
"The second one obviously was a big one for us," Rizzo said. "(Hellickson) was cruising, really hitting his spots."
Hellickson retired 17 in a row after issuing a leadoff walk to Rizzo in the first. But things took a wild turn with two out in the sixth.
He walked Rizzo on 13 pitches and both Javier Baez and Ben Zobrist on four to load the bases.
Heyward took two balls from Solis before lining a tying two-run single past second baseman Daniel Murphy.
"I think I tried everything," Hellickson said. "That's why (Rizzo is) one of the best hitters in our game."
Chicago grabbed a 3-2 lead in the seventh after Maddon got tossed for arguing an interference call against Willson Contreras on the bases. The Cubs thought they had runners on second and third after Kyle Schwarber led off with a single and third baseman Anthony Rendon's throw sailed down the right-field line.
Instead, he got called for interference, leading to Maddon's second ejection this season. He argued with plate umpire Bill Miller and went to first to demonstrate his point that first baseman Ryan Zimmerman could not have caught the throw, anyway.
Maddon called it "obviously a horrific call" that rewards defences and penalizes offences and said the umpires should be allowed to "exercise judgment."
But Miller insisted: "In this situation, (Contreras) interfered with the first baseman's ability to catch the ball. Because he was running inside fair territory — he was not running in the lane."
Schwarber had to go back to first. But he eventually scored when Greg Holland walked Rizzo after Ian Happ and Addison Russell singled to load the bases, putting the Cubs on top.
Kyle Hendricks gave up two runs and eight hits in six innings for Chicago, and five relievers combined to hold the Nationals scoreless the rest of the way.
Steve Cishek (3-1) struck out the final …read more
Source:: Sportsnet.ca
(Visited 3 times, 1 visits today)