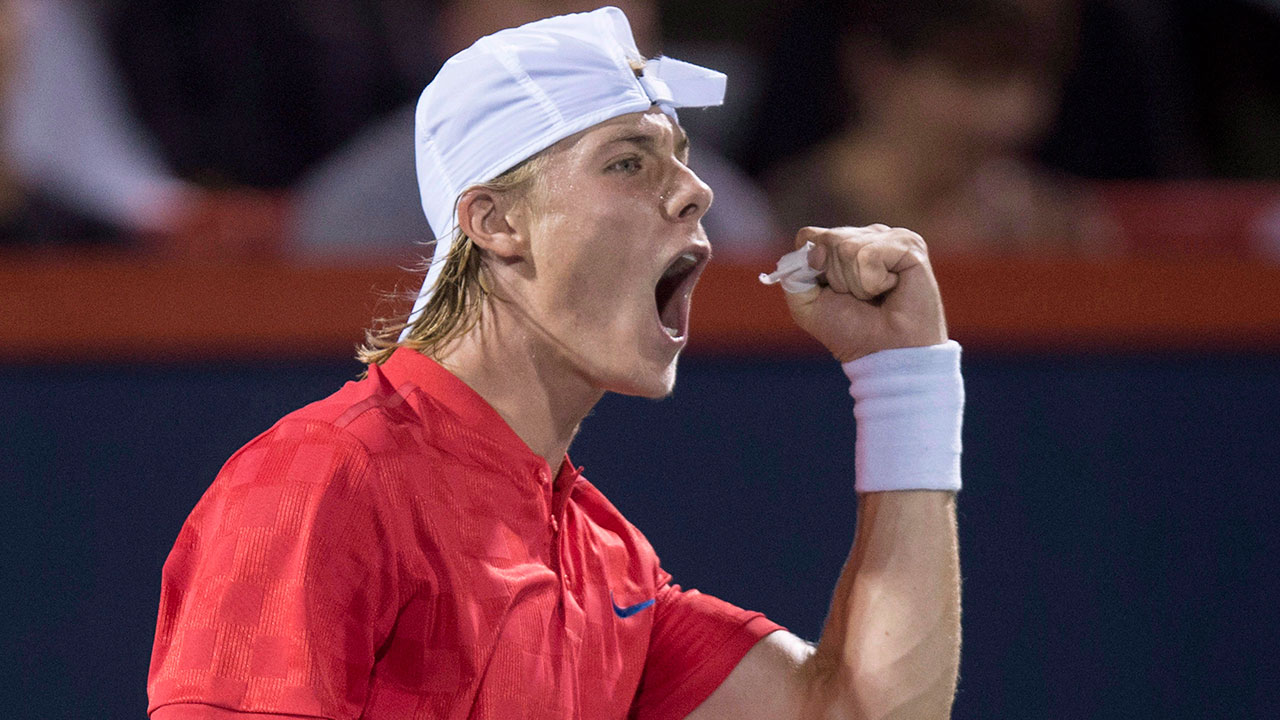 We have lift off.
That potentially golden era in Canadian men's tennis, the one we've been telling you about for oh, about, three years?
It's here.
Turn on your television today or secure tickets for the Rogers Cup up at York University, and you'll see it on display. You'll be able to say you were there when it started, when two generations of Canadian tennis merged to form a powerful force in the sport for a country that has big ambitions in the game.
Now, this is sports, so there are no guarantees. Projections don't always pan out. First-round draft picks don't always work out. Just ask the Cleveland Browns.
But, with apologies to Grant Connell, Glenn Michibata and their peers, Tennis Canada will today trot out its best and brightest generation ever on to centre court at the Rogers Cup. It will be the first time 17-year-old Felix Auger-Aliassime will be on the same stage as 19-year-old Denis Shapovalov and 27-year-old former Wimbledon finalist Milos Raonic.
This is Canadian tennis history in the making. With no Roger Federer, and no Andy Murray for that matter, the spotlight couldn't be any greater on this story.
Shapovalov and Auger-Aliassime will play doubles on centre court this afternoon, and they won't be playing any tomato cans. It'll be Novak Djokovic and Kevin Anderson, the two men who battled it out for the Wimbledon crown last month, on the other side of the net.
Shapovalov is already a top-30 player, and there are many who believe his younger buddy, Auger-Aliassime, will be just as good. Maybe better. While Raonic surprised many with his rapid ascent up the ATP ladder to a high of No. 3 in the world, Tennis Canada has been uber-excited about Shapovalov and Aliassime for some time.
These are the stars we've been waiting for. If you were a Blue Jays fan, you'd compare them to Vladimir Guerrero Jr. and Bo Bichette. A Winnipeg Jets supporter might see similiarities with Patrik Laine and Nik Ehlers. Or Kyle Connor.
You get the idea.
So Denis and Felix will play doubles, and then both will play singles later in the week. Shapovalov is looking to re-create the storm of inspiration he generated last summer at this very same tournament when he knocked off Rafael Nadal. Auger-Aliassime is looking for that first big win, that Daniel-Nestor-beats-Stefan-Edberg moment to announce his arrival to the larger tennis world as a force to be reckoned with.
if ( "1" == true && 'undefined' !== typeof window.getIndexAds ) {
var so = {preroll:{1:{1:{siteID:191888},2:{siteID:191889}}}};
adServerUrl = window.getIndexAds( 'http://pubads.g.doubleclick.net/gampad/ads?sz=640×360&cust_params=domain%3Dsportsnet.ca&iu=%2F7326%2Fen.sportsnet.web%2FVideo&ciu_szs=300×250&impl=s&gdfp_req=1&env=vp&output=vast&unviewed_position_start=1&ad_rule=1&vid=5817786585001&cmsid=384', so, permalink);
} else {
adServerUrl = "http://pubads.g.doubleclick.net/gampad/ads?sz=640×360&cust_params=domain%3Dsportsnet.ca&iu=%2F7326%2Fen.sportsnet.web%2FVideo&ciu_szs=300×250&impl=s&gdfp_req=1&env=vp&output=vast&unviewed_position_start=1&ad_rule=1&vid=5817786585001&cmsid=384";
}
$el.after( unescape("%3Cscript src="" + (document.location.protocol == "https:" …read more
Source:: Sportsnet.ca
(Visited 4 times, 1 visits today)