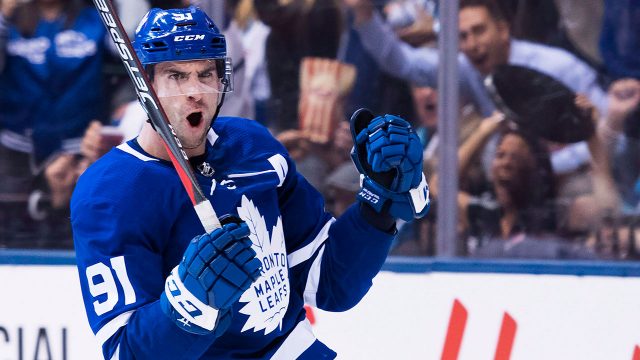 TORONTO — Frederik Andersen made 36 saves as the Toronto Maple Leafs defeated the Vegas Golden Knights 3-1 on Tuesday night.
Connor Brown, Mitch Marner and Nazem Kadri, into an empty net, scored for Toronto (10-5-0). Brown also had an assist.
Cody Eakin replied for Vegas (6-8-1), which got 18 stops from Marc-Andre Fleury.
The Knights were by far the better team through two periods and had a couple of opportunities to tie the score early in the third down 2-1 only to watch Andersen shut the door.
Patrick Marleau nearly made it 3-1 for Toronto moments later off a pass from Kasperi Kapanen on a 2-on-1 rush, but the veteran flubbed his shot wide.
The Knights, who got winger Max Pacioretty back from an upper-body injury but are still without centre Paul Stastny, lost another forward when Erik Haula went down with an apparent right leg injury five minutes into the third.
if ( "1" == true && 'undefined' !== typeof window.getIndexAds ) {
var so = {preroll:{1:{1:{siteID:191888},2:{siteID:191889}}}};
adServerUrl = window.getIndexAds( 'http://pubads.g.doubleclick.net/gampad/ads?sz=640×360&cust_params=domain%3Dsportsnet.ca&iu=%2F7326%2Fen.sportsnet.web%2FVideo&ciu_szs=300×250&impl=s&gdfp_req=1&env=vp&output=vast&unviewed_position_start=1&ad_rule=1&vid=5858513964001&cmsid=384', so, permalink);
} else {
adServerUrl = "http://pubads.g.doubleclick.net/gampad/ads?sz=640×360&cust_params=domain%3Dsportsnet.ca&iu=%2F7326%2Fen.sportsnet.web%2FVideo&ciu_szs=300×250&impl=s&gdfp_req=1&env=vp&output=vast&unviewed_position_start=1&ad_rule=1&vid=5858513964001&cmsid=384";
}
$el.after( unescape("%3Cscript src="" + (document.location.protocol == "https:" ? "https://sb" : "http://b") + ".scorecardresearch.com/beacon.js" %3E%3C/script%3E") );
$( document ).one( 'ready', function() {
$( "#video_container-462035" ).SNPlayer( {
bc_account_id: "1704050871",
bc_player_id: "rkedLxwfab",
//autoplay: false,
//is_has_autoplay_switch: false,
bc_videos: 5858513964001,
is_has_continuous_play: "false",
adserverurl: adServerUrl,
section: "",
thumbnail: "https://assets1.sportsnet.ca/wp-content/uploads/2018/11/1704050871_5858520560001_5858513964001-vs-1024×576.jpg",
…read more
Source:: Sportsnet.ca
(Visited 3 times, 1 visits today)