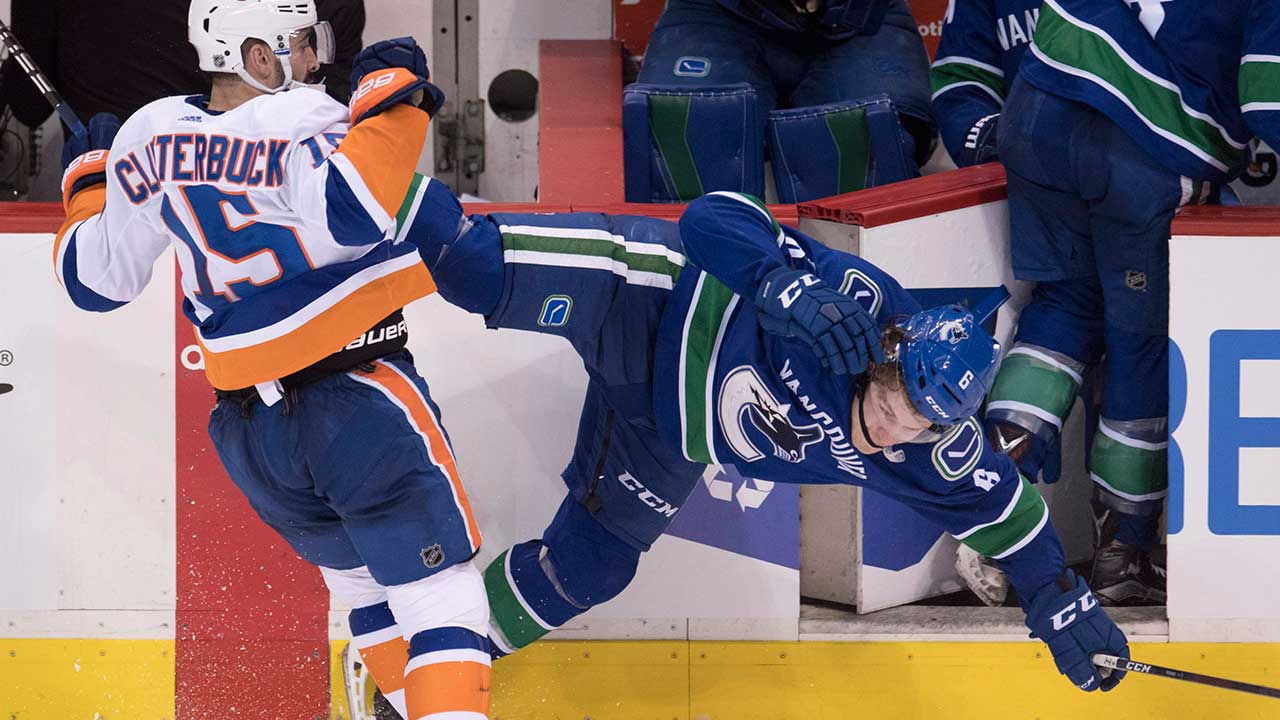 Vancouver Canucks rookie Brock Boeser feels like the luckiest guy who ever had his season end a month early due to injury.
In his first interview since breaking a bone in his lower back on March 5, the 21-year-old winger said his National Hockey League career could have ended when he was propelled backwards into the open frame of door at the Canucks' player bench.
"It was hard, especially because I love the game so much and I never want to miss any games," Boeser told Sportsnet on Wednesday. "But I've got to look at the other side of it. I am pretty lucky because that injury could have ended my career, honestly.
"Right after, when I was going to the hospital, that's the thoughts you have because I was in so much pain. It was definitely scary. (But) the first thing I did when I was laying there on the ice was move my toes and legs. Then I could relax a little bit. I knew something was wrong; I just didn't know what it was. It was still pretty scary."
The hit by Islander Cal Clutterbuck broke the transverse process on Boeser's L4 vertebrae. A transverse process is a bony spur that projects off the side of each vertebrae. The Canucks announced the next day that Boeser should recover in 4-6 weeks.
The scoring star from Burnsville, Minn., and the University of North Dakota said Wednesday that his recovery is on schedule. He also said a lingering injury of his wrist, which Boeser jammed Feb. 8 in Tampa but caused him to miss only one game, will not require surgery.
Boeser flew home to Minnesota on Monday to consult with Dr. Stephen Olmsted, the orthopedic surgeon who operated on the same wrist last season during the player's final year at North Dakota.
"It's the same wrist but a different injury," Boeser said, adding that his wrist should require only a PRP (platelet-rich plasma) injection and four weeks of immobilization.
While he heals, Boeser is taking his parents and siblings on a Hawaiian holiday. The first-year player, who led the Canucks with 29 goals and was a Calder Trophy candidate until he was injured, said he will be training fully by summer and 100 per cent healthy to start next season.
"I definitely know that it's going to be harder," he said. "As this year went on, Bo (Horvat) and I were having to go against the top lines and top defensive pairs more. There were times I was tired, either mentally or my legs were tired. The older guys really taught me that side of it.
"I don't want to have a letdown year. You hear about that (sophomore jinx) stuff. But I'm not worried about that. I'm going to really focus this summer on getting better, and improving my skating, and just continue to work hard. The year I had, that gives me a lot of confidence and kind of tells me the player I can be in the NHL."
As …read more
Source:: Sportsnet.ca
(Visited 6 times, 1 visits today)