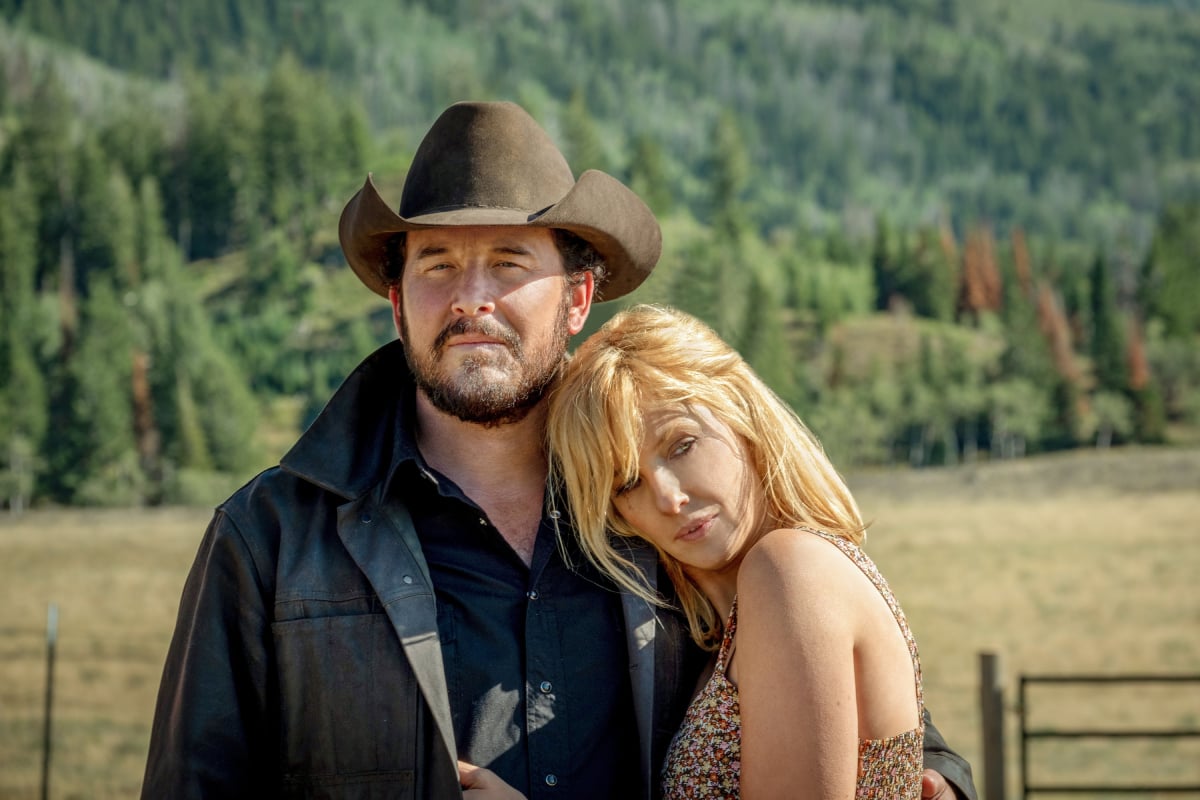 ARTICLE HIGHLIGHTS
'Yellowstone' season 4 casting announcement revealed that the show was adding four new recurring characters
Jamie Dutton's (Wes Bentley) former girlfriend announced that she was pregnant in season 2, but was never mentioned in season 3
In season 3 Beth and Rip finally decided to be together after Beth told him that she cannot carry a baby
'Yellowstone' stars Cole Hauser (Rip Wheeler) and Kelly Reilly (Beth Dutton) | Paramount Network
Yellowstone season 4 is almost here, but it's been an extremely long wait for fans. The explosive season 3 finale aired more than a year ago. During that break, fans have been obsessing over details in everything from past episodes to cast interviews, hoping for a clue about what's coming next for the Dutton family.
One particular Yellowstone season 4 casting call really got fans talking and led to some major speculation. Is somebody having a baby?
'Yellowstone' announced a major cast major shake-up after season 3
Fans expected that the premiere of Yellowstone season 4 would happen this past summer, since each of the first three seasons had previously premiered in June. But instead, all they got was an announcement of a major cast shake-up ahead of the highly-anticipated season. Which has since been revealed to be premiering this fall.
The summer casting announcement revealed the addition of four new recurring characters, including Jacki Weaver as Caroline Warner, the CEO of Market Equities. Piper Perabo will be joining the cast as Summer Higgins, a political activist and protester from Portland.
RELATED: 'Yellowstone' Season 4: New Promos Confirm the Dutton Family Wants Revenge and It Is Going to Be Brutal
Nashville alum Kathryn Kelly will be joining the cast as a vet tech named Emily. And Those Who Wish Me Dead star Finn Little has been added to the cast as Carter, a teenage boy who the Dutton family takes in.
Did the casting announcement confirm that Beth Dutton survives?
Yellowstone has been extremely careful about keeping season 4 secrets. After last season's finale left John (Kevin Costner), Beth (Kelly Reilly), and Kayce (Luke Grimes) Dutton under attack and fighting for their lives, Taylor Sheridan's western has been trying to convince fans that at least one Dutton didn't make it out alive.
None of those actors have given interviews. And no new footage of their characters has appeared in any of the promotional materials. However, it looks like they made a mistake with their casting announcement for Finn Little.
When Yellowstone announced Little had joined the cast, they described his character as a young Rip Wheeler (Cole Hauser), who is destined to follow in his life-hardened footsteps. When young Carter arrives on the Dutton Ranch, the character description — according to Deadline — said that "Beth decides the ranch is the best place to teach the youth how to be a man."
'Yellowstone' season 4 casting call causes major speculation about a new baby
In addition to the four new recurring cast members, Yellowstone announced the promotion of Will Patton to a series regular. …read more
Source:: Showbiz Cheat Sheet
(Visited 8 times, 1 visits today)