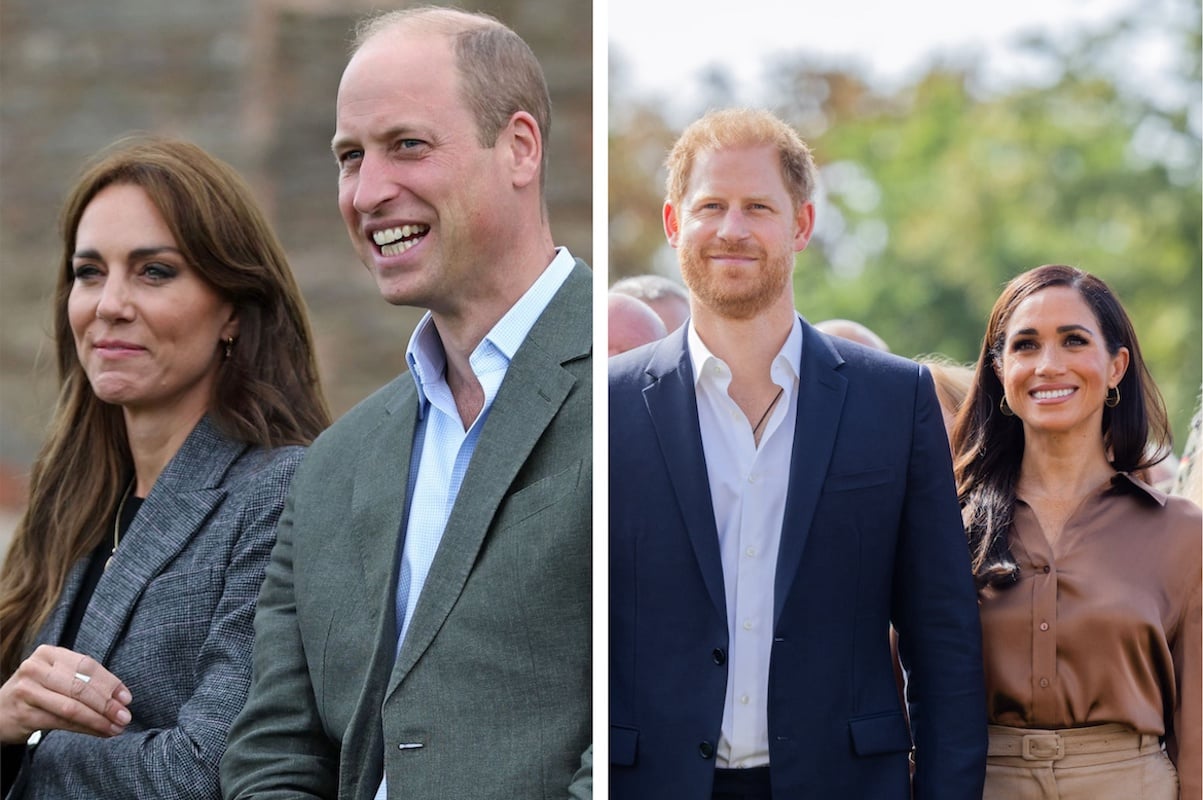 The former Fab Four of the British royal family — Prince Harry, Meghan Markle, Prince William, and Kate Middleton — recently made public appearances on the same day. In Dusseldorf, Germany, the Duke and Duchess of Sussex attended the Invictus Games. Meanwhile, the Prince and Princess of Wales visited a U.K. charity. The difference between their respective appearances? Harry and Meghan did some "industrial-strength PDAs," per an expert, whereas William and Kate were "less in need of any non-verbal communication." 
Harry and Meghan made a much different arrival compared to William and Kate, expert says
Kate Middleton and Prince William; Prince Harry and Meghan Markle | Cameron Smith/Pool/AFP via Getty Images; Rolf Vennenbernd/picture alliance via Getty Images
Examining the couples' demeanor on Sept. 14, 2023, body language expert Judi James highlighted differences between Harry and Meghan's Invictus Games arrival as well as William and Kate's visit to Hereford, England. 
The Duke and Duchess of Sussex, she told Fabulous, watched the games in Düsseldorf, England, looking every bit like a "power" couple. "Celebrity power couples like Harry and Meghan know the fans love to see the love," the expert said. "A-listers like J.Lo and Ben, the Kardashians, and the Beckhams will happily perform industrial-strength PDAs on the red carpet to share their passionate and idyllic relationships (even if they're at breaking point.)"
"This gives Harry and Meghan the freedom to perform the kind of intimate, loving, flirty, and even passionate signals we're seeing at Invictus, even though it's a sporting event where it's not really relevant," James explained. 
As for William and Kate, they visited the We Are Farming Minds charity and Madley Primary School's Forest School. Compared to Harry and Meghan, the parents of three weren't the center of attention, but rather those they met, James said. 
Kate, she noted, gave a "modest baby wave and delighted smile" upon greeting children, which took the attention away from her and William. 
William and Kate appeared 'more' in sync than Harry and Meghan, with 'less' of a 'need' for non-verbal communication
Meghan may have once likened her and Harry to salt and pepper shakers, who "always move together," but, according to James, they're not as in sync as William and Kate. At least, they weren't on this occasion. 
"Meghan can be seen using their hand clasp to pull Harry along or communicate," James said. "But William and Kate are naturally more synchronised [sic] and less in need of any non-verbal communication." 
The Prince and Princess of Wales's "bonding signals come from their synchronicity and subliminal mirroring," she continued. "You know they're a strong couple because they move together with a postural echoing that shows like-minded thinking and empathy." 
Harry and Meghan appeared 'tightly bonded' not unlike William and Kate
Related
Harry and William Are in 'Danger' of Heading for a 'Bonkers' New 'Normal' After U.K. Visit, Expert Says
Prince William Just Revealed 1 Lesson He Wants George, Charlotte, and Louis to Learn: 'It's Really …read more
Source:: Showbiz Cheat Sheet
(Visited 1 times, 1 visits today)