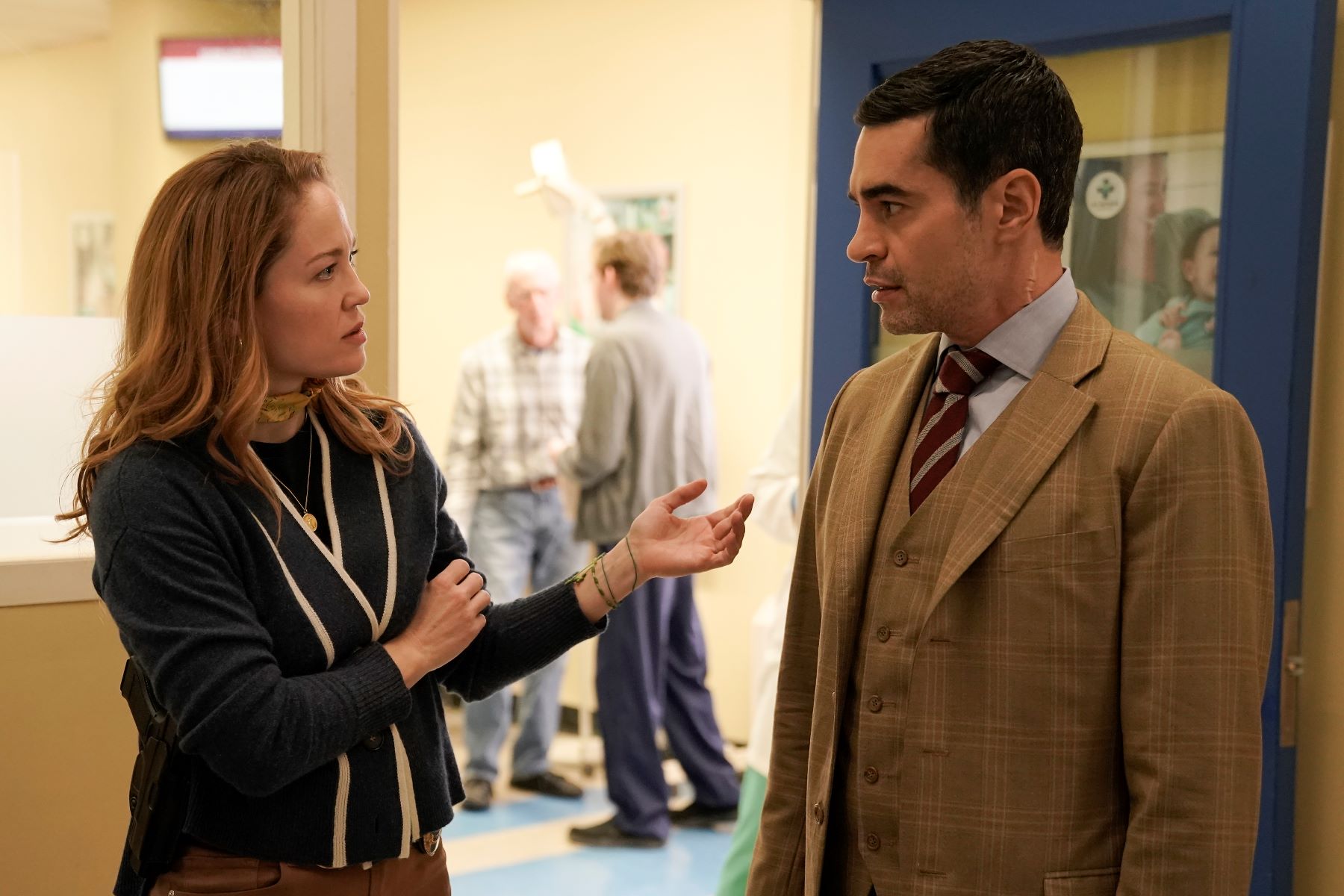 One of the central relationships in ABC's Will Trent is between Will and Angie. They have a complicated history, but they tend to always find their way back to one another. And that's precisely what happened in episode 3 after Will and Angie agreed to spend some time apart. Now, in Will Trent Season 1 Episode 4, the two were forced into working a case together, but it was made all the more complicated when their partners — Ormewood and Faith — joined them.
[Spoiler alert: This article contains spoilers from Will Trent Season 1 Episode 4, "My Stupid Detective Brain."]
Erika Christensen as Angie Polaski and Ramón Rodríguez as Will Trent | ABC/Danny Delgado
A new case forces Will and Faith to work with Angie and Ormewood in 'Will Trent' Season 1 Episode 4
Will Trent Season 1 Episode 4 begins at Stone Mountain State Park in Georgia. An injured man stumbles through the woods as a man and a woman record a podcast about the "howling man." In the distance, they hear a gunshot and then a car crash. And when they go to investigate, they learn that a couple, Judith and Henry, hit the man with their vehicle.
At the hospital, a doctor checks out Faith. Will asserts that she fainted and hit her head, while Faith claims she only fell. The doctor mistakes Will and Faith as a couple and asks her if she could be pregnant. But Faith makes it very clear that they aren't together, and she isn't having sex.
In the waiting room, Will gets a call from Amanda, who informs him that Park Police requested him for the case at Stone Mountain. But Angie and Ormewood will assist Will, and Angie is already with the man, who is later identified as Arthur Tealy, in the hospital. She fills Will in on the situation, and they realize that Arthur has been tortured. Before he dies, Arthur tells Angie that "Timothy" did this to him.
After Ormewood discovers that Will is on the case, he freaks out. He calls him a "vampire vulture," but Ormewood doesn't have a say in the matter.
Will, Faith, Angie, and Ormewood travel to the crime scene, where they interview the podcasters. They reveal that another car — a green pickup truck — almost ran them over. While canvassing the woods, they find a bloody rope, Phineas Lathrop's driver's license, and Phineas' dead body.
The following day, Will and Angie wake up in bed together. So they are definitively back "on" after their kiss in Will Trent Season 1 Episode 3.
The case leads the 'Will Trent' cast to a church
Will and Faith deduce the perpetrator brought Arthur and Phineas to the woods to torture and kill them in Will Trent Season 1 Episode 4. They both escaped, but Arthur was hit by a car, and the suspect tracked down Phineas and shot him.
At the medical examiner's office, Will and Ormewood learn that Arthur and Phineas had traces of jequirity seeds on their clothes. The …read more
Source:: Showbiz Cheat Sheet
(Visited 1 times, 1 visits today)