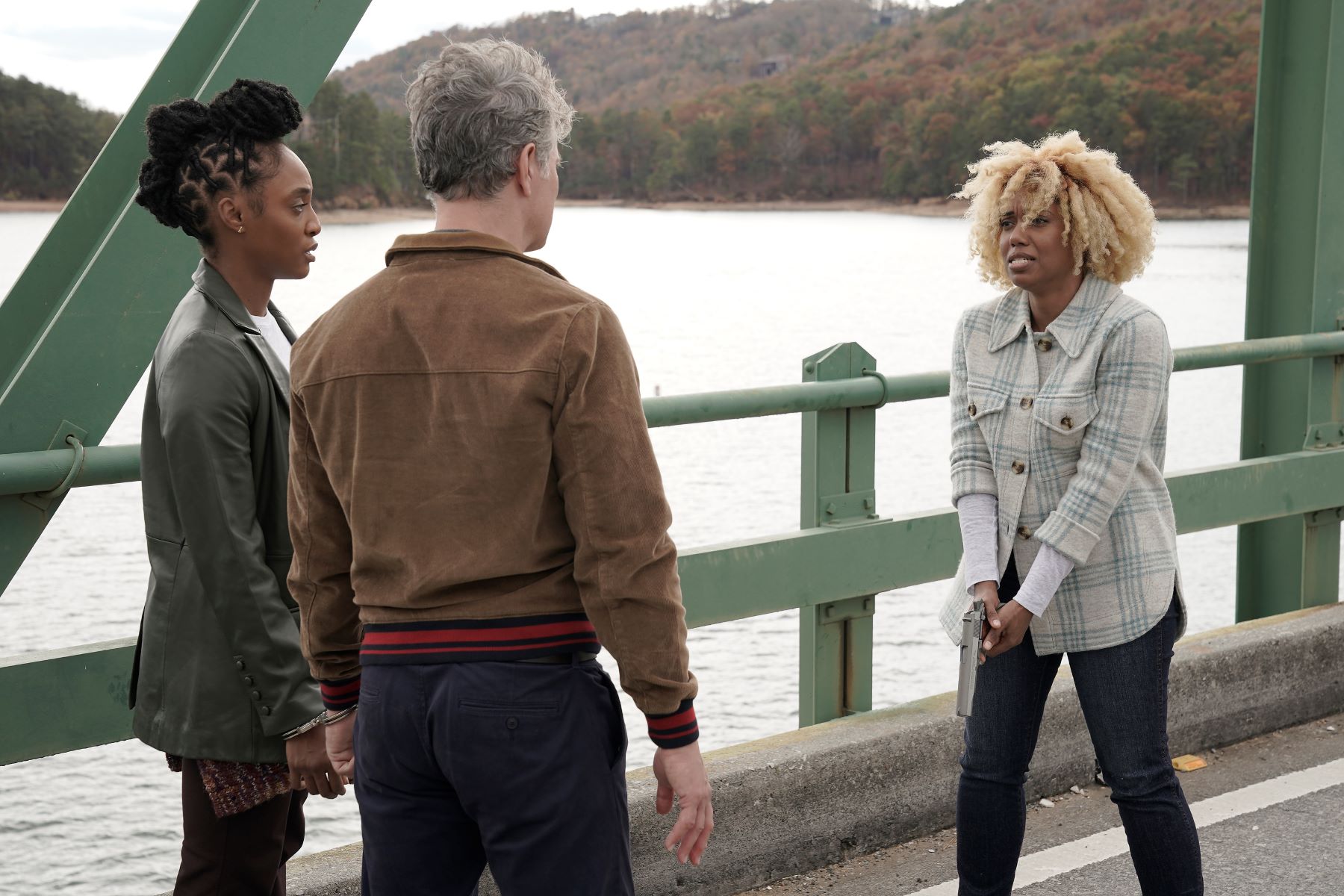 One of the many things that ABC's Will Trent does well is taking advantage of its Georgia setting. Will Trent is filmed in Georgia, and the writers and producers are committed to incorporating the state's history into their show. The latest example comes from Will Trent Season 1 Episode 3, which revolved around a case set at Lake Lanier.
Iantha Richardson as Faith, Darin Toonder as Chip, and McKenzie Chinn as Josie | ABC/Danny Delgado
'Will Trent' Season 1 Episode 3 recap
The third episode of Will Trent, which is based on a book series, started with the murder of Randy Cordett on Lake Lanier, which is about an hour northeast of Atlanta. Amanda assigned Will and Faith to the case, and they made their way to the haunted lake. There, they met the new sheriff — Josie Miller — who aided them.
They later discovered that Randy's murder was tied to a 30-year-old cold case. A Black family was killed in their station wagon, and it was never solved. However, Will and Faith were able to discover the identities of the four perpetrators. Two of them were Randy and Allen Cramer — a dead hunter.
Faith discovered that the third suspect was Otis Granger. But when they confronted him, Otis moved to shoot Faith, and Josie shot him in the head instead.
The team split up with Faith and Josie interviewing Dale Merrick, the cop assigned to the cold case, and Will and Amanda checking out the station wagon. Dale revealed that the fourth suspect was his son, Chip. Will and Amanda learned that a baby survived the massacre 30 years ago, and that baby was Josie. Dale rescued her and covered up the crime to protect his son.
Josie was the modern-day killer. She took Faith and Chip hostage and brought them to Lake Lanier in Will Trent Season 1 Episode 3. However, Will, Amanda, and the police arrived on the scene, and Josie killed herself by jumping into the lake.
Everything to know about Lake Lanier's history
Will Trent Season 1 Episode 3 suggests that Lake Lanier is haunted. And many real-life accounts reveal that the body of water has a torrid history.
Faith states in the episode, "It's Lake Lanier. They stole land, dug up cemeteries, or just plowed over them. And for what? A tourist spot? You build a lake over a town full of Black folks; you're gonna get a haunted lake." And that's exactly what happened.
According to CNN, in the 1950s, the US Army Corps of Engineers created the lake by flooding farmland, businesses, and cemeteries. They displaced around 700 families, and even though the US Army Corps of Engineers offered the families money, it wasn't worth the value of their land.
And now, some claim that Lake Lanier is haunted because of the numerous drownings and boat accidents — over 200 people have died at the lake since 1994. And others admit that they have had supernatural experiences there, including spotting the "Lady of the …read more
Source:: Showbiz Cheat Sheet
(Visited 1 times, 1 visits today)