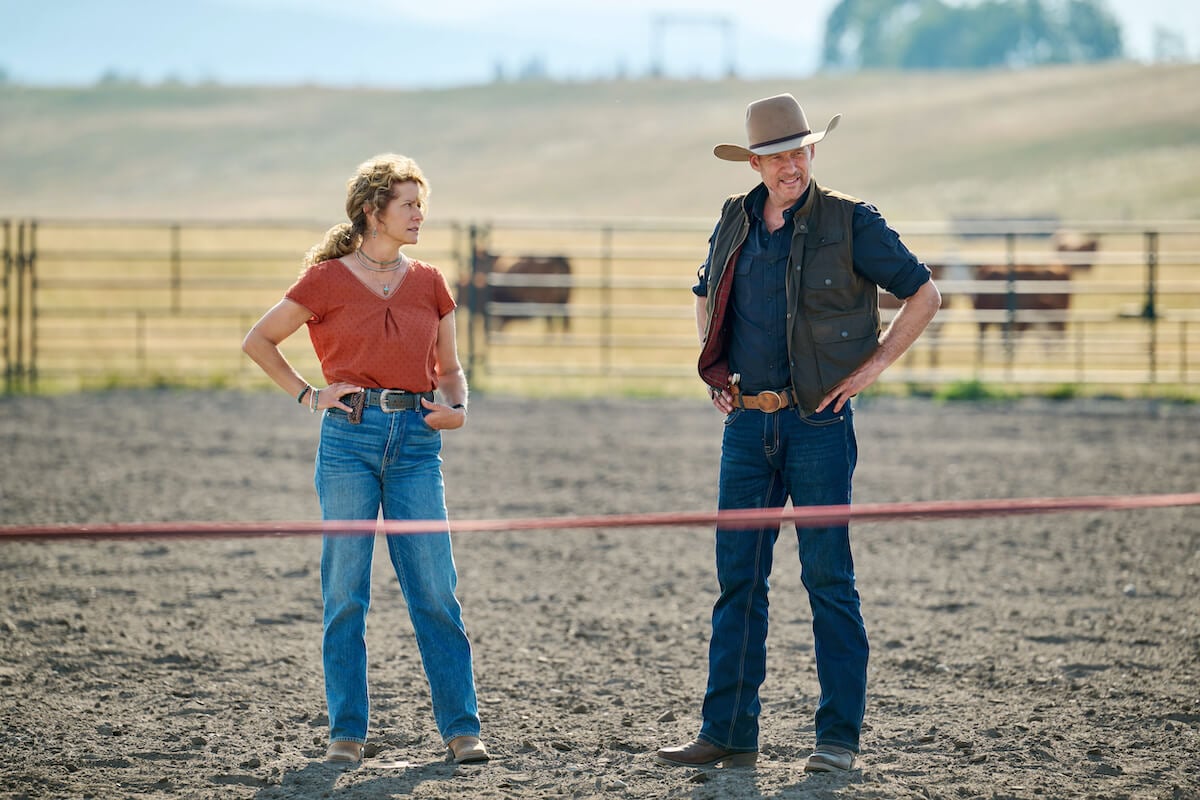 The saga of the McMurray family is over at Hallmark Channel. The network has decided not to renew the rodeo drama Ride for season 2, according to reports. 
'Ride' canceled at Hallmark Channel 
Nancy Travis and James Tupper in 'Ride' Season 1 | ©2023 Hallmark Media/Photographer: Michelle Faye
Ride was one of two new scripted series to premiere on Hallmark in 2023. (The other is the time-travel drama The Way Home.) It debuted in March 2023; the season finale aired in May. 
In contrast to The Way Home, which Hallmark renewed mid-way through its first season, Ride languished in limbo after its dramatic season 1 finale. Now, Vulture reports that the network has quietly decided not to move forward with Ride Season 2. 
As recently as two weeks ago, some of the Ride cast appeared to be holding out hope for a renewal. When a fan commented on Instagram in early November that she was looking forward to season 2, Jake Foy, who plays Tuff McMurray, replied with a crossed fingers emoji. 
After the season 1 finale, cast member Beau Mirchoff was also hopeful the show would return for another season. 
"I don't want to jinx anything, but I mean, fans seem to love it, the ratings are pretty good," he told TVLine. "More people are discovering it, that's really cool. Sometimes, shows need a little time. It's a really great show. I think they'd be silly not to give it a second season."
In its first season, Ride attracted an average of 1 million viewers per episode, according to TVSeriesFinale. That's substantially less than Hallmark's other two scripted series, When Calls the Heart and The Way Home, which attracted 1.9 million and 1.5 million viewers per episode in 2023, respectively.  
'Ride' starred Nancy Travis and Tiera Skovbye
Related
'Ride': 6 Shows to Watch Next if You Love the Hallmark Channel Series
Ride focused on the McMurrays, a Colorado family fighting to hold onto their beloved ranch after the tragic death of eldest son Austin McMurray (Marcus Rosner) in a rodeo accident. The show starred Nancy Travis as family matriarch Isabel McMurray, Tiera Skovbye as Austin's widow (and champion trick rider) Missy, and Mirchoff and Foy as Isabel's two other sons, Cash and Tuff. Sara Garcia played Valeria, a young runaway with a mysterious past who the McMurrays took in. 
Season 1 ended with Cash competing in the Cheyenne Rodeo, where he had to ride Hurricane, the same bull that threw Austin on his final ride. Cash's successful ride won him a valuable sponsorship from Frontier, putting the McMurrays on firmer financial footing going forward. Later, he and Missy also acted on their long-simmering attraction when they shared a kiss. There was also a shocking revelation in the episode's final moments, when Polly (Holly Deveaux) informed Isabel that Austin was the father of her son, Wyatt. 
All episodes of Ride Season 1 are streaming on Hallmark Movies Now.     
Source:: Showbiz Cheat Sheet
(Visited 1 times, 1 visits today)