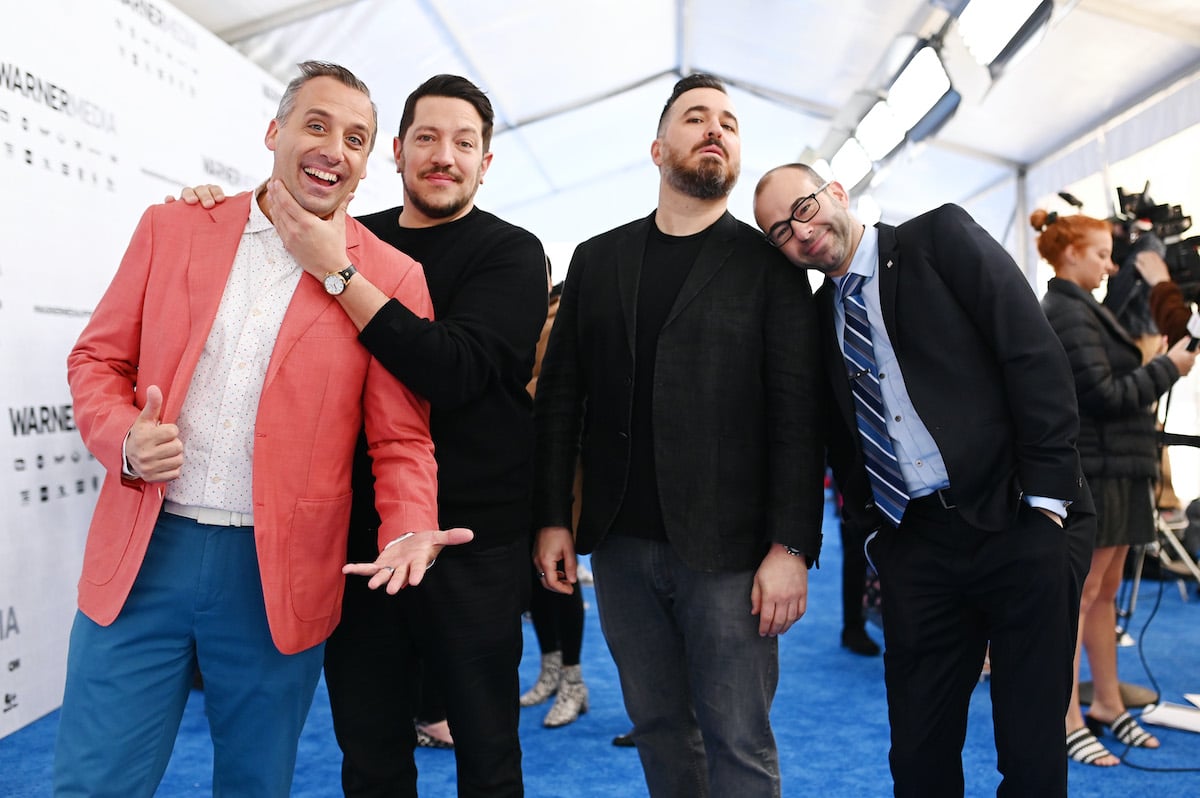 It's a sad time for fans of the truTV prank series Impractical Jokers. Joe Gatto, one-fourth of The Tenderloins comedy troupe at the center of the show, which follows "four lifelong friends who compete to embarrass each other," has announced his departure from the program.
The news of his exit left fans with many questions, including whether Joe would be replaced. TruTV did not immediately respond to requests for comment, but here's what we know so far.
The stars of 'Impractical Jokers,' including Joe Gatto, Sal Vulcano, Brian Quinn, and James Murray, on the red carpet at an event in May 2019 in New York City | Mike Coppola/Getty Images for WarnerMedia
Why Joe left 'Impractical Jokers'
Joe announced he was leaving Impractical Jokers on Dec. 31, in a "more-serious-than-usual" Instagram post.
"I just wanted to let you all know that I will no longer be involved with Impractical Jokers," he wrote. "Alongside my friends, I've devoted a decade of my life to building this franchise and couldn't be prouder of what has been accomplished. However, due to some issues in my personal life, I have to step away."
The comedian noted he'd separated from his wife Bessy and would be stepping away "to focus on being the best father and co-parent to our two incredible kids."
He also reflected on his relationship with his co-stars James Murray, Brian Quinn, and Sal Vulcano.
"Outside of my family, my relationships with Murr, Q, and Sal have been the most important in my life," Joe continued. "I know they will continue to make the world laugh. And even though the four of us are the ones who you all see, this show is only possible due to the hard work of the talented crew members who work behind the scenes. I am very thankful to have worked with each and every one of them."
Joe concluded the post by expressing his appreciation for his fans and supporters. "They say that laughter is the best medicine, and I hope I've been able to provide some of that over the last decade. Seeing you laugh has been my own medicine, particularly in these weird and difficult times we find ourselves. As I work through the challenges I am facing, I hope to and am excited to create new ways to entertain you."
The news of Joe's departure generated many comments online. His costars were among those speaking out, reacting in a joint statement shared on their respective social media accounts.
Will 'Impractical Jokers' replace Joe?
In the statement, Q, Sal, and Murr confirmed Impractical Jokers would continue, with production set to begin in January of 2022. They did not say how or if Joe's absence would be addressed on the show. It's also uncertain whether there are plans to replace Joe, but with the concept of the show revolving around longtime friends, it doesn't seem likely to us.
It's true that there once were other members of The Tenderloins. But since the show's inception, it's …read more
Source:: Showbiz Cheat Sheet
(Visited 11 times, 1 visits today)