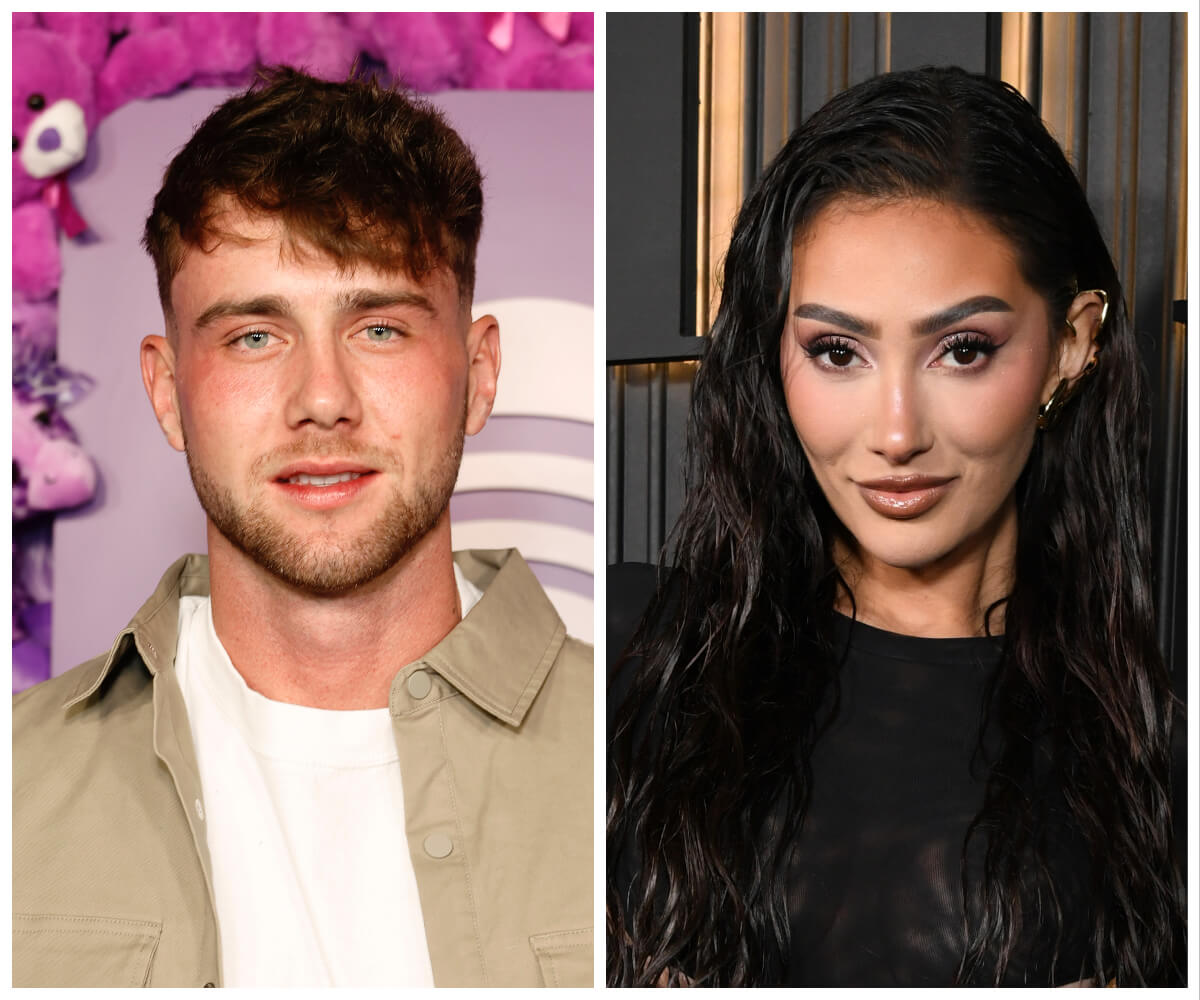 Harry Jowsey and Francesca Farago | Frazer Harrison/Getty Images; Jon Kopaloff/WireImage
'Too Hot to Handle' stars Harry Jowsey and Francesca Farago were engaged before their breakup
Francesca Farago and Harry Jowsey met on Too Hot to Handle, but they broke up not long after the Netflix show aired. Here's why Jowsey considered suing the Perfect Match contestant after their breakup and where the reality TV stars stand now.
Harry Jowsey and Francesca Farago | Frazer Harrison/Getty Images; Jon Kopaloff/WireImage
'Too Hot to Handle' stars Harry Jowsey and Francesca Farago were engaged before their breakup
Harry Jowsey and Francesca Farago first stepped into the spotlight on Too Hot to Handle season 1. They quickly coupled up and broke the show's strict rules against physical contact. Their indiscretion lost the entire cast $32,000 in prize money, but Farago and Jowsey won it back by the finale. 
The reality stars even got engaged over Zoom when Jowsey proposed to Farago with a Ring Pop candy. "I just want to say you've absolutely changed my life, I love you so much and I can't wait to spend forever with you," he said (per People). But their relationship didn't last, and the on-and-off couple called it quits for good in 2021 when, according to Farago, Jowsey was "extremely disrespectful to [her] online" (per Us Weekly).
Farago then appeared on Love Is Blind: After the Altar and Perfect Match, where she dated fellow reality stars Damian Powers, Dom Gabriel, and Abbey Humphreys. She is currently in a relationship with TikTok star Jesse Sullivan. Jowsey is dating Too Hot to Handle season 3 alum Georgia Hassarati, who also competed on Perfect Match with Farago.
'Too Hot to Handle' star Harry Jowsey considered suing Francesca Farago after their breakup
In July 2020, Daily Mail reported that Too Hot to Handle star Harry Jowsey was considering legal action against his ex-girlfriend Francesca Farago after one of their breakups. He claimed that Farago "damaged his brand" and lost him 200,000 Instagram followers.
"I can't believe it, it's damaging my brand. I've been nothing but nice to her and regarding the reason why we broke up, because of stuff she did," the reality star told The Courier Mail in July 2020.
"She made a big YouTube video and has been doing a whole bunch of TikToks and crazy stuff and I haven't done anything," Jowsey said. "We've been broken up for months, a long time before we announced it, and we were on good terms and I don't know what happened."
Jowsey claimed his family was also affected by Farago's accusations. "My mum has been getting hate and all my friends and I'm like, 'Why are you doing this? You are ruining our great memories.' So yeah, now it has to go to the courts," he said.
Related
'Perfect Match' Star Francesca Farago Reveals Why Her New Boyfriend Jesse Sullivan Gets Death Threats
The 'Perfect Match' star revealed she hasn't spoken to her ex in 'years'
Francesca Farago claimed she hasn't spoken to Too Hot to Handle star Harry Jowsey in "years." Although …read more
Source:: Showbiz Cheat Sheet
(Visited 2 times, 1 visits today)