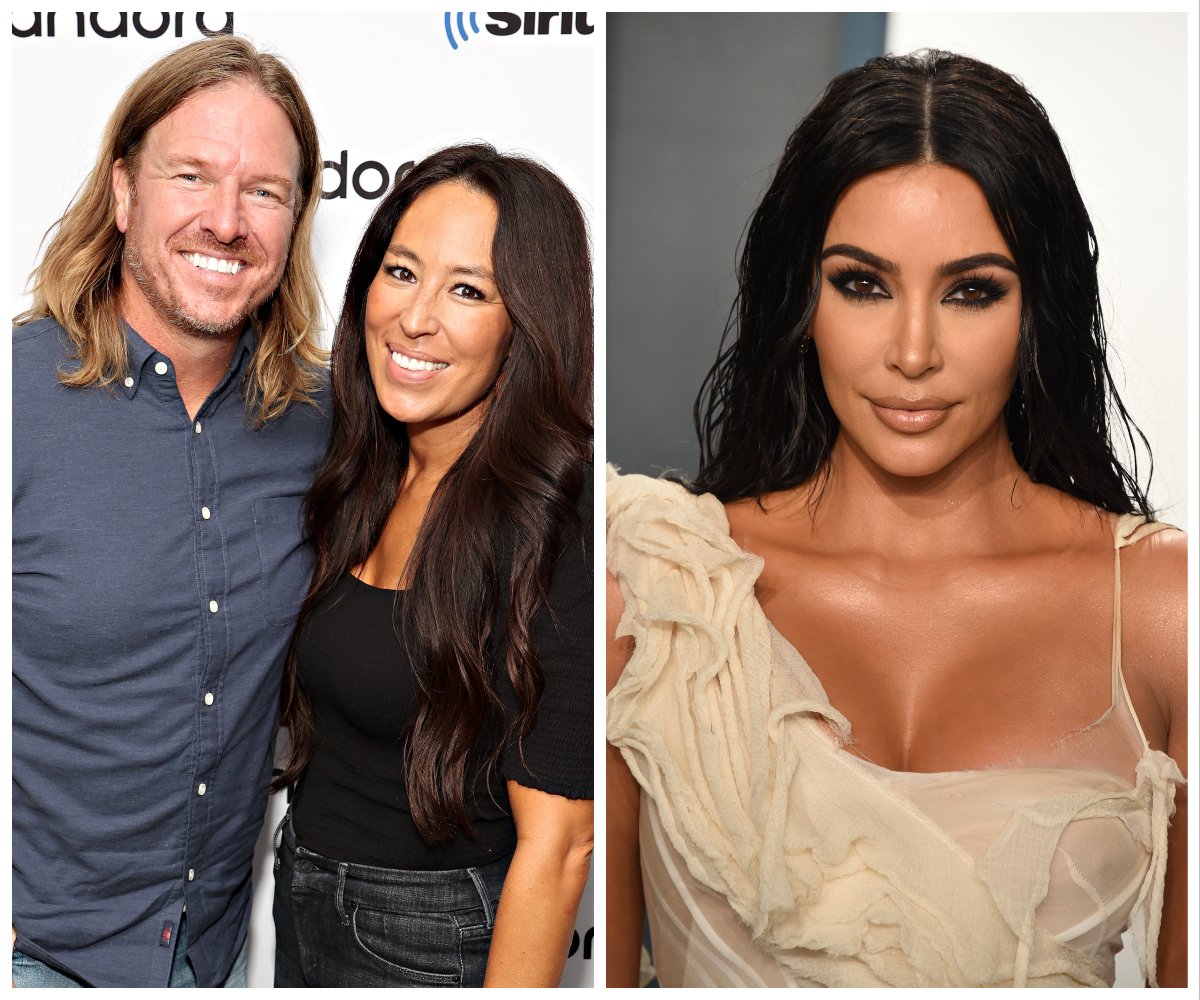 (L-R) Chip and Joanna Gaines, Kim Kardashian | Cindy Ord/Getty Images; John Shearer/Getty Images
Chip Gaines said he and Joanna should send their youngest son Crew to Kim Kardashian
Chip Gaines and Joanna Gaines have five kids, and they once said they should send their youngest, Crew, off to fellow reality TV star Kim Kardashian. Here's what the Fixer Upper stars said about Kardashian, and some of the similarities between the two famous families.
(L-R) Chip and Joanna Gaines, Kim Kardashian | Cindy Ord/Getty Images; John Shearer/Getty Images
Chip Gaines said he and Joanna should send their youngest son Crew to Kim Kardashian
In a November 2022 interview with Variety, Chip and Joanna Gaines were asked how their youngest son, four-year-old Crew, was adjusting to growing up on camera.
"We're nervous," answered Chip. "We're nervous about what type of effect – because all four of our kids prior to Crew, our fifth, I would say were brought up in a pretty normal environment."
"Well, they were normal, but then once Fixer happened, I don't think – they were so young," said Joanna. "I think that's what's great about Crew because at the time, Fixer was kind of all-encompassing."
"Sometimes I wonder, should we ship this kid off to Kim Kardashian so that he can have a chance to really be inundated and understand this environment," Chip joked.
"Crew doesn't know the difference," said Joanna. "Crew is a four-year-old kid and all he cares about right now is fishing and dinosaurs, so I think Crew is fine."
Chip and Joanna Gaines are the Kardashians of HGTV
While Chip joked about sending his youngest child off to Kim Kardashian, there are a surprising number of similarities between the two reality TV families.
The Gainses and the Kardashians both have lots of children and emphasize the importance of family. They love buying and selling homes, and are obsessed with beautiful home decor.
The Kardashians rose to fame on the E! Channel with their show Keeping Up with the Kardashians before shifting to Hulu under a new name (The Kardashians). Chip and Joanna started out with Fixer Upper on HGTV before creating their own network called Magnolia Network. 
Both have built empires from their families and reality TV shows, and have impressive multi-million dollar net worths and multiple businesses. 
Related
Chip and Joanna Gaines Totally Fangirled Over Taylor Swift: 'We Were Smitten'
The 'Fixer Upper' star said he 'lost himself' to fame
Chip and Joanna Gaines and Kim Kardashian are very famous, and they have spoken about what they think of fame. 
In an interview with Oprah, Chip revealed that he "lost himself" after he and his wife rose to fame with Fixer Upper. "Really what happened – and was the truth for Jo and I – was it was no big deal for her, but for me to become famous, I lost a part of myself that was really… it was sad," he said. "I would say it took me a year or two while I was still filming to try to grapple with what exactly it was that I was losing."
Kardashian, on the other hand, admitted in a 2019 interview …read more
Source:: Showbiz Cheat Sheet
(Visited 1 times, 1 visits today)