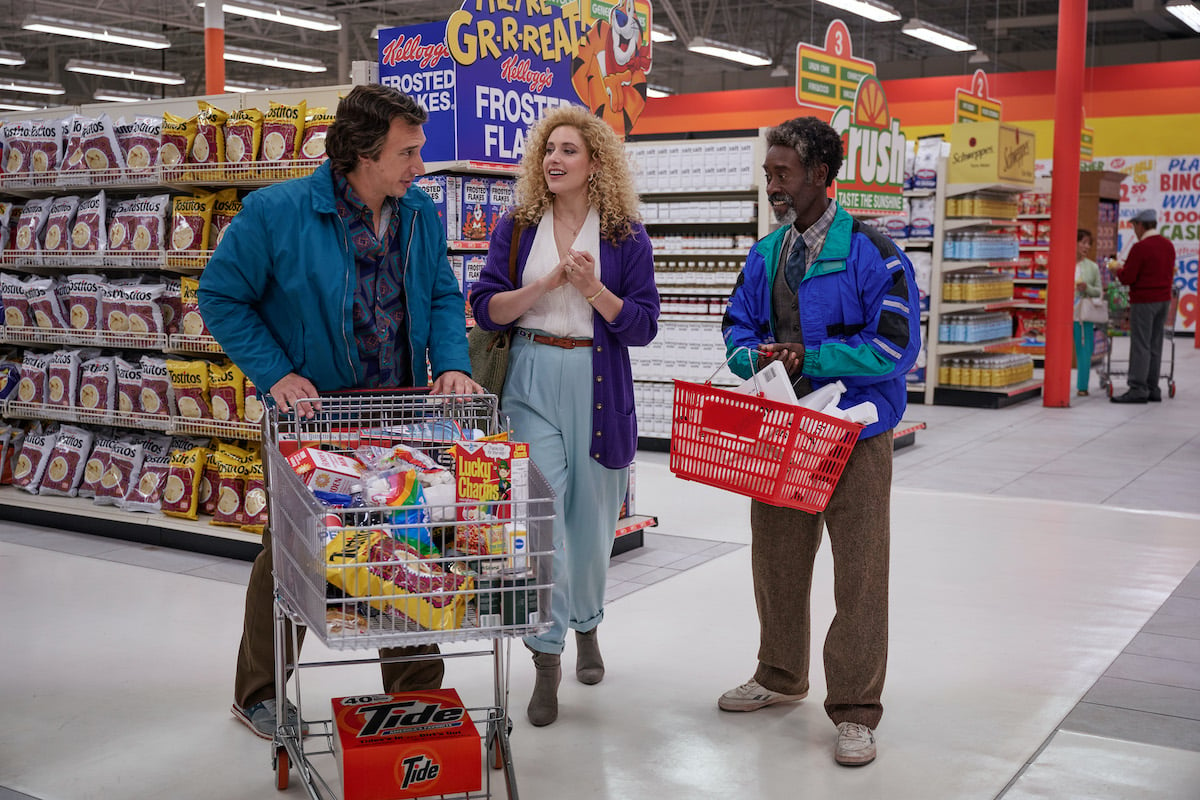 The novel White Noise by Don DeLillo is a landmark work of literary fiction. It won the U.S. National Book Award for Fiction when it was released in 1985, and DeLillo's poetic satire of American society remains as vital now as it was when the book was first released.
Hollywood loves to mine the world of literature for new IP, but early attempts to turn White Noise into a movie were unsuccessful. Barry Sonnenfeld was set to direct an adaptation in 2004, and Michael Almereyda was announced as the writer and director of a different version in 2016. 
Adam Driver as Jack, Greta Gerwig as Babette, and Don Cheadle as Murray | Wilson Webb/Netflix
These false starts contributed to the idea that White Noise was an "unfilmable" book, but the third time's a charm. Noah Baumbach created a film version of the novel for Netflix, bringing together a talented cast of actors to attempt to translate DeLillo's words from page to screen. 
Baumbach's love of 'White Noise' compelled him to adapt it into a film 
The basic plot of White Noise is this: professor Jack Gladney is living a comfortable upper-class life teaching Hitler studies at the fictional College-on-the-Hill in Ohio while raising his four children with his wife, Babette. Their lives are irrevocably changed by an "airborne toxic event" that breaks their daily routine and brings insecurities and family secrets to the surface. 
But White Noise is much more about the journey than the destination. Throughout the original novel, DeLillo explores several topics – capitalism, academia, consumer culture, and death – with a tone that veers between comic absurdism and disarming reality.
The headiness of the book made adapting seem impossible to most fans. Still, Baumbach, who also wrote the screenplay for the adaptation, was increasingly interested in the cinematic possibilities at hand the more he worked on the project. 
"I started doing this as an exercise to see if I felt like it could be a movie," he told Indiewire after it premiered at the Venice Film Festival. "The more I got into it, the more I got excited about things that I could do that you couldn't do in a book." 
Adam Driver is part of the main cast
White Noise marks 10 years of collaboration between Adam Driver and Noah Baumbach.
They first worked together on Baumbach's beloved 2012 feature Frances Ha, which also starred Greta Gerwig. pic.twitter.com/8upmrp21QI
— Netflix (@netflix) January 5, 2023
White Noise features an impressive ensemble led by Adam Driver, who plays Jack. Driver first came to prominence on HBO's Girls but has since made a name for himself as a leading man capable of starring in auteur-led features and mainstream blockbusters.
He is best known for his role as Kylo Ren in the most recent Star Wars trilogy, but Driver's been praised for nearly every major part he's had in the past decade. He has two Academy Awards nominations for his performances in BlacKkKlansman and Marriage Story. 
Driver has two movies scheduled for this year: 65, in which he plays a space pilot who crashes …read more
Source:: Showbiz Cheat Sheet
(Visited 1 times, 1 visits today)