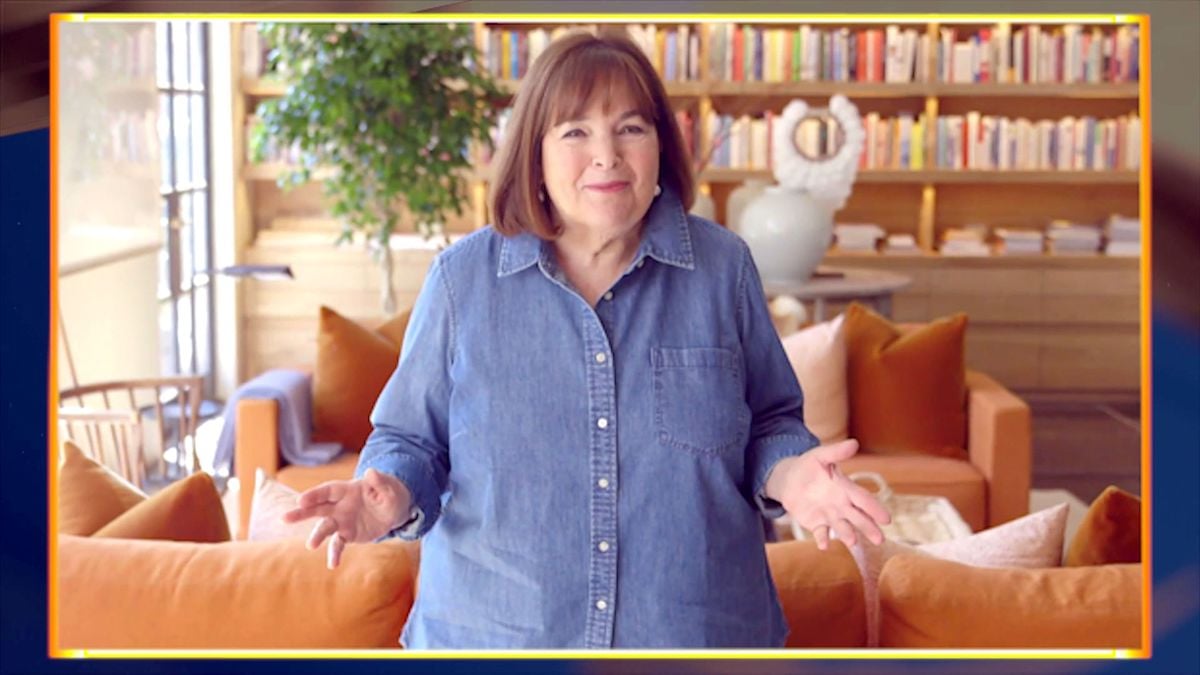 Screenshot of Ina Garten accepting an Emmy in June 2021 | Daytime Emmy Awards 2021 via Getty Images
Garten's house in East Hampton, New York, includes many personal touches. Along with her husband, Jeffrey, the 74-year-old Food Network star transformed a typical Hamptons-style property through unique elements to fit their personalities. The centerpiece is a
The setting of Ina Garten's new show, Be My Guest With Ina Garten, is nearly as critical as her cooking skills. The renowned kitchen whiz has turned inward for her next venture, bringing celebrities into her home to talk about food and life as they wander her culinary dream world. Boasting lush gardens and a state-of-the-art kitchen, Garten's home is everything you might imagine from the Barefoot Contessa host.
Continue reading for more about where Ina Garten lives and why a TV legend called her the "new Barbara Walters."
Ina Garten's home is a luxurious and peaceful retreat
Screenshot of Ina Garten accepting an Emmy in June 2021 | Daytime Emmy Awards 2021 via Getty Images
Garten's house in East Hampton, New York, includes many personal touches. Along with her husband, Jeffrey, the 74-year-old Food Network star transformed a typical Hamptons-style property through unique elements to fit their personalities. The centerpiece is a stunning garden of verdant seclusion, complete with a perfectly captured design by Martha Stewart's landscape designer.
But more than a sprawling bit of eye candy, the garden also boasts a world-class vegetable section studded with carrots and tomatoes. They're items you would expect for a culinary star who has written a dozen cookbooks. Having a large garden was a lifelong dream for Ina Garten. But turning it into a reality required a sales pitch to her reluctant neighbors.
According to Distractify, Garten lobbied for a decade before her neighbors agreed to sell the extra space she needed to create her masterpiece.  
Also on the property is a farmhouse that holds Garten's enormous test kitchen and studio. It's where she has commuted to work for more than 15 years and filmed Barefoot Contessa for Food Network.
Complete with a Sub-Zero fridge and room for two assistants, the space is essentially Garten's office, where she tries out new recipes.
"It's just beyond my wildest dreams," she told Oprah Daily. "Every day, I walk in here and think, 'I can't believe I work here.'"
Ina Garten took a big gamble to start her food career
Long before she was a Food Network staple and bestselling cookbook author, Ina Garten was a government worker who badly wanted a career change. In an impulse decision, a 30-year-old Garten reached for the dream. She bought the Barefoot Contessa in Westhampton, New York, in 1978. It wasn't exactly an instant success.
"This is the stupidest thing I've ever done," she recalled telling her husband in a 2017 interview.
But Garten overcame initial struggles and ultimately thrived. Eventually, she moving the business from Westhampton to East Hampton and earning a reputation for high quality. According to Martha Stewart, Hollywood legends such as Lauren Bacall and Steven Spielberg were regulars.
Building on the prestige of the Barefoot Contessa store, Garten jumped into publishing with The Barefoot Contessa Cookbook. It helped turn her into a nationally known culinary celebrity. After following up with a series of other …read more
Source:: Showbiz Cheat Sheet
(Visited 6 times, 1 visits today)