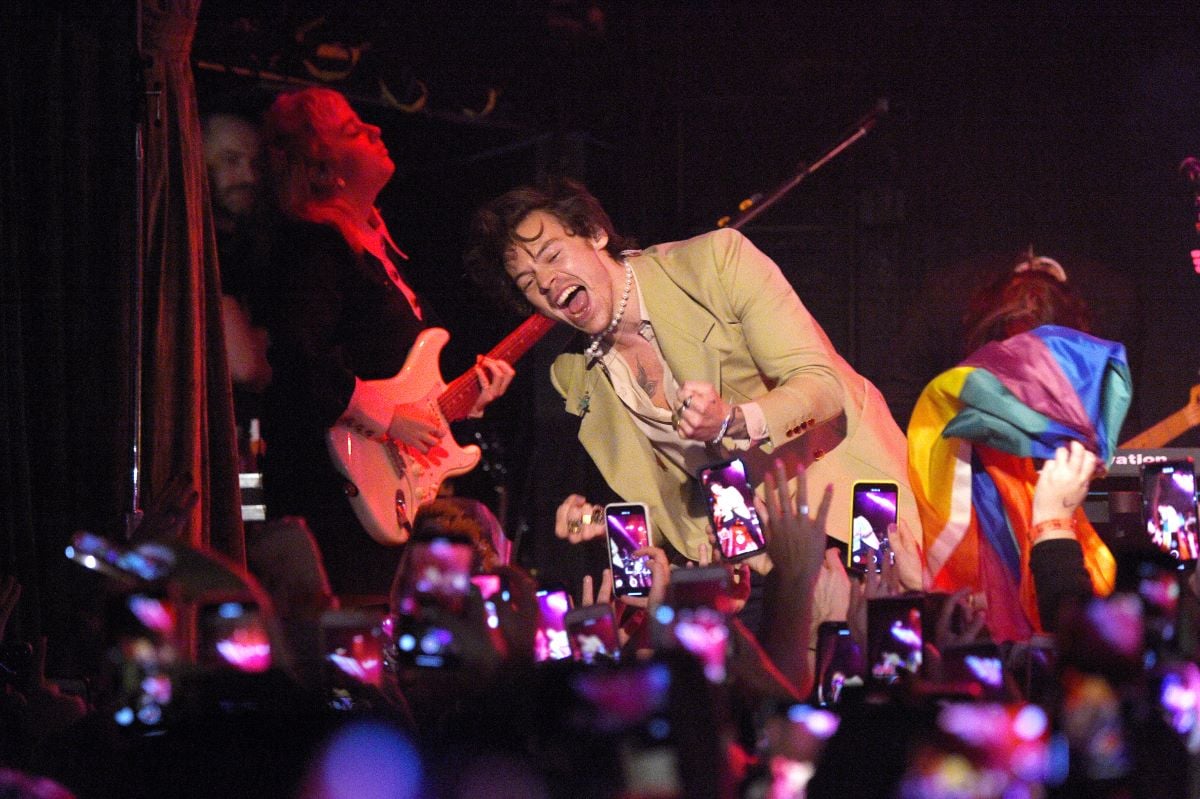 Harry Styles | Kevin Mazur/Getty Images for iHeartRadio
Olivia Wilde and Harry Styles: famous workplace romance, private power couple
Styles and Wilde set his fanbase staggering when they debuted their romance at a wedding in Jan. 2021. The photos hit the web months after Wilde and Ted Lasso actor Jason Sudeikis announced their
Harry Styles and Olivia Wilde were together for several stops on "Love on Tour" and fans spotted her dancing in the audience. But Wilde was recently spotted back in Los Angeles while Styles remains on tour.
Still, her mind was clearly on their time together during "Love on Tour" as she was seen toting around a reminder of her boyfriend. What did she bring along on errands to show the world they're going strong – even while they're not together?
Harry Styles | Kevin Mazur/Getty Images for iHeartRadioOlivia Wilde and Harry Styles: famous workplace romance, private power couple
Styles and Wilde set his fanbase staggering when they debuted their romance at a wedding in Jan. 2021. The photos hit the web months after Wilde and Ted Lasso actor Jason Sudeikis announced their split after ten years together. The timeline received a fair amount of scrutiny.
The story at the time was Sudeikis and Wilde broke up "earlier" in 2020. In that case, the decision would seem to have nothing to do with the Sept. 2020 announcement of the addition of Styles to the cast of "Don't Worry Darling" – which Wilde was directing. Styles was hired to replace Shia LaBeouf, reportedly because the actor was fired due to bad behavior on set.
Wilde openly gushed about Styles Vogue's Nov. 2020 story about him. "It's pretty powerful and kind of extraordinary to see someone in his position redefining what it can mean to be a man with confidence," she said.
Sudeikis later confirmed that the two split in Nov. 2020, but shared that he learned a lot from the end of their relationship and he wished his ex-partner well. The two now co-parent their two children.
And as time goes on, Wilde and Styles are getting more comfortable displaying their affection for each other openly. For instance, Wilde was seen dancing front and center in the crowd at a few of Styles' concerts in Sept. 2021.
It seems she returned to L.A. while Styles remains on tour – at least for now. Photographers caught a few snaps of her out and about and what memorandum of Styles was she carrying with her?
Olivia Wilde has been toting around a Harry Styles 'Love on Tour' bag
#OliviaWilde is showing support for #HarryStyles! Look back at their relationship from the start. –> https://t.co/QKx8mDFehu pic.twitter.com/ELvxisjUf5
— J-14 Magazine (@J14Magazine) October 8, 2021
Wilde has been photographed several times lately carrying a "Love on Tour" tote while on various errands. The message is clear that Styles isn't far from her mind – even if he is away on tour.
And if you're wondering – you can snag your own, of course! They're available online for $24.95.
So, Wilde is advertising their love and his merchandise. He could make a fortune in love and money having such a doting and oft-photographed girlfriend.
'Don't Worry Darling' hits theaters in 2022
good morning, darlings.
— Don't Worry Darling (@dontworrydarlin) …read more
Source:: Showbiz Cheat Sheet
(Visited 5 times, 1 visits today)