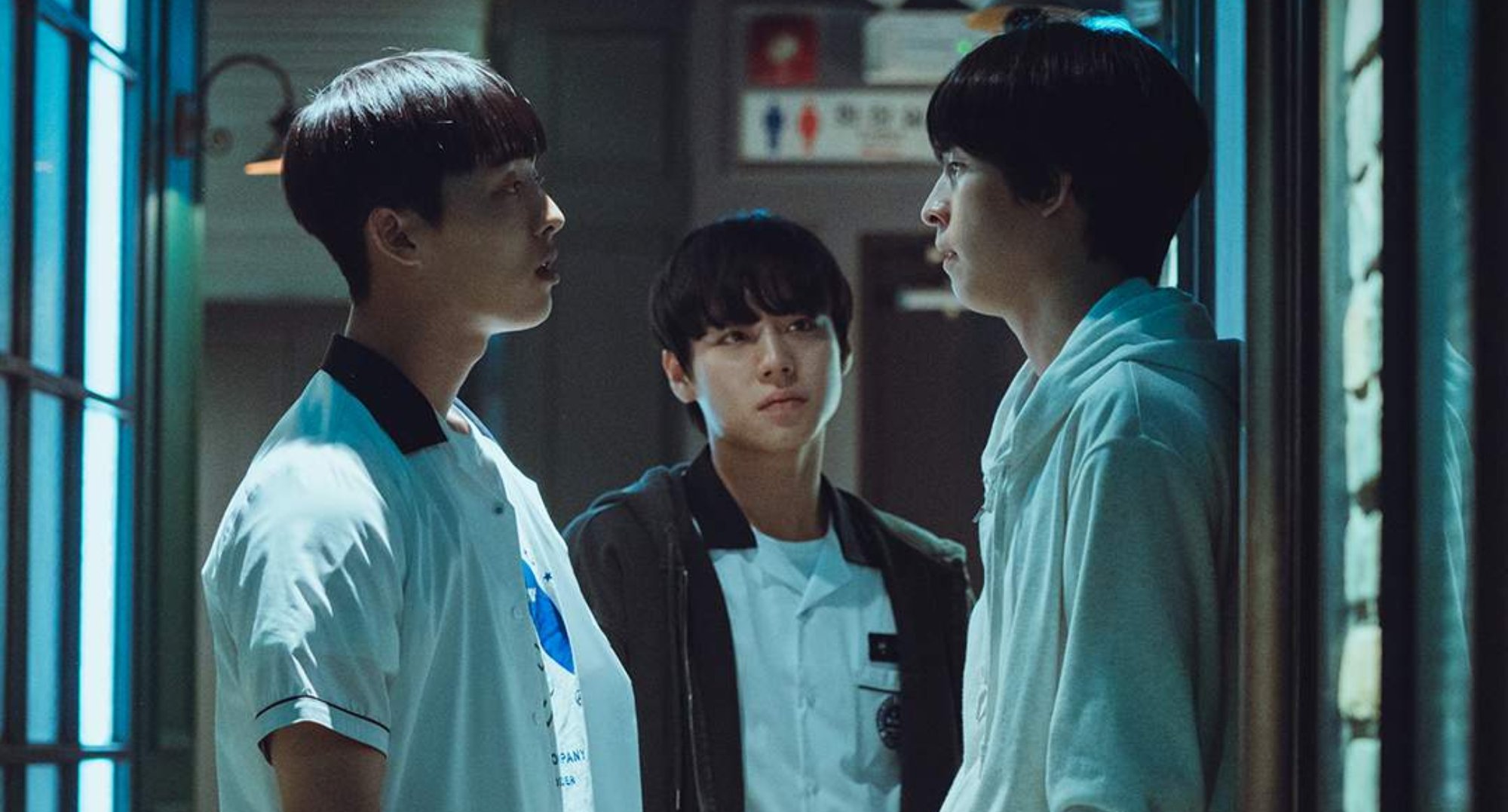 The newest K-drama, Weak Hero Class 1, tells the riveting story of systemic bullying in a school setting as one student fights back. Yeon Si-eun (Park Ji-hoon) is an academically gifted student. But when class bullies push him too far, he snaps. Along the way to standing up for himself, he makes a few friends but gets caught in a string of threats and violence. Weak Hero Class 1 finale has a tragic end and teases the story is far from over.
[Warning: This article contains spoilers for Weak Hero Class 1.]
Park Ji-hoon and the main cast of 'Weak Hero Class 1' K-drama | via Wavve
'Weak Hero Class 1' has Si-eun gain new friends and bullies
The November K-drama begins when Si-eun becomes fed up with his class bullies, despite asking multiple times to stop. His bully, Young-bin (Kim Su-gyeom), becomes fed up with his demeanor. Young-bin sees an opportunity when a new rich student transfers to the school, Oh Beom-seok (Hong Kyung). During the mock exam, he blackmails Beom-seok to stick a Fentanyl patch on Si-eun's neck.
Realizing what is happening, Si-eun smacks himself into coherency, shocking his classmates. When he gets a wrong answer on the mock exam, he breaks. He uses his academic knowledge to stab a pen into one bully's hand and uses a textbook to beat Young-bin. His display effectively scares the bullies and his classmates. But it also awakens further anger in Young-bin.
RELATED:
Meanwhile, another student named An Soo-ho (Choi Hyun-wook) tries to become Si-eun's friend. Soo-ho is a hard worker and likes to sleep, but he is feared due to his immense martial arts skills. The catalyst of Weak Hero Class 1 is when Young-bin contracts his local drug dealer to rough up Si-eun for what he did to him and for exposing his Fentanyl use.
Based on a webtoon, Weak Hero Class 1 soon begins a dark and heartbreaking story of bullying and mistreatment. Feeling guilty over what he did to Si-eun, Beom-seok asks Soo-ho for help when Young-bin, the drug dealer, and his crew plan to beat Si-eun. After successfully rescuing Si-eun, the three characters become friends.
The K-drama's violence intensifies as Beom-seok joins the bullies
It is heartwarming for fans to watch Si-eun finally have friends to rely on. But Weak Hero Class 1 continues down its dark path of violence when the drug dealer's boss gets involved. Si-eun exposing Young-bin's drug use put his business in jeopardy. In retaliation, he blackmails Si-eun and his friends to pay him off or get severely beaten. While Beom-seok steals a watch to use as money to pay them off, Si-eun instead hatches a plan.
With the help of Young-yo (Lee Yeon), one of the people in the drug crew, he has evidence again the boss's illegal business and plans to have the police raid their hideout. But their plan fails, and they flee. They later corner them in an abandoned amusement park and get beaten. But by the end, …read more
Source:: Showbiz Cheat Sheet
(Visited 1 times, 1 visits today)