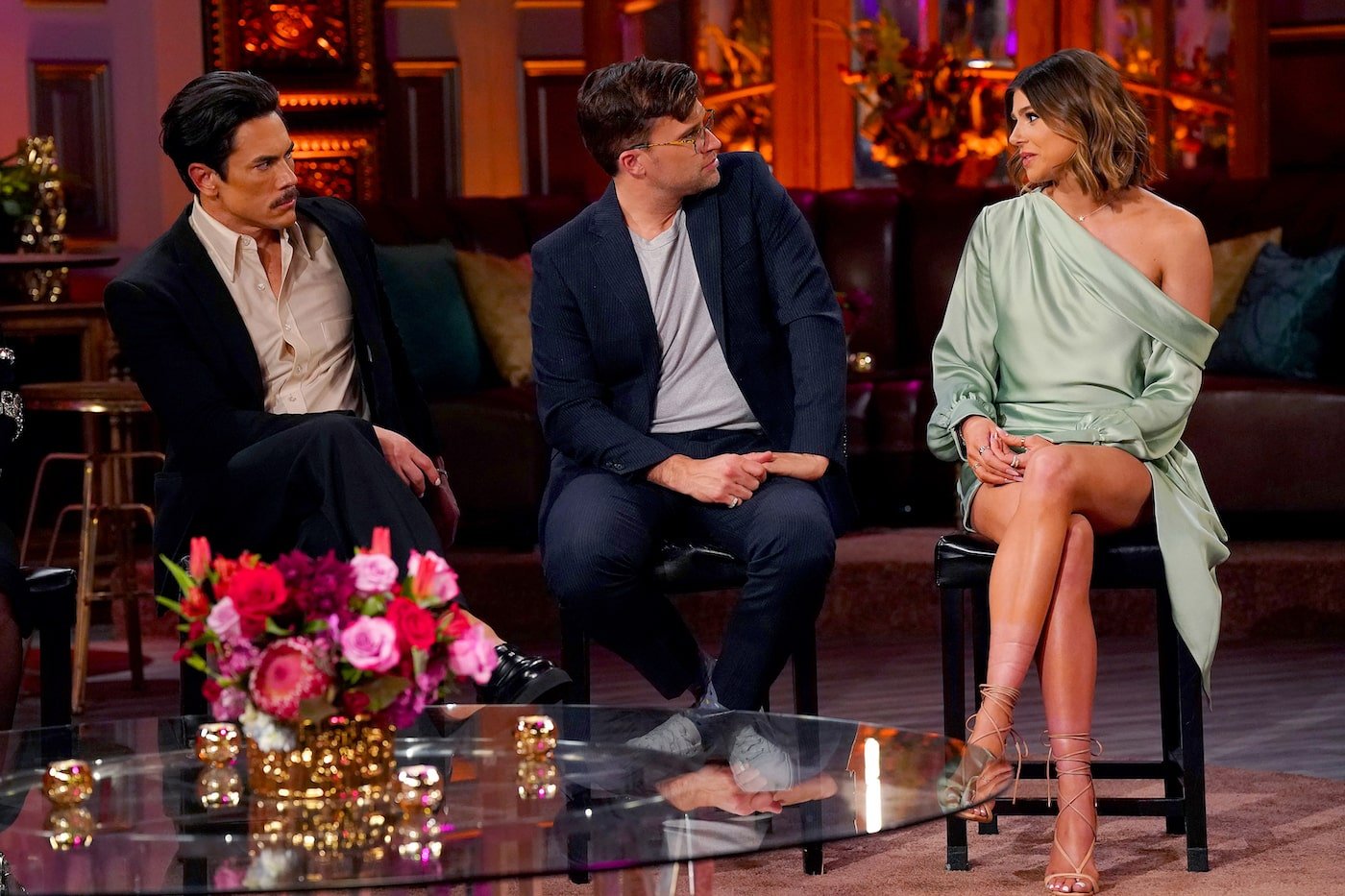 Tom Sandoval, Tom Schwartz, Raquel Leviss | Nicole Weingart/Bravo via Getty Images
But when Sandoval recently displayed extreme exasperation on social media and Leviss apparently received death threats, maybe we all need to realize that Tom Sandoval did not cheat on us. Yes, Madix has every right to be disgusted with him and Leviss. And those directly involved
Is it remotely possible to show love and support for Ariana Madix, while staying away from hating on Tom Sandoval and Raquel Leviss from Vanderpump Rules? Yes. Yes, it is.
The hate, social media attacks, and dragging of Sandoval and Leviss in the press have reached a fever pitch and perhaps everyone needs to cool it. Many people might disagree.
Tom Sandoval, Tom Schwartz, Raquel Leviss | Nicole Weingart/Bravo via Getty Images
But when Sandoval recently displayed extreme exasperation on social media and Leviss apparently received death threats, maybe we all need to realize that Tom Sandoval did not cheat on us. Yes, Madix has every right to be disgusted with him and Leviss. And those directly involved should feel betrayed.
But for the rest of the fandom, media, and haters, maybe it is time we backed off. And this is why …
Reality TV personalities are real people
Tom Sandoval has become a household name as the persona non grata. The ultimate reality TV villain. And while his ample ego may likely hold him steady to weather the storm, bullying, and death threats, nonstop dragging can wear on just about anyone.
For instance, the cheeky Netflix series Instant Hotel, which was a sleeper hit during the pandemic, had dark undertones many fans may not realize. The competition series tracked teams of rental homeowners in Australia who compete to win the best property or "instant hotel."
Some teams were painted as selfish or villains, whereas others were given more of a hero edit. Serena (de Comarmond) DC was on one of the teams that weren't given the best edit and took a beating online. "So when I was on Instant Hotel it was a really negative experience," DC told Showbiz Cheat Sheet in 2020. "Filming it was amazing, it was so much fun."
"When [the show] came out we knew straight away, 'Oh sh**'," she recounted. "The way producers portrayed us was really negative. So for every 10 beautiful things you said, they would throw them in the bin and just save the negative ones. So when there's only snark, you're an a**hole. Basically, that's what happened. I got trolled so badly when the show came out."
'Vanderpump Rules' social bullying and death threats can have deadly consequences
Social trolling usually impacts the intended target in some way. DC's backlash was painful, but for Instant Hotel cast member Shay Razaei, it was too much.
"So she was trolled so badly that three and a half weeks ago she overdosed and is now dead," DC shared. "The experience was absolutely horrific." DC started a new TV series focused on positivity. She was inspired to create the series after the death of her friend.
Related
'Vanderpump Rules': James Kennedy Could Be Planning 'Revenge' Track With Ariana Madix [Exclusive]
"But out of that became a rainbow," DC said. She was determined to find something positive from the experience. "I decided after being on that show I wanted to create positive reality TV. I believe people …read more
Source:: Showbiz Cheat Sheet
(Visited 1 times, 1 visits today)