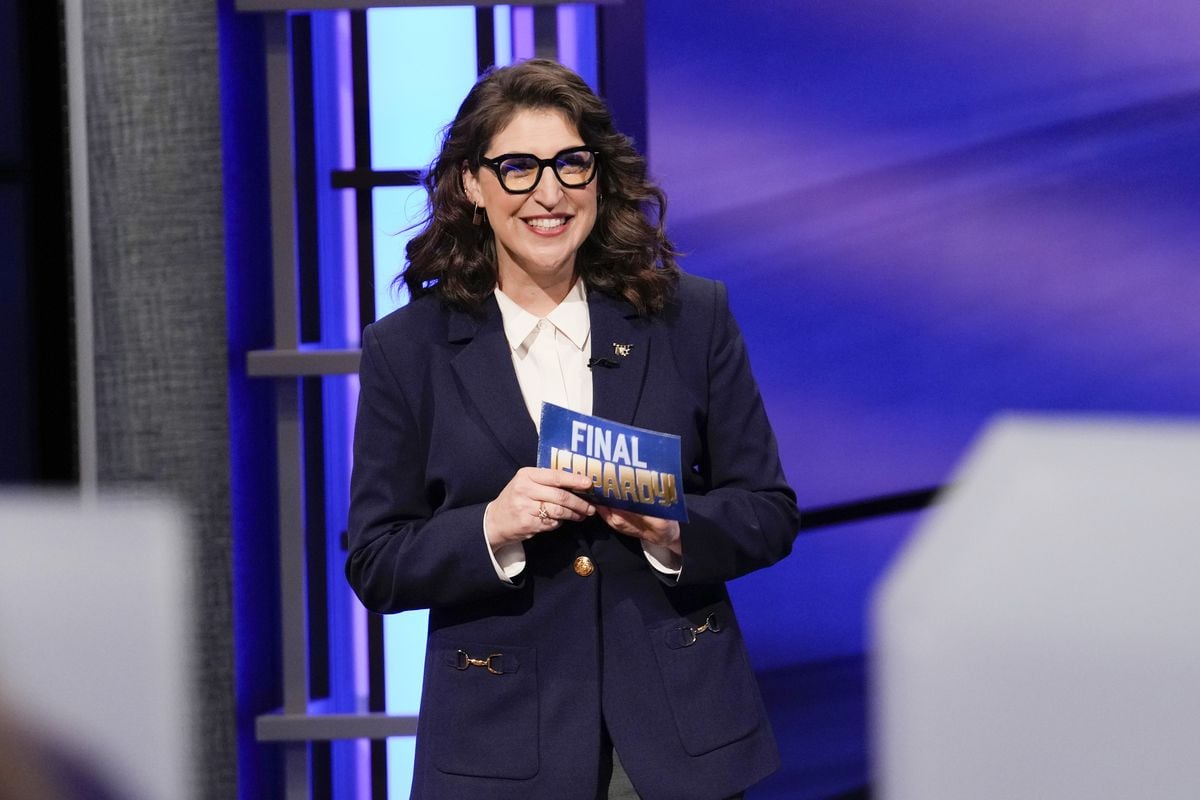 Mayim Bialik hosts "Jeopardy!" I Casey Durkin/ABC via Getty Images
During a recent tournament, fans from the United Kingdom were insulted when
Since the early 1960s, the TV game show Jeopardy! has tested the knowledge of eager contestants willing to participate in a battle of the minds for generous cash prizes. The long-running program has become a mainstay of American culture, consistently rating among the most popular television shows. When long-time Jeopardy! host Alex Trebek died from stage 4 pancreatic cancer in November 2020, he left a big pair of shoes to fill. As the face of Jeopardy! since 1984, he hosted more than 8,200 episodes before his death.
Determined to keep the famous quiz show going, producers set out to find a replacement, testing out a long string of guest hosts. In July 2022, Jeopardy! champion Ken Jennings and "The Big Bang Theory" star Mayim Bialik were announced as replacement hosts, sharing duties throughout the season.
During one of Bialik's recent hosting runs, the actor angered many UK fans when she allegedly accepted a wrong answer.
This is not the first time 'Jeopardy' has accepted the wrong answer
In 2004, when Jennings was a contestant on Jeopardy!, he incorrectly answered a question, receiving bragging rights for the game show's raunchiest answer. According to iHeart, the category was "Tool Time," and the question was, "This term for a long-handled gardening tool can also mean an immoral pleasure seeker." The audience erupted in laughter when Jennings answered, "What's a hoe?" and Trebek yelled, "Whoa, whoa, whoa!" The correct answer was a rake.
In September 2022, a returning champion, Emmett Stanton, took a stab at answering the final Jeopardy! question, writing "Emancipation Proclamation." The problem was his handwriting was barely legible. TV Insider reported, "He had crossed out one attempt at spelling 'Proclamation' and then scribbled it again in the corner of the screen." The show accepted the answer, and Stanton won the final round that night.
An incorrect answer to a recent change
Mayim Bialik hosts "Jeopardy!" I Casey Durkin/ABC via Getty Images
During a recent tournament, fans from the United Kingdom were insulted when Bialik accepted an incorrect answer from contestant Audrey Sarin, a college student at Cal Poly.
Under the category "National Anthems," the clue read, "Heard here is this British national anthem that has the same melody as 'My Country, 'Tis of Thee.'" Bialik accepted the wrong answer, "What is God Save the Queen?"
The online debate started almost immediately, with fans questioning the incorrect response. Since Queen Elizabeth II is no longer alive, the correct answer is "God Save the King."
According to The Sun, the answer outraged UK fans. Many questioned when the game show had been taped, but no definitive answer could be given. However, fans hypothesized that the episode was likely filmed in December 2022. "God Save the Queen" was an incorrect answer because the Queen had died in September 2022.
Online reaction to the flub
God save the King. pic.twitter.com/EEhBXGobQ9
— The Royal Butler (@TheRoyalButler) September 8, 2022
Related
'Jeopardy!' Writers Learned Some Clues Became Obsolete
The Sun reported many fans had harsh reactions, dedicating a Reddit …read more
Source:: Showbiz Cheat Sheet
(Visited 1 times, 1 visits today)