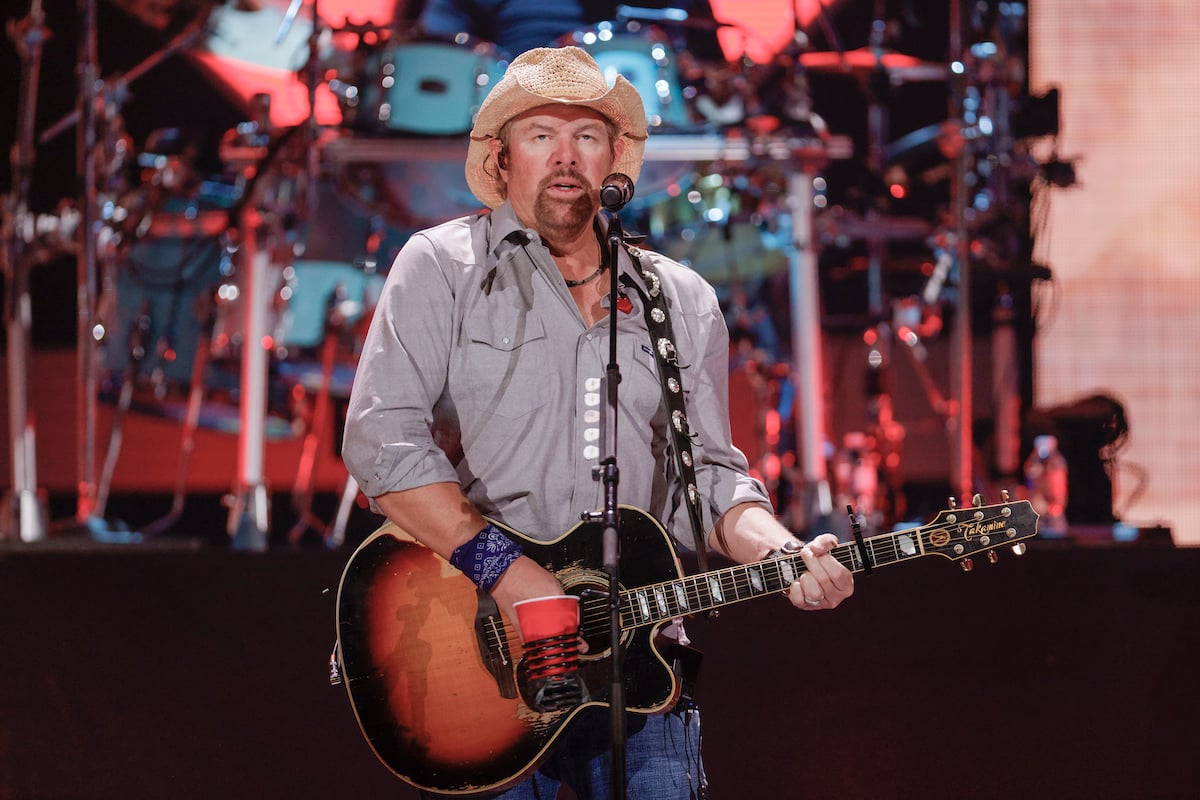 Toby Keith recently revealed to fans on Instagram, Twitter, and Facebook that he was diagnosed with stomach cancer six months ago. After the country star asked for time to recover and spend time with his family, fans quickly expressed their support and sent prayers. 
Toby Keith reveals his cancer diagnosis
Toby Keith in October 2021 | Michael Hickey/Getty Images
"Last fall I was diagnosed with stomach cancer. I've spent the last 6 months receiving chemo, radiation and surgery. So far, so good. I need time to breathe, recover and relax," Toby Keith wrote in identical June 12 posts on Instagram, Twitter, and Facebook.
"I am looking forward to spending this time with my family," the country star continued. "But I will see the fans sooner than later. I can't wait. -T"
Fans and friends react to Toby Keith's cancer announcement 
pic.twitter.com/TeADP7UN8h
— Toby Keith (@tobykeith) June 12, 2022
Toby Keith's friends and fans quickly offered their support.
Professional soccer player Chris Thunder wrote, "Praying Massively For You."
And one fan said, "Praying for you!! I'm going through cancer treatments too!!! We can do it, Toby!!!"
Many other followers shared their personal stories about cancer in the comments section. 
. @Jason_Aldean is offering prayers for @tobykeith, who has announced he's battling cancer: https://t.co/mDfOEfJ6zB
— Taste of Country (@TasteOfCountry) June 14, 2022
"My dad was diagnosed with stage 4 stomach cancer almost 4 years ago," another Instagram user shared. "He was initially given 3-6 months to live. He's battled it for almost 4 years and his tumor is now gone and he is basically cancer free. Huge prayers coming your way. My family and I know all too well what you're going through."
Yet another wrote, "Same here been taking chemo, had radiation and a major surgery for testicular cancer. At the hospital now for my last week of chemo. Prayers."
The country star's work with cancer patients
Keith has long been a supporter of cancer patients. In 2006, he launched the Toby Keith Foundation, which provides support for children with cancer.
"There is no greater gift than keeping families strong and together during a difficult time," the foundation's website reads. "If we can alleviate stress on a family, encourage a brother or sister and comfort a sick child, then we will make a difference in the fight against cancer."
Toby Keith's new album and tour
In the wake of his cancer announcement, @tobykeith has cleared his 2022 tour calendar. https://t.co/QEFi0i7fJ7
— Taste of Country (@TasteOfCountry) June 13, 2022
Keith's cancer announcement shocked many fans, especially because the 60-year-old hadn't shown any signs of slowing his career. The singer released an album in October — his first in five years — titled Peso in My Pocket. 
Speaking to People at the time of the album's release, Keith said, "I'd look at the song ideas I had in my phone before I started running, and then I would take off. Next thing …read more
Source:: Showbiz Cheat Sheet
(Visited 6 times, 1 visits today)