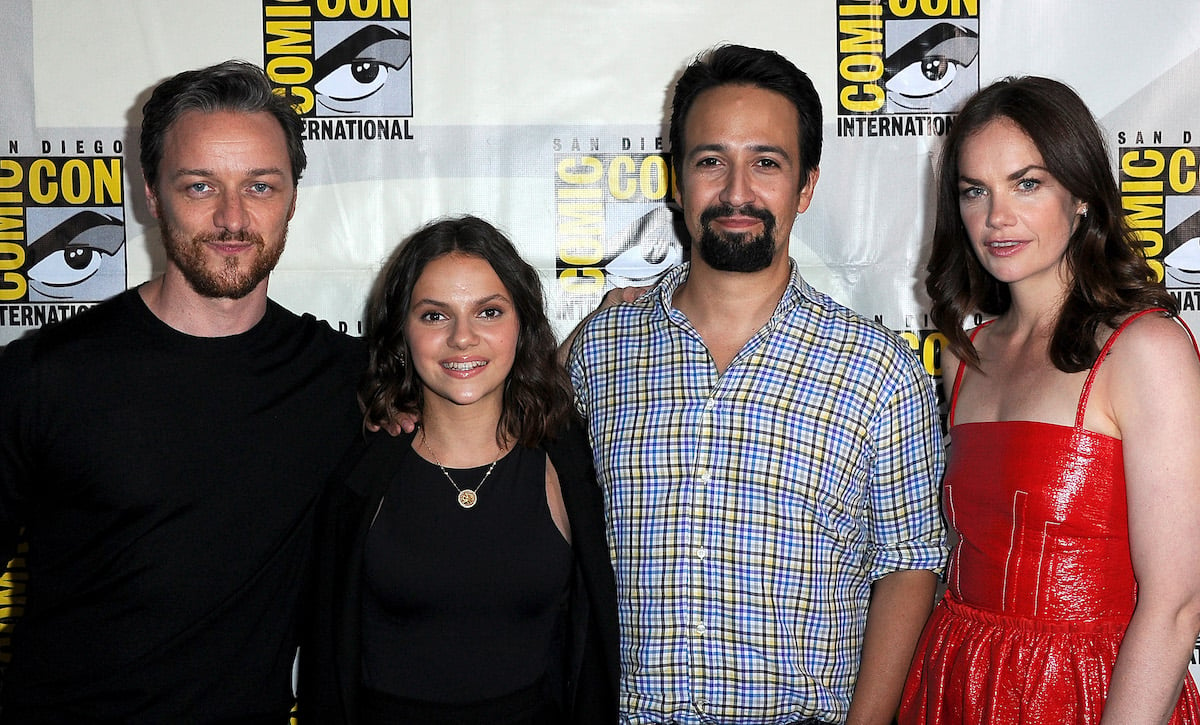 His Dark Materials is finished, having brought the trilogy's final book to HBO in Season 3. The hit series achieved what many thought impossible: deftly translating a complex fantasy novel trilogy to the screen. Of course, pulling that off meant making fundamental changes to various concepts and notable scenes from the books.
Those changes were mostly subtle but numerous. As the series continued, these changes added up to slightly different interpretations of some of the main characters in the series. That's why, when it came time to film one of the most indelible moments in the series, actors James McAvoy and Ruth Wilson were handed a different take on a familiar scene.
His Dark Materials stars James McAvoy, Dafne Keen, Lin-Manuel Miranda, and Ruth Wilson | Albert L. Ortega/Getty Images
'His Dark Materials' Season 3 makes some notable changes from the original book
Mrs. Coulter and Lord Asriel — played by Ruth Wilson and James McAvoy, respectively — found themselves in a different emotional place in the HBO/BBC take on His Dark Materials. Both actors were intimately familiar with author Philip Pullman's book, The Amber Spyglass. McAvoy says he read the series "a million times" before being offered the role as Asriel, so he knew exactly how different it was.
In the book, Asriel and Coulter are already paired up to take on Metatron. They hold the angel together, with little hesitation toward each other, and send him to the abyss. But the TV equivalents of those characters are a bit warier of one another.
They'll meet again on this bench — every year. #HisDarkMaterials pic.twitter.com/yegaZXmNNj
— His Dark Materials (@daemonsanddust) January 13, 2023
"I think because the nature of what Mrs. Coulter has already been through in two seasons, plus what [Asriel] was going through in this season, they're slightly different versions of the Mrs. Coulter and Asriel in the book," Wilson told Newsweek.
McAvoy chimed in to explain why we got a hesitant moment instead of a straightforwardly triumphant one. "In the books, Asriel and her are completely on the same page, but in this one, even Asriel is like the audience, going, 'I'm not sure.' But the moment of complicity is really nice." 
How did fans react to 'His Dark Materials' making changes from 'The Amber Spyglass'?
Because specific personal issues weren't resolved on screen, the TV version needed to have a key emotional beat play out differently. This kind of thing is endemic to TV and film adaptations of novels. But fans, naturally, tend to bristle at such changes.
When you've already binged season 3 more than once… #HisDarkMaterials pic.twitter.com/0GKJVGjqaY
— His Dark Materials (@darkmaterials) January 14, 2023
Was that the case for His Dark Materials? For now, signs point to the overall reaction being incredibly positive. According to Rotten Tomatoes, the audience score is 85%, just ahead of the 84% positive appraisal from professional critics.
"This was incredible and truly touching," one unnamed Rotten Tomatoes user wrote. …read more
Source:: Showbiz Cheat Sheet
(Visited 1 times, 1 visits today)