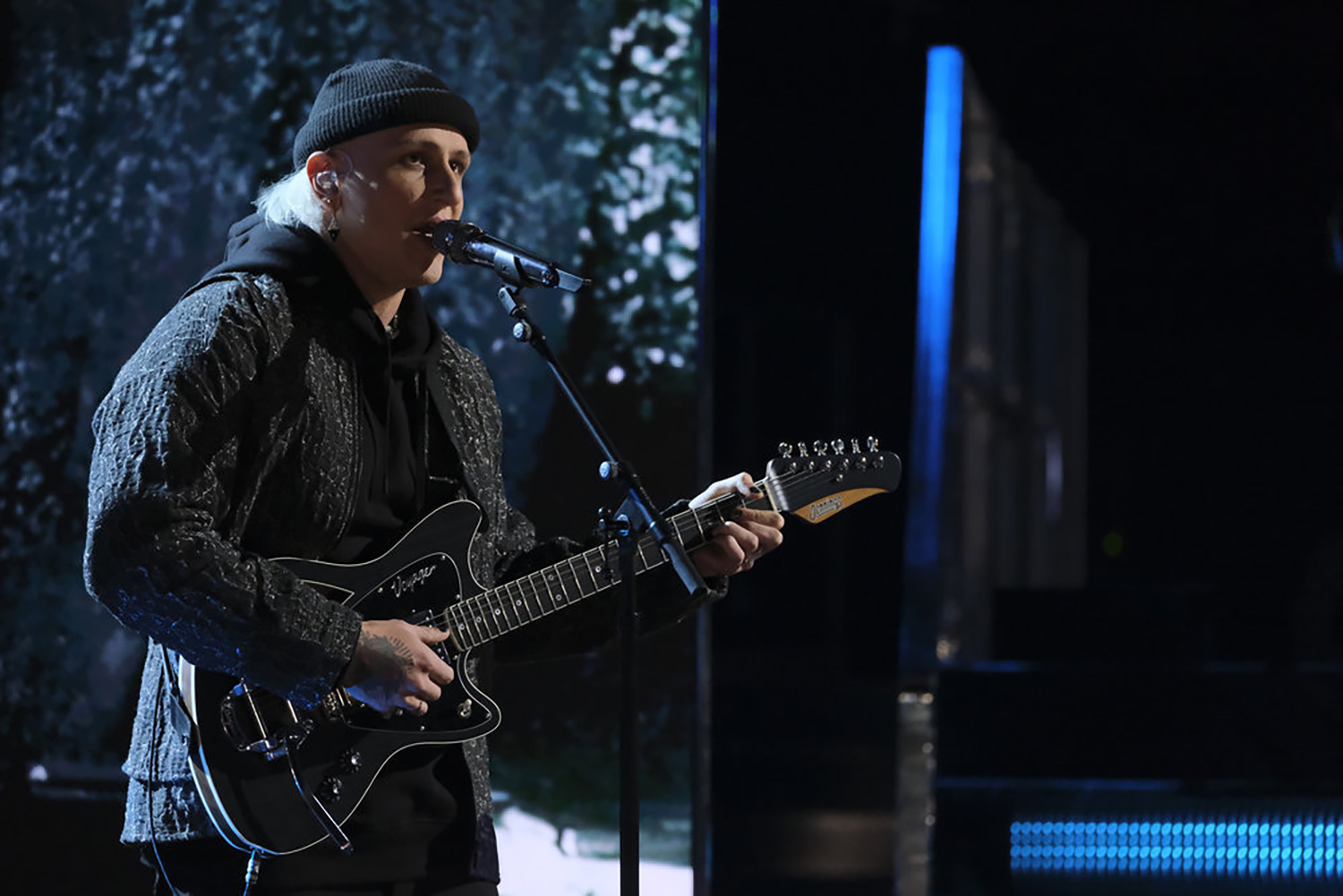 Bodie performs on 'The Voice' Season 22 Episode 18. | Trae Patton/NBC
Team Gwen
The Voice Season 22 Episode 18 continued the Live Playoffs as the Top 13 performed songs that changed their lives. Viewers also got to see coaches Blake Shelton, John Legend, Gwen Stefani, and Camila Cabello enjoy some one-on-one time with each teammate in rehearsals. Tonight, fans will be able to vote for the artists they want to see in the Top 10.
[Spoiler alert: The following story contains spoilers for The Voice Season 22 Episode 18.]
Bodie performs on 'The Voice' Season 22 Episode 18. | Trae Patton/NBC
Team Gwen
Kique opened the show with Stevie Wonder's "Superstition" because of his band teacher, who helped him find his love for music. In rehearsal, Gwen encouraged the 19-year-old to have fun with his performance. He could have loosened up a bit and channeled more energy on stage, but the coaches loved his voice. Camila said Kique "grew into" his "heavy voice." Gwen agreed that he made the song his own.
Alyssa Witrado went up next for Team Gwen. She sang Selena's "Dreaming of You" in honor of her late grandfather. By the end of rehearsal, Gwen thought Alyssa sounded like a whole new person. Her performance earned a standing ovation from Gwen, and Camila said she admired Alyssa's "charismatic" and "contagious" energy. Gwen added that she heard "all sides" of Alyssa's voice with the tune.
Team Gwen's final performance of the night was sung by Justin Aaron. He chose "Break Every Chain" by Tasha Cobbs Leonard, drawing from his personal experience with depression. Gwen encouraged Justin to get emotional on stage. He had the coaches on their feet as he screamed the song with passion in his voice. John called Justin "incredible," and Gwen was in awe of the way he "took it to the next level."
Team Gwen: Kique, Justin Aaron, Alyssa Witrado
Team Blake
can @rowangracemusic sing every @Abba hit they've ever put out pls. pic.twitter.com/ENzAssanfU
— The Voice (@NBCTheVoice) November 22, 2022
Bryce Leatherwood, the Instant Save winner from last week, performed George Strait's "Amarillo By Morning." He hoped to do Strait justice with his rendition, and Blake had faith that Bryce would kill it. The singer sounded and looked like pure country as he strummed his guitar in his cowboy hat, leather jacket, and boots. John complimented the natural fit of the song to Bryce's voice, and Blake gave Bryce a standing ovation.
The Voice Season 22 Episode 18 continued with Rowan Grace, who loved singing ABBA as a child. She opted to perform "The Winner Takes It All." The song felt a bit too low for Rowan's range at times, but she redeemed herself with some higher notes. John said Rowan's voice sounded "graceful" and "supple," and he admired the power she had in the bigger notes. Blake said the 17-year-old had a unique sound and the ability to transform iconic songs.
Bodie sang "I'm Gonna Be (500 Miles)" by The Proclaimers in honor of his wife. He slowed down the tune, showing off the gentle side of …read more
Source:: Showbiz Cheat Sheet
(Visited 1 times, 1 visits today)