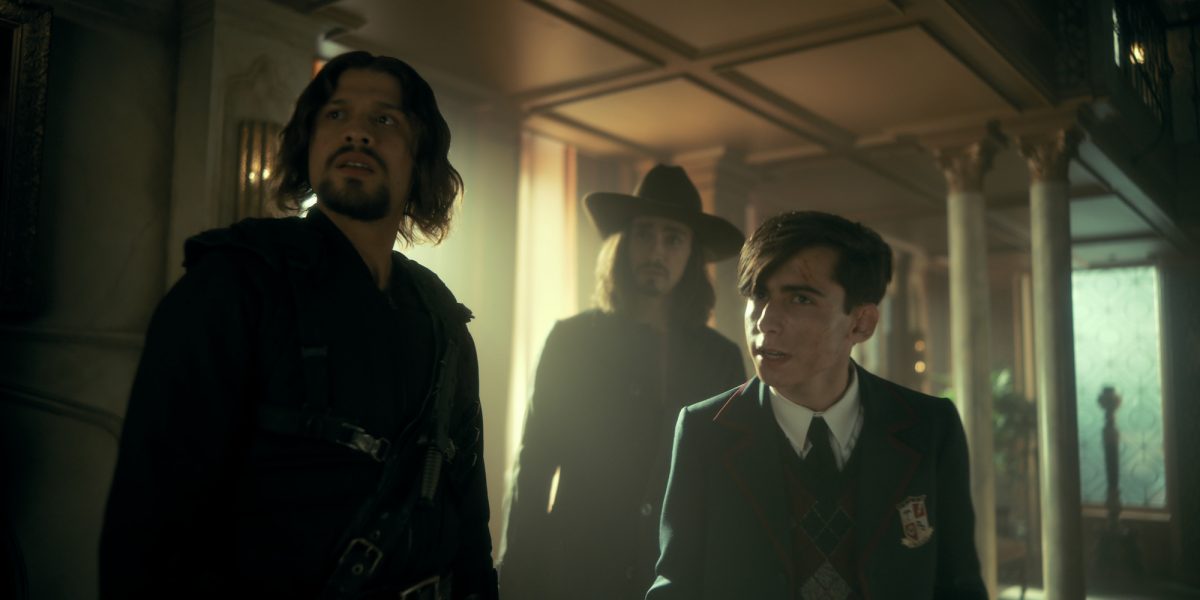 David Castañeda as Diego Hargreeves, Robert Sheehan as Klaus Hargreeves, Aidan Gallagher as Number Five in 'The Umbrella Academy' | Cr. Courtesy of Netflix
David Castañeda's Diego is usually the surliest member of The Umbrella Academy
The Umbrella Academy Season 3 premieres next week, and Showbiz Cheat Sheet was lucky enough to steal a bit of David Castañeda's time to talk about the new season. Castañeda plays Diego Hargreeves, one of seven children with super powers raised by Reginald Hargreeves. The comic books of the same name inspired the Netflix series, but showrunner Steve Blackman took the story in his own direction in the new season. So, what did Castañeda tell us about The Umbrella Academy Season 3?
David Castañeda as Diego Hargreeves, Robert Sheehan as Klaus Hargreeves, Aidan Gallagher as Number Five in 'The Umbrella Academy' | Cr. Courtesy of Netflix
David Castañeda's Diego is usually the surliest member of The Umbrella Academy
When we first met Castañeda as Diego in 2019, it's safe to say that he held a massive chip on his shoulder. Diego wanted nothing more than to please his adoptive father. His insecurities about being number two in the Umbrella Academy wore on him over the years. He felt he could never receive the same praise Luther (Tom Hopper) got from their father.
In The Umbrella Academy Season 2, Diego's hero complex becomes the crux of his existence and Number Five's (Aiden Gallagher) plan to stop the end of the world. He insists on stopping the assassination of John F. Kennedy, no matter the cost. Thankfully, his siblings reel him back in with some effort, and the group successfully saves the world again. 
don't run… i heard a rumor there's only 3 days until THE UMBRELLA ACADEMY sn 3 pic.twitter.com/anbRmikxAb
— Netflix Geeked (@NetflixGeeked) June 19, 2022
RELATED: 'The Umbrella Academy' Season 3 Promotional Images Hint at Hotel Obsidian, Not Hotel Oblivion
'The Umbrella Academy' Season 3 shows us a new version of Diego
It might seem as though season 2's Diego found his groove. However, Castañeda prefers the version audiences will see in The Umbrella Academy Season 3. 
When asked about his favorite version of the character, Castañeda told us, "Well, I mean, I don't know about favorite, but I think this is the right one to be in right now. You know, because each year, each season, I think, especially season two, where it was a big jump from you getting to see who Diego really is and what he really wants. And you get to see his storyline and really kind of let him loose. In this one [season 2], it's interesting because you would think that that's where Diego is, the sweet spot, and that's where people like him. So, let's keep pushing in that direction. But they didn't. They grounded him. You know, they gave him a responsibility. They gave him something to be selfless and to allow growth within his own, you know, childlike obsession of trying to save and do things."
me + who pic.twitter.com/1Be7P66tHg
— Netflix Geeked (@NetflixGeeked) June 18, 2022
What's up next for David Castañeda?
The Umbrella Academy Season 3 isn't the only series Castañeda has in the works. Academy Award-nominee Rian Johnson recently announced …read more
Source:: Showbiz Cheat Sheet
(Visited 8 times, 1 visits today)