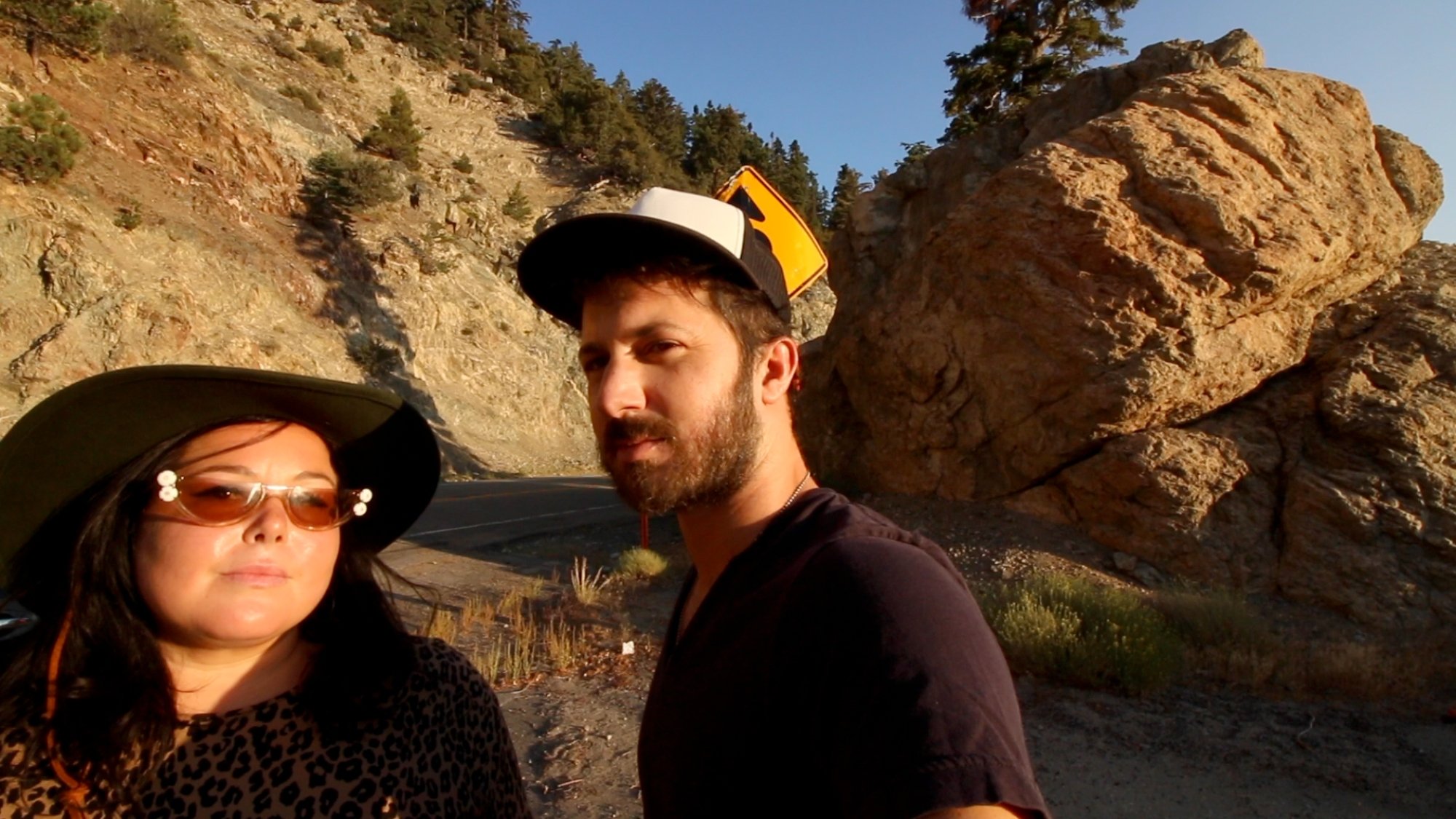 L-R: Angela Basolis as Ange Bocuzzi and Robbie Banfitch as Robbie Zagorac | Cinedigm
Within less than a month into 2023, the horror genre is already thriving with studio hit M3GAN and viral indie phenomenon Skinamarink. Writer/director Robbie Banfitch's The Outwaters is the best of the bunch, carving out its own slice of dread that is singular and terrifying. It metaphorically and literally leaves the viewer in the dark, using the primal fear of the unknown that lurks within to make your blood run cold.
'The Outwaters' brings found footage to the Mojave Desert
Robbie Banfitch as Robbie Zagorac | Cinedigm
Law enforcement successfully recovers memory cards in a remote expanse of the Mojave Desert. The footage captures four travelers named Robbie (Banfitch) and his brother, Scott (Scott Schamell), along with their friends, Ange (Angela Basolis) and Michelle (Michelle May). They suddenly disappeared while venturing on a sun-drenched camping trip that left only questions as to the events that took place.
Now, their footage is about to reveal a mind-bending trip that sent the group through unimaginable horrors. However, the revelations of their secrets may leave even more confusion, as the images within aren't meant for human eyes to see or our minds to comprehend.
Robbie Banfitch's connection-seeking journey finds something much more sinister
The discovery of The Outwaters' footage is set at the beginning of 2022, but the events take us back to Aug. 2017. Its initial evidence title cards and character introductions fall right into the typical found footage tropes that audiences have come to expect. Each member of the group prepares for their trip into the desolate Mojave Desert as a means to introduce the travelers, each of which begins their adventure with their own fears and insecurities that play into their greatest nightmares coming to life.
Banfitch only somewhat clues us in on the world of the protagonists, centering them within family turmoil. Robbie and Scott are brothers incurring family drama of their own, the latter of which refuses to visit their mother (Leslie Ann Banfitch). The pair briefly discuss their father, which mirrors Michelle's grief over the loss of her mother. Banfitch's screenplay never plays its hand, even keeping its cards close to its chest after the credits are done rolling. The audience is left to determine how it all fits together or doesn't.
So, why are these four friends in the Mojave Desert to begin with? Michelle is recording a music video for a song that her mother once sang to her. Meanwhile, the rest of the travelers are providing their skillset to best capture it. However, earthquakes begin before they even reach the desert, and sudden vibrations running through the Earth have a part to play in the ominous environment. The longer that the group of friends exposes themselves to its harsh conditions, the more disoriented they become.
'The Outwaters' taps into primal fears
L-R: Angela Basolis as Ange Bocuzzi and Robbie Banfitch as Robbie Zagorac | Cinedigm
Related
'Deadstream' Movie Review [SXSW 2022]: Live Streaming Meets 'Evil Dead'
Banfitch is a rare talent, offering his skills as a writer, director, …read more
Source:: Showbiz Cheat Sheet
(Visited 1 times, 1 visits today)