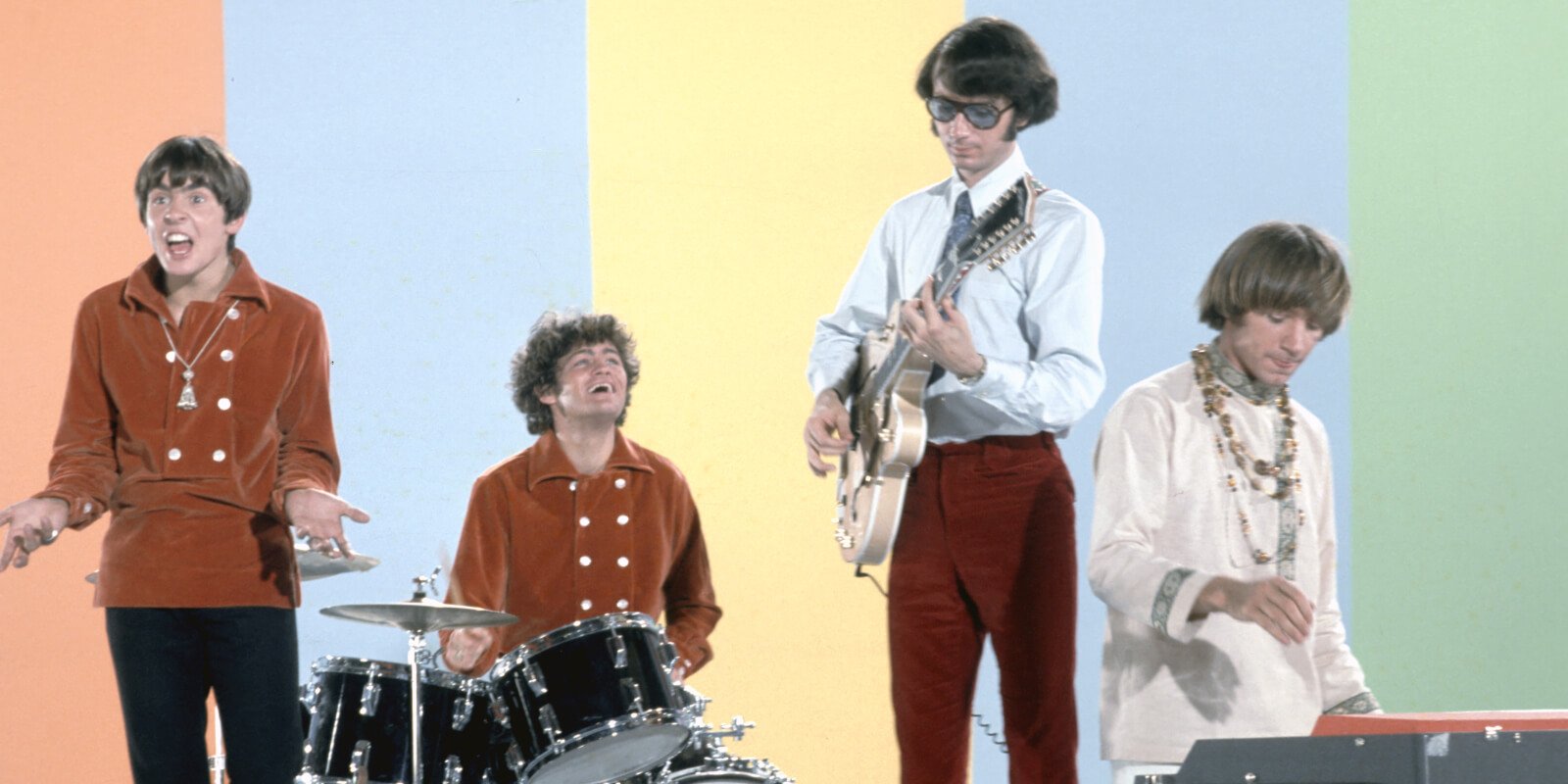 Davy Jones, Micky Dolenz, Mike Nesmith, and Peter Tork made up The Monkees | Michael Ochs Archives/Getty Images
Micky Dolenz used a different setup than most drummers
Micky Dolenz was thrust into the role of The Monkees drummer after being cast as a member of the NBC series alongside Mike Nesmith, Peter Tork, and Davy Jones. Although a proficient guitarist, Dolenz never sat behind a drum kit before the series began. Once it became successful, The Monkees were expected to play live on tour, despite never recording together. Micky Dolenz developed an arsenal of tricks to stay on beat. Here are three of them.
Davy Jones, Micky Dolenz, Mike Nesmith, and Peter Tork made up The Monkees | Michael Ochs Archives/Getty Images
Micky Dolenz used a different setup than most drummers
Per an interview with Modern Drummer, Micky Dolenz admitted to modifying his drumset for him to keep on the beat. This switch was done to assist Dolenz after a lingering childhood health issue caused him physical discomfort.
Dolenz set up his kit in a unique way. "Yeah, half-right, half-left. The bottom half is left-handed, and the top is right-handed. I know it's bizarre: I play the kick with my left foot and the snare with my left hand."
He continued, "When I was a kid, I had a leg disease called Perthes. My right leg was and still is, weaker than my left. So when I went to play conventional style, it hurt. But since I was beginning, my teacher John Carlos said, 'Hey, change it around.' He put the kick on my left and the hi-hat on my right—which I still do to this day—and it worked!"
Mike Nesmith once joked Micky Dolenz 'could hardly keep time' as a drummer during Monkees concerts
Related
The Monkees Mike Nesmith 'Loved' Carole King But Claimed: 'I Just Can't Stand Her Records'
In an interview for Australian Musician Mike Nesmith shared another trick Micky Dolenz used to keep time as a drummer. At the video's 9:33 mark, he said this cheat was due to the noisy fan screams that permeated the band's tours.
Nesmith admitted The Monkees concerts were fantastic. "I could barely play the guitar. So getting up there and playing things like 'Last Train to Clarksville' was great. I couldn't play like the session guys so that I would play a reasonable facsimile," he explained.
He continued, "Micky could hardly keep time, so he'd watch my foot. We couldn't hear each other either. It was just pandemonium. It was all part of the good times."
Practice, practice, practice
Micky Dolenz knew practicing was the key to looking like a professional drummer. After learning he would have to play the drummer role in The Monkees series, Micky threw himself into learning the instrument.
Forbes Magazine reported that instead of doing just enough to get by, Dolenz became quite proficient. He said his can-do attitude helped greatly.
He explained, "When they cast me in the show as the imaginary drummer, I said, 'Fine, where do I start?' It was like my earlier television series on NBC called Circus Boy. They told me I had …read more
Source:: Showbiz Cheat Sheet
(Visited 4 times, 1 visits today)