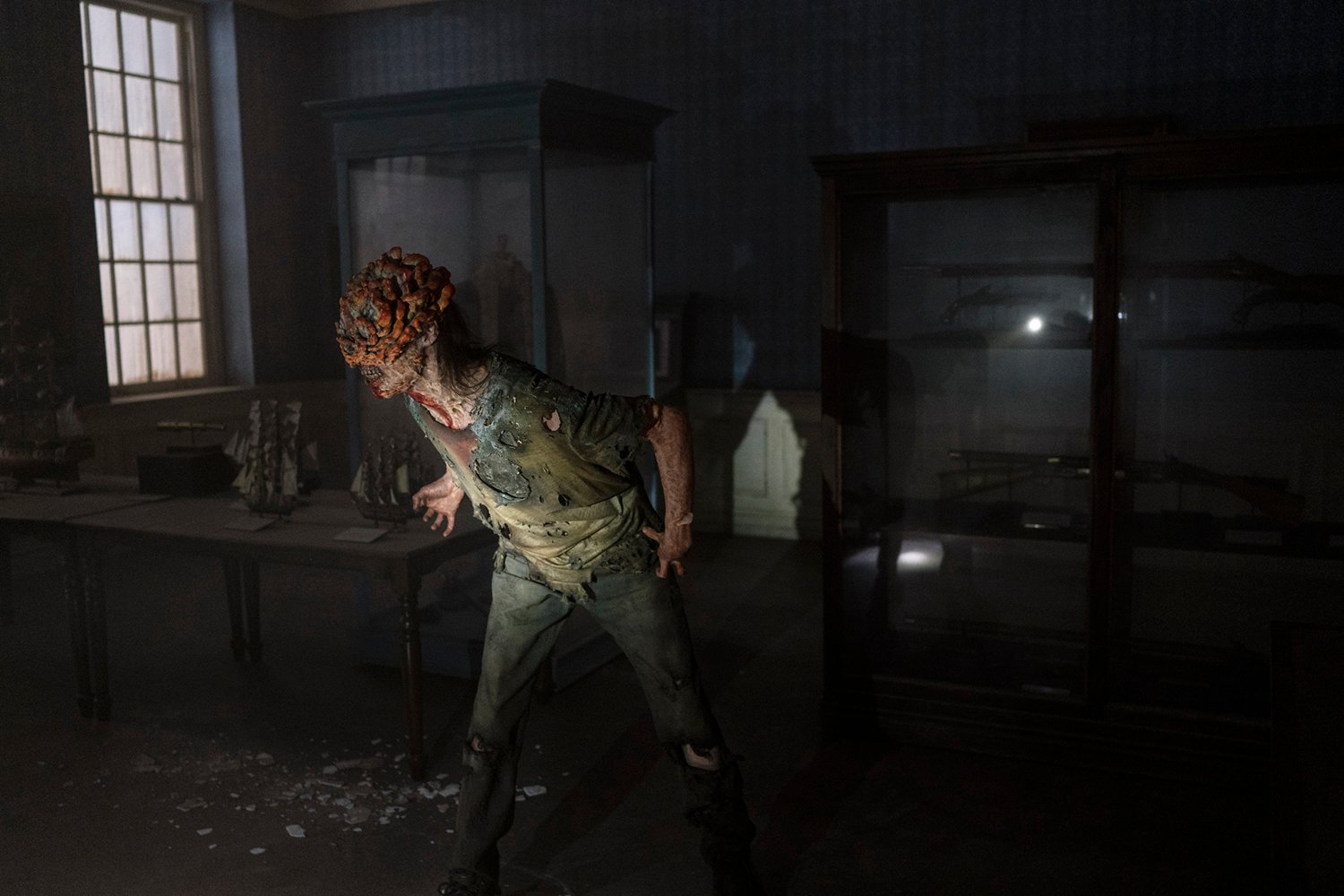 An infected person known as a Clicker in 'The Last of Us' | Liane Hentscher/HBO
What do they call the infected in 'The Last of Us'?
Those who have been infected with the Cordyceps fungus are collectively known as "the infected." However, as seen in The Last of Us video games, there are multiple stages of the infection — and each one is more dangerous than the last.
When someone is first infected with the fungus — usually through a bite from someone who is already sick — they will turn into a Runner within two days. Runners look like humans, but they no longer have control of their brains, so they become extremely aggressive. They're also surprisingly speedy on their feet; however, Runners aren't so quick with their attacks. Mrs. Adler was a Runner in episode 1 of The Last of Us TV series.
The next stage of infection is known as the Stalker stage. Zombies usually reach this point after two weeks. The fungus has started to take over their skin, shown as tendrils that can be attached to walls. Stalkers like to hide in dark places and launch surprise attacks on their prey.
Next, there are Clickers — viewers see these in episode 2 of The Last of Us. By this point (one year of infection), Cordyceps has grown through their heads, leaving only a disgusting, mushroom-like bulge atop their zombie bodies. The fungus takes over their eyes, so Clickers use echolocation (a clicking sound) to hear prey.
The final type of infected in The Last of Us is known as the Bloater or Shambler. Both of these types have been infected for several years. Their bodies have been completely taken over by the fungus, creating armor all over. Shamblers are more common in areas with water. Bloaters and Shamblers can pull the fungus from their own bodies to send spore bombs at their prey, which causes burns.
'The Last of Us Part II' introduces another terrifying type of infected
As if all that wasn't scary enough, there's one more monster that could make it into The Last of Us TV series. In the second game, The Last of Us Part II, players must fight what is known as the Rat King. Essentially, this creature was formed by several infected individuals merging together over the course of several years. It resists damage from fire, bombs, and guns, so the Rat King will be quite the challenge if it appears in the show, likely in season 2.
Cordyceps infection spores and tendrils, explained