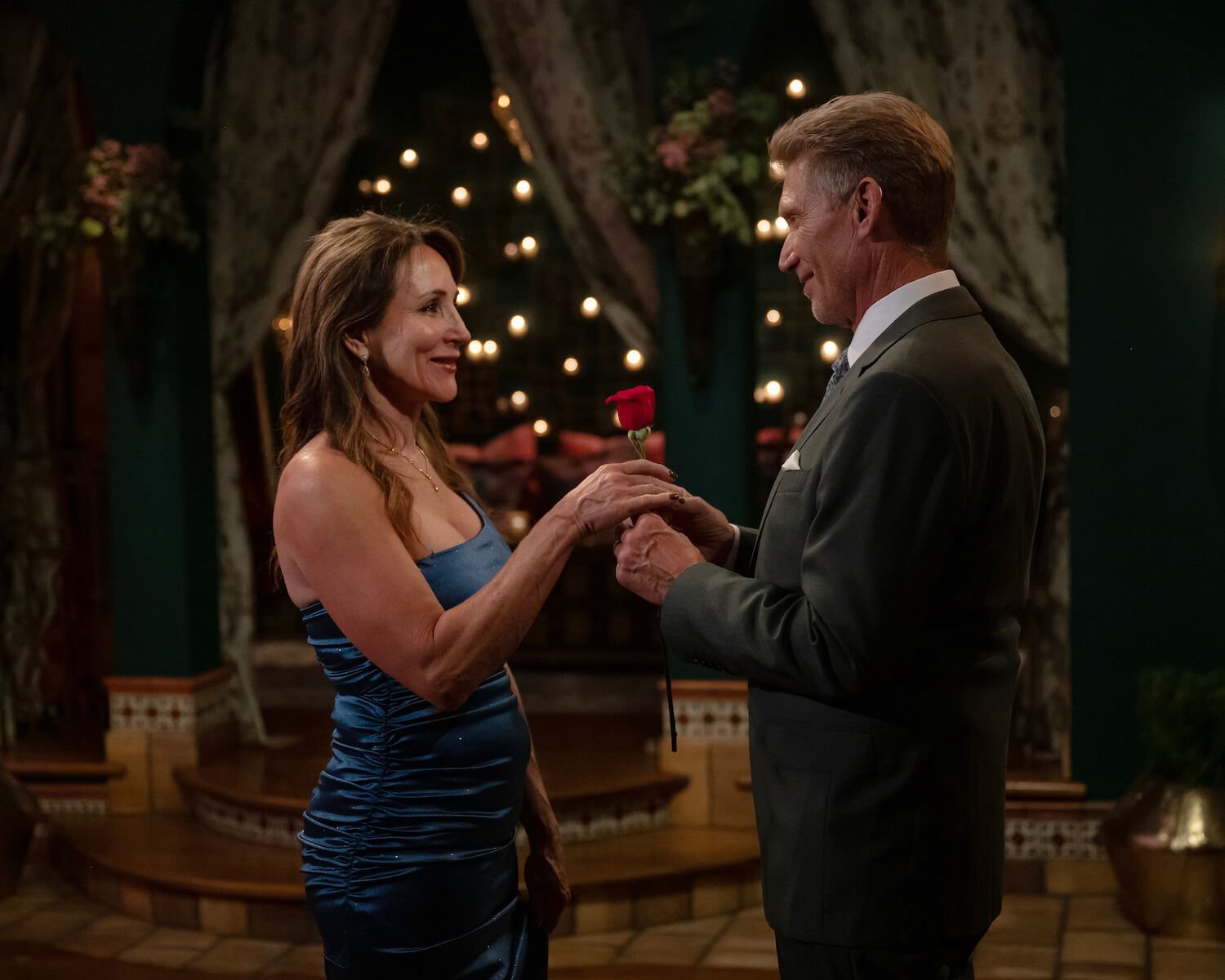 'The Golden Bachelor' star Gerry Turner with Faith Martin | Disney/John Fleenor
ABC's The Golden Bachelor finale is nearly here, and fans get to see whether Gerry Turner gets down on one knee for Theresa Nist or Leslie Fhima. We were rooting for Gerry to choose Faith Martin in the end, as he seemed right at home with her and her family during hometowns. Unfortunately, Gerry sent her home — though a recent throwback photo might prove that Gerry made the wrong choice.
'The Golden Bachelor' star Gerry Turner posted a throwback photo ahead of the finale
The Golden Bachelor is almost over, and fans love to see old photos of Gerry Turner and his final two women. Leslie Fhima posted a clip of her doing aerobics in her late 20s, and Theresa Nist posted photos of her in her 30s when living in Berlin with her late husband. Now, it's Gerry's turn to share a blast from the past. He posted a photo to Instagram on Nov. 20, 2023, showing him riding a motorcycle in his younger years.
The photo depicts Gerry sitting on the bike parked on the sidewalk outside a house. He's turned toward the camera and squinting from the sun as he puts one hand on the handlebars. Gerry's wearing a short-sleeved T-shirt over a long-sleeved shirt, jeans, and brown shoes.
Gerry Turner's father, Everett Wayne Turner, spoke about riding motorcycles with his son. "He's a great son," Everett told The Courier-Post. "I rode a motorcycle; Gerry and I rode all the way down the Smokey Mountains together. When I got to be 82 and turned my cycle in, he turned his in, too."
The photo of Gerry on the motorcycle reminds fans of Faith Martin's entrance. Faith entered The Golden Bachelor on a bike, and Gerry fondly remembered how she removed her helmet and whipped her hair back and forth as she approached him. "I'm proof you can live fast and not die young," she told Gerry on the first night. "And, if you leave here with me, it will be the ride of your life."
"Faith is like, 'OH C'MOOOON?!?!'" a fan commented on Gerry's post.
"All this to not choose Faith? Bro," another fan wrote.
Faith Martin said her age and location were concerns for 'The Golden Bachelor' lead
'The Golden Bachelor' star Gerry Turner with Faith Martin | Disney/John Fleenor
Related
'The Golden Bachelor': Gerry Turner's Pickleball Coach Thinks He'll 'Definitely' Pick Leslie Fhima
The Golden Bachelor fans still aren't over Gerry Turner dumping Faith Martin, especially after seeing this throwback photo. But Faith gave the real reasons why she believes Gerry didn't give her a rose. She told ExtraTV that her location and her age were significant factors.
"I think that there were some concerns that I had," Faith noted. "The fact that Gerry lived in Indiana, the fact that I really need to be close to my kids, my grandkids, and my community that I've spent so long …read more
Source:: Showbiz Cheat Sheet
(Visited 1 times, 1 visits today)