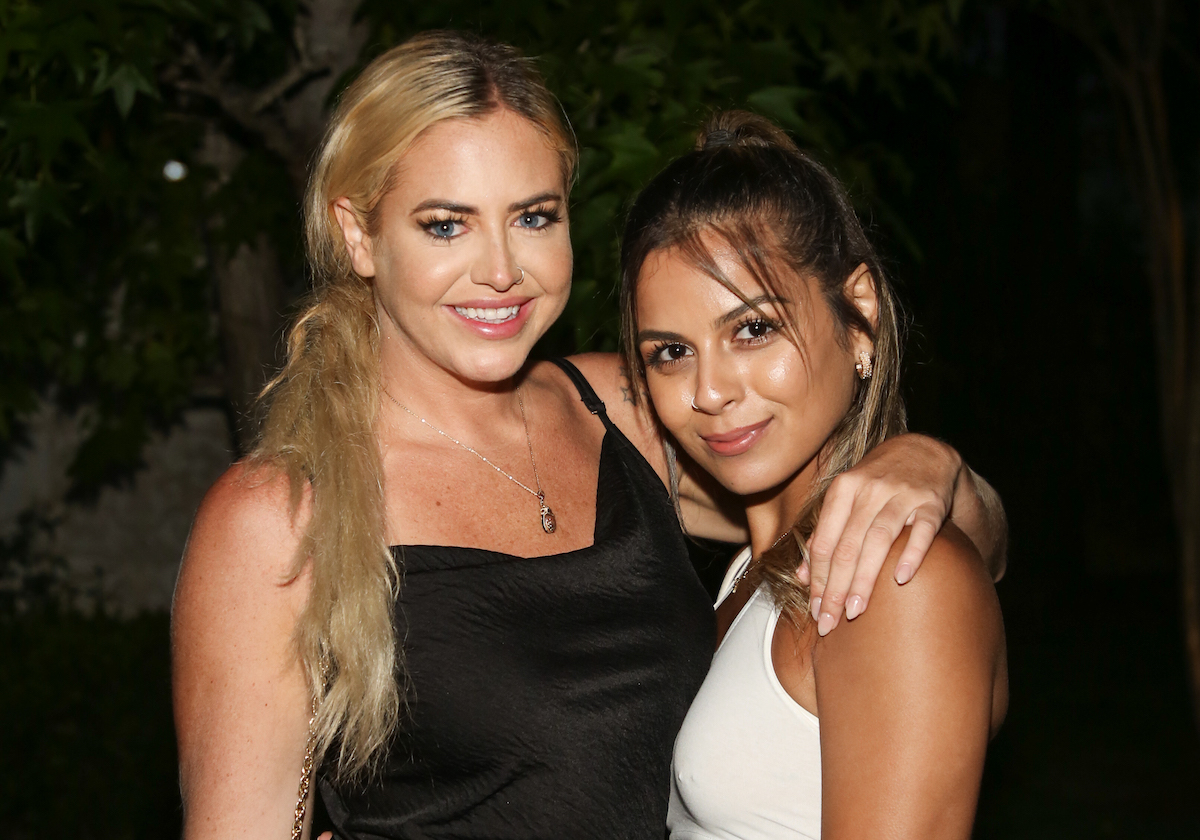 Jemmye Carroll (L) and Amber Martinez attend the Reality Rushmore: Paramount + MTV 'The Challenge' reunion event | Paul Archuleta/Getty Images
MTV's The Challenge Season 38 is definitely coming. But before the film crews get going on the new season, they allegedly have
Fans of MTV's The Challenge Season 37 and Paramount+'s The Challenge: All Stars can't wait for more content. The past season of The Challenge featured a new format and more rookie players than ever before, making fans wonder what's next for The Challenge Season 38. And The Challenge: All Stars Season 2 brings back more notable players fans know and love. Now, there's allegedly another spinoff coming — but the filming for the new show has been pushed back, according to spoiler accounts.
MTV's 'The Challenge' reportedly had a new Paramount+ spinoff that's not 'The Challenge: All Stars'
Jemmye Carroll (L) and Amber Martinez attend the Reality Rushmore: Paramount + MTV 'The Challenge' reunion event | Paul Archuleta/Getty Images
MTV's The Challenge Season 38 is definitely coming. But before the film crews get going on the new season, they allegedly have another spinoff in store, and it has nothing to do with The Challenge: All Stars.
"Paramount+ is currently working on a second The Challenge spinoff show," spoiler guru GamerVev tweeted back in the summer of 2021, according to Reddit. "I can see it being similar to Champs vs. Stars."
So far, MTV and Paramount+ haven't given any insights into what the spinoff entails. But fans can't wait to hear more. The Challenge: All Stars serves fans with a dose of nostalgic fun they missed from the flagship show, and The Challenge: All Stars Season 3 is also in the works. With that in mind, it makes sense that Paramount+ might go the nostalgic route for another spinoff.
Filming for the new spinoff is now allegedly pushed back
In just 2️⃣ days a new Challenge champion will be crowned. Sound off below if you think Darrell and Janelle got this in the bag! #TheChallengeAllStars2 pic.twitter.com/cyzBh2IT0C
— The Challenge (@ChallengeMTV) January 11, 2022
Fans of MTV's The Challenge don't know much about the new spinoff show that's allegedly coming in the future. But it seems production has been pushed back. According to Challenge spoiler guru PinkRose, production for the spinoff isn't happening in January 2022 anymore as originally planned.
"Anywho, sounds like this isn't happening this month like the initial plan," PinkRose shared to Vevmo.
"Second spinoff got pushed back yet again, was at one point filming this month," a Reddit user shared after PinkRose's announcement.
It's unclear why production would be pushed back, but it's possible the current coronavirus (COVID-19) surge has something to do with it. The Challenge Season 37 had a few hiccups in production due to coronavirus. Additionally, contestant Amanda Garcia alleged a number of players contracted the virus while filming.
'The Challenge' Season 38 is set to begin filming in March 2022
Kaycee and CT have a big decision to make. If you were in their position, would you share the ? #TheChallenge37 pic.twitter.com/dy8tiy30us
— The Challenge (@ChallengeMTV) December 17, 2021
With a future Challenge spinoff in …read more
Source:: Showbiz Cheat Sheet
(Visited 6 times, 1 visits today)