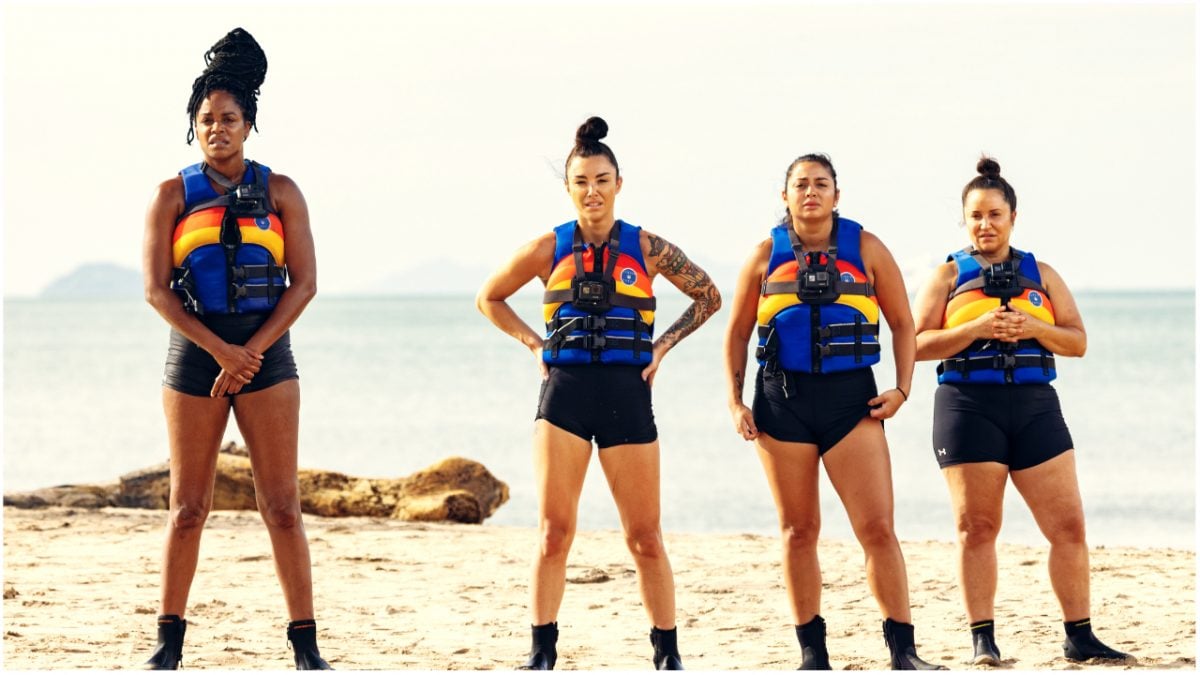 'The Challenge: All Stars 3' competitors Nia Moore, Kailah Casillas, Sylvia Elsrode, and Veronica
Portillo | Laura Barisonzi/Paramount+
Sylvia Elsrode is the first eliminated from the dominant alliance, The Treehouse
Nia Moore returned to The Challenge for spinoff All Stars 3 after a seven-year hiatus. Despite her long break and seemingly having one connection with rival-turned-close friend Jordan Wiseley, she hasn't appeared on anyone's radar. Therefore, it confused and shocked the house when Treehouse leader Sylvia Elsrode called out Nia to compete against in her elimination round. Despite being caught off guard, Nia won. Following her victory, she revealed she struck a deal with the Treehouse alliance off camera.
'The Challenge: All Stars 3' competitors Nia Moore, Kailah Casillas, Sylvia Elsrode, and Veronica
Portillo | Laura Barisonzi/Paramount+
Sylvia Elsrode is the first eliminated from the dominant alliance, The Treehouse
In The Challenge: All Stars 3 Episode 3, Kailah Casillas revealed the Treehouse Alliance as consisting of herself, Sylvia Elsrode, Jemmye Carroll, Veronica Portillo, Tina [Barta] Bridges, Roni Chance, and Derrick Kosinski.
With so many members, the group typically managed to get at least one ally into The Authority who could save them. Even though several players existed outside the alliance, they seemed focused on targeting Kendall [Sheppard] Darnell and KellyAnne Judd.
With an elimination that requires quickness and focus, Nia's win has everyone feeling starstruck. #TheChallengeAllStars3 pic.twitter.com/uZDcjFZa4x
— The Challenge (@TheChallenge) June 13, 2022
RELATED: 'The Challenge: All Stars': Tina Bridges Reveals Sylvia Elsrode Replaced Beth Stolarczyk
When the latter one a daily mission, guaranteeing her safety and power, she celebrated, annoying Sylvia, who made a rude comment about it.
Feeling it wasn't necessary, Nia Moore seemed bothered by it. KellyAnne threw her loudest opponent into elimination, who called out Nia, surprising nearly everyone. Regardless, the two-time competitor sent Sylvia home.
Nia Moore said she made a deal with the Treehouse alliance during the first day of 'The Challenge: All Stars 3'
Following her elimination win, the Battle of the Exes 2 near-finalist spoke to AfterBuzz TV and explained how she managed to stay off the dominant alliance's radar.
Nia claimed Sylvia and Kailah talked to her on the first night about working together, but she was under the influence and didn't want to make game decisions while drunk.
Is it hot in here or is it just Nia and Jordan?
Stream #TheChallengeAllStars3 on @paramountplus! pic.twitter.com/2Y9sHgz3km
— The Challenge (@TheChallenge) May 28, 2022
The following day, The Real World star claimed she approached the Treehouse leaders and agreed to the deal, which she accepted as they wouldn't target each other.
However, as time passed, Nia admitted she got "uncomfortable" with their "mean girl unwanted conversations and side comments." She also noted that the group attempted to make Kendal and KellyAnne feel unwelcome and tried to "create division" between their rooms.
Nia feels other Treehouse allies were complicit in Kailah Casillas and Sylvia's 'mean girl' behavior
Even though she thought Sylvia and Kailah spearheaded the efforts, Nia also felt their roommates were complicit because they didn't say anything.
After hearing what the allies said about their opponents, the two-time competitor admitted it caused her to wonder if they also talked badly behind her …read more
Source:: Showbiz Cheat Sheet
(Visited 9 times, 2 visits today)