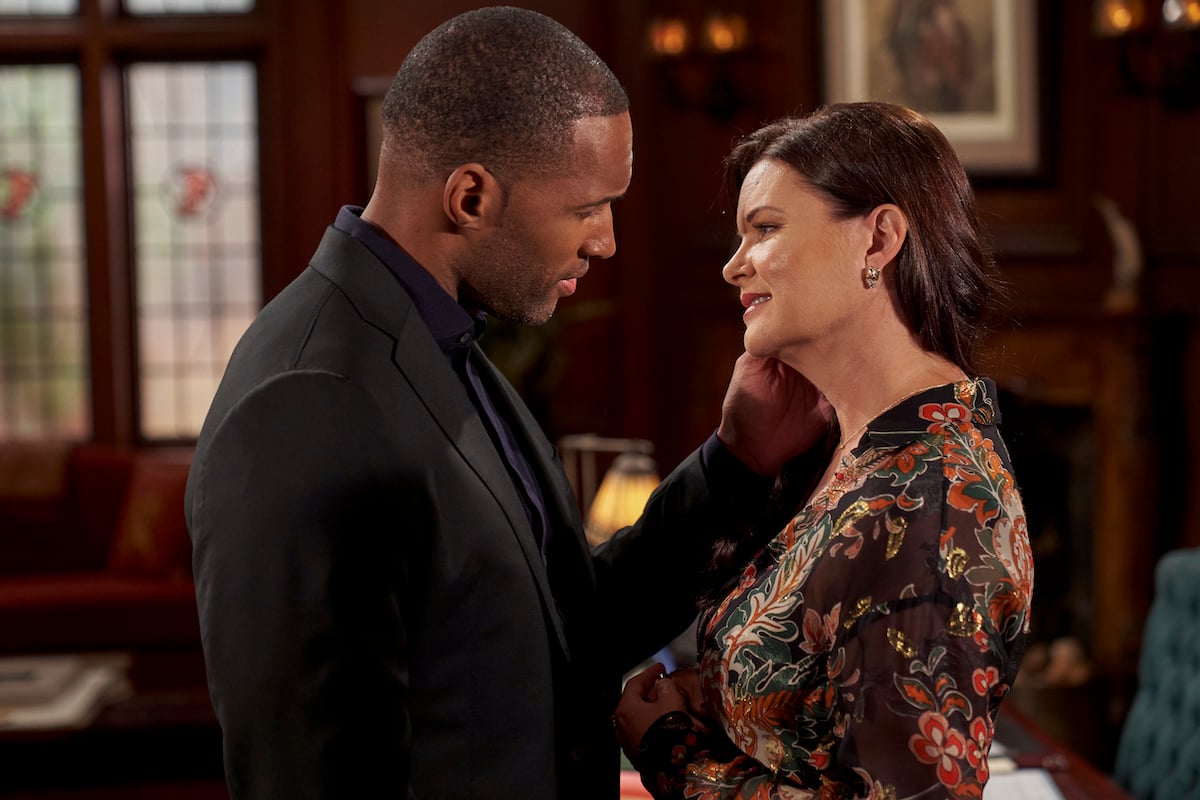 The Bold and the Beautiful's Katie Logan has a successful career as a public relations executive at Forrester Creations. However, her love life hasn't been quite as rewarding. Katie recently ended her marriage to "Dollar" Bill Spencer after plenty of turmoil, and she seems to have found an exciting new romance with Carter Walton. But are Katie and Bill really over? Although recent scenes might have us wondering, actor Heather Tom, who plays Katie, thinks her character is finally "beyond" her relationship with Bill Spencer.
Katie and Bill's complicated history on 'The Bold and the Beautiful'
The Logan sisters come together when Brooke and Donna weigh in with Katie about her relationship with Dollar Bill. Watch today's full episode of #BoldandBeautiful here: https://t.co/g0xPviXdKy. pic.twitter.com/nXecJRtxJz
— Bold & The Beautiful (@BandB_CBS) February 19, 2021
Longtime The Bold and the Beautiful fans know Katie and Bill didn't have the easiest start. When Katie met him, she was drunk at Café Russe and healing from her split with Nick, and Bill had a reputation as a womanizer. But before long, the two were dating, and Bill told Katie she got past his armor in a way no other woman had.
Bill made Katie the CEO of Forrester Creations when he acquired the business, and then he proposed to her. But as with any soap opera couple, their romance wasn't happily ever after. Katie soon learned about a darker side of Bill, one who would do anything to keep Liam and Hope apart. Then there was that obsession with Katie's sister Brooke, not to mention the other affairs. 
Katie and Bill split up and reconciled numerous times over the years, even getting a divorce and remarried at one point. But the past never could stay in the past, and near the end of 2022, Katie asked Bill to stop pursuing her. 
Katie and Carter's relationship heats up
Lawrence Saint-Victor as Carter and Heather Tom as Katie in 'The Bold and the Beautiful' | Adam Torgerson/CBS via Getty Images
After The Bold and the Beautiful teased fans with a potential Katie and Carter pairing last year, a romance didn't seem to be in the cards for them. But when Quinn abruptly left town, breaking Carter's heart after everything they went through to be together, Katie consoled Carter and said he could do better. Carter was also sympathetic to Katie's relationship with Bill ending. Before long, Katie and Carter were more than just friends.
What did 'The Bold and the Beautiful' star Heather Tom say about Katie and Bill?
In a recent interview with TV Insider, Heather Tom discussed whether she thinks Katie still sees Bill as a potential partner. Despite their decades of history, Tom said she believes Katie has moved on.
"I think she's beyond that now. She's said to Bill that she loves him and she will always love him. Katie cares about Bill. They have a son together [Will]. She wants him to be happy, but Katie wants to be …read more
Source:: Showbiz Cheat Sheet
(Visited 1 times, 1 visits today)