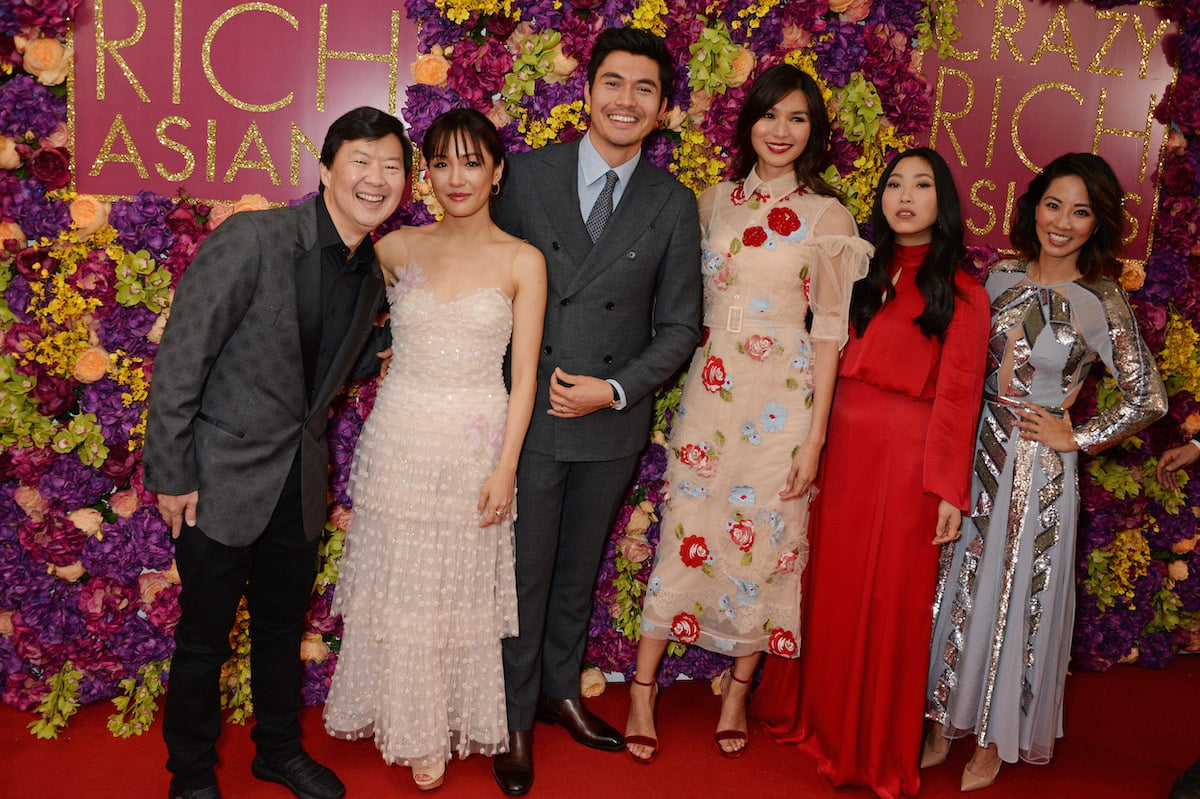 It's been four years since Crazy Rich Asians came out, and although some time has passed, the movie is still considered one of the best. Crazy Rich Asians, as the name suggests, follow the lives of wealthy Asians who hold extravagant parties because they can. 
'Crazy Rich Asians' cast | Dave Benett/Getty Images
One of the most standout events from the movie had to be the wedding, but the bachelor party might have stolen the show. An events planner recently estimated how much the bachelor party from Crazy Rich Asians would cost, and the amount will make your jaw drop.
A deeper look into what 'Crazy Rich Asians' is about
The film opens with a professor named Rachel Chu, who teaches a class on economics. Rachel is in a relationship with Nick Young, who informs her they have to travel to Singapore for his best friend's wedding. When Nick informs his mother that he plans to bring Rachel home, she objects and tells him Rachel is unwelcome.
This forces Nick to make reservations for them at a hotel lying to Rachel about why they're in the hotel instead of home. Rachel reconnects with her college roommate Peik Lin whose family is among the wealthiest in Singapore. After she reveals whom she is dating, the family is stunned and reveals to her just how rich her boyfriend truly is.
The bachelor party would cost $3 million
Nick's best friend's bachelor party is one of the movie's highlights. The party starts at a private hangar where the men and the ladies part ways to attend respective parties. The men take the groom on a private boat where the main event occurs. There are several expensive vehicles at the hanger, including Mercedes and Lamborghinis.
An event planner and founder of The Vanity Group, Karleen Roy, recently sat down with GQ Magazine to break down movie luxury party scenes. Roy estimated that renting the G4 that the men arrive in costs $8,000 an hour. She also estimated that the Sikorsky helicopter transporting the groom to the island cost about $5,000 an hour.
Roy also mentioned that the boat where the party took place had a vinyl sticker which might have cost the party $5,000, noting that the sticker does come off. The boat's "parking space" costs approximately $10,000 as Roy notes that the movie might have had to load the vessel before filming took place.
The models at the party might have cost an upward of $20,000 and $200,000 might have been used in sound and lighting. Roy estimates that everyone on the boat might have had to sign confidentiality agreements to protect the high-profile client. In total, she put the total cost of the entire party at $3 million.
Karleen Roy owns The Vanity Group
An event planner breaks down luxury party scenes from movies @KRoyVanityGirl
Watch the full episode here: https://t.co/fAdQQhefBr pic.twitter.com/GtfL7GlJex
— GQ Magazine (@GQMagazine) January 4, 2021
The Vanity Group is a high-end event planning company that …read more
Source:: Showbiz Cheat Sheet
(Visited 10 times, 1 visits today)