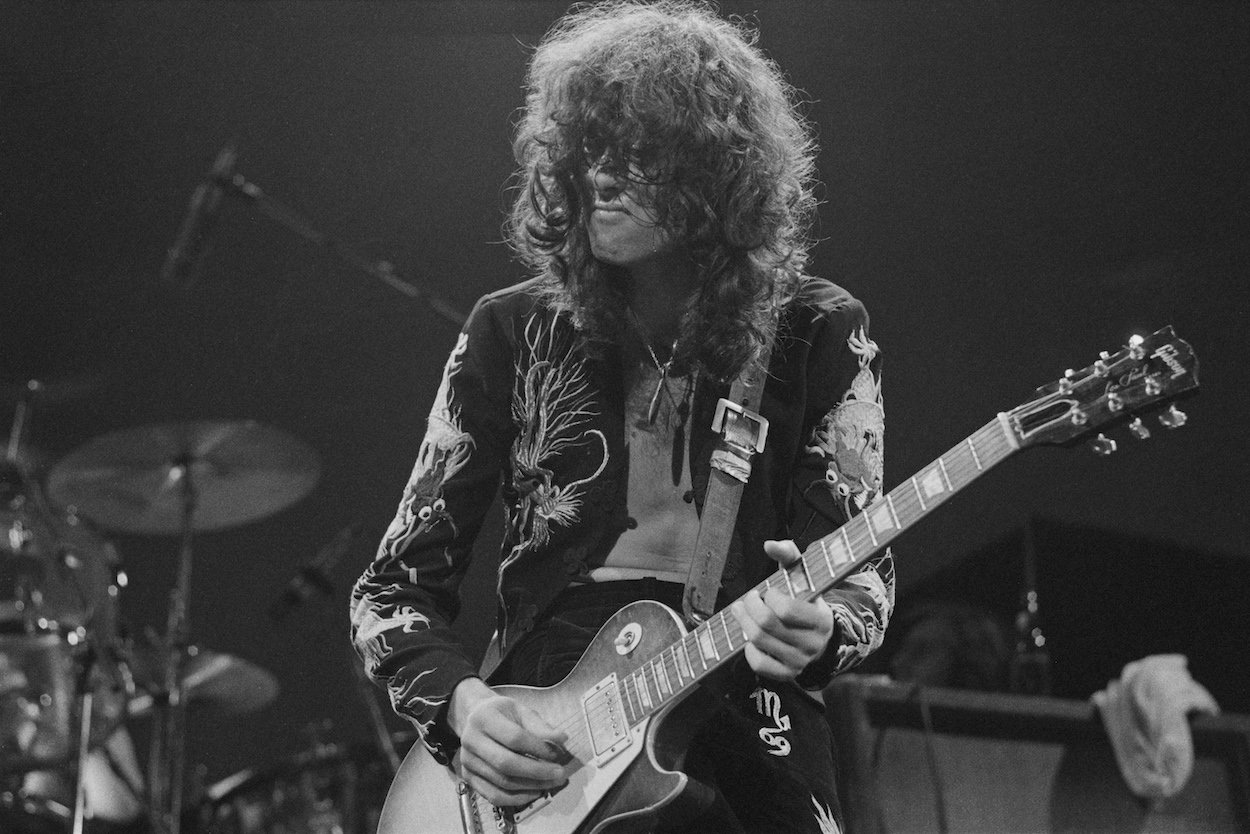 Led Zeppelin guitarist Jimmy Page | Michael Putland/Getty Images
8. 'Fool in the Rain'
Jimmy Page sits on a short list of all-time guitar heroes. He wrote dozens of memorable riffs during his Led Zeppelin days (he seemed proud of one that took fans out of their comfort zone), but his solos are nearly legendary. Page's "Stairway to Heaven" solo typically ranks among the best of all time in fan polls, but it's hardly his only standout solo. Let's rank the eight best Page guitar solos from his Led Zeppelin days that aren't "Stairway to Heaven."
Led Zeppelin guitarist Jimmy Page | Michael Putland/Getty Images
8. 'Fool in the Rain'
Page once said his drug use never got out of hand to the point it interfered with his Led Zeppelin responsibilities. Still, his relative lack of songwriting involvement on In Through the Out Door paints a different picture. 
Yet whatever demons Page faced in the late 1970s didn't stop him from cranking out one of his best solos on "Fool in the Rain." It's not one of the face-melters we'll see further down the list, but Page's understated solo still shows moments of shredding and is perfect for what the song needs. It carries the song for more than a minute starting at 3:50. 
On an album dominated by John Paul Jones' keyboard playing, Page jumps in and provides one of his best solos as a reminder of his fretboard prowess.
7. 'You Shook Me'
RELATED: Jimmy Page Avoided Disaster When He Picked Led Zeppelin's Name Over 1 of These Terrible Names 
Page once said the key to Led Zeppelin I was that all four band members had a chance to shine. "You Shook Me" is a fine example. 
We get a Jones organ solo, a Robert Plant harmonica run, and several walloping John Bonham drum fills. After everyone else has a chance to shine, Page takes over four minutes in and melts the fretboard. He seems to lose his way about 30 seconds later, but just when you think the solo might be over, Page comes back in and guides it back into the main riff.
6. 'In My Time of Dying'
RELATED: Led Zeppelin Fans Recommend Albums and Songs That New Listeners Should Start With 
Page might have some more incendiary solos on his resume, but a few things push this Physical Graffiti song up the list:
Page takes two solos. One starts at the 4:57 mark and lasts 40 seconds. The second, which comes in at 6:35, goes on a bit longer.Both solos (but especially the second) seamlessly weave in several technical moves. Page does some slide work, dive bombs, extreme bends, and shifts guitar tones. "In My Time of Dying" is Led Zeppelin's longest song at more than 11 minutes, and the band nailed the album version in one live take, per  Centennial Media's Legends of Music Spotlight: Led Zeppelin. That means Page performed two physically demanding solos while recording an epic song in one go.
For those reasons, "In My Time of Dying" stands as one of Page's best guitar solos.
5. 'Dazed and Confused'
RELATED: …read more
Source:: Showbiz Cheat Sheet
(Visited 1 times, 1 visits today)