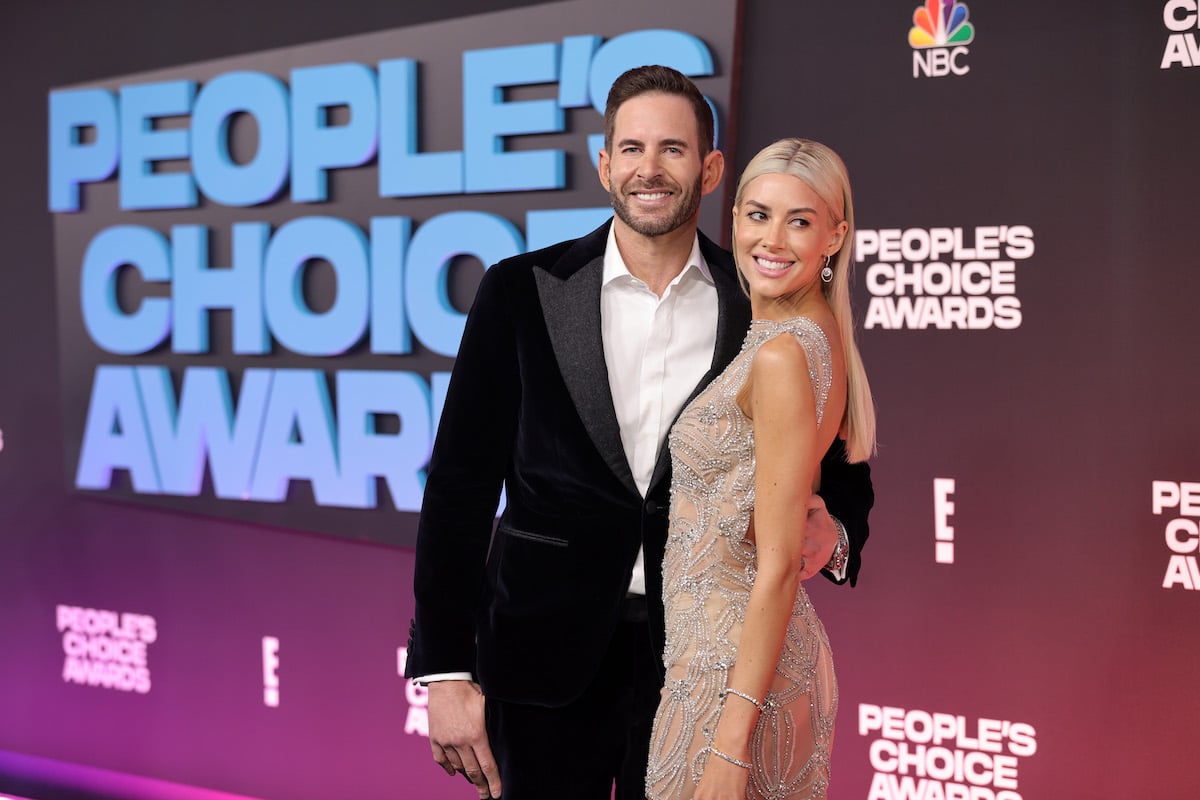 Tarek El Moussa and Heather Rae Young | Amy Sussman/Getty Images
Tarek El Moussa said it took his son Brayden 'a few weeks' to get used to 'Selling Sunset' star Heather Rae Young
Tarek El Moussa revealed that his wife, Selling Sunset star Heather Rae Young, didn't initially connect with his 6-year-old son, Brayden. The Flip or Flop star has two children from his first marriage to Christina Haack. Here's what El Moussa said about Young's bond with his children and how it has changed over time. 
Tarek El Moussa and Heather Rae Young | Amy Sussman/Getty Images
Tarek El Moussa said it took his son Brayden 'a few weeks' to get used to 'Selling Sunset' star Heather Rae Young
Heather Rae Young gets along well with Tarek El Moussa's children, but the Flip or Flop star revealed that wasn't always the case. In January 2021, El Moussa told US Weekly that it took "weeks" for his son Brayden to warm up to the Selling Sunset star after she moved in with them. 
"He was three years old [when] she came in one day out of nowhere and, like, just moved in," El Moussa shared. "It took him a few weeks to get accustomed to it."
But after they got to know each other better, El Moussa said that Brayden and Young became inseparable. 
"They play tennis together. They cuddle, they just absolutely adore each other," he said. "Honestly, for me as a dad, I am so happy. I'm so excited about getting married, especially because she's such an amazing stepmom to the kids. Like, they really do adore her."
Heather Rae Young loves being a 'bonus mom' to Tarek El Moussa's kids https://t.co/FyXB2jWuFM pic.twitter.com/bQTP6qHrCi
— Page Six (@PageSix) July 30, 2021
Heather Rae Young calls Tarek El Moussa's two children her 'best friends'
Tarek El Moussa's words about his kids "adoring" Heather Rae Young reflect what the Selling Sunset star has said about his two children on social media. Besides 6-year-old Brayden, El Moussa also shares 11-year-old daughter Taylor with Christina Haack. 
Young called herself a "bonus mommy" to El Moussa's kids in her March 19 Instagram post. "My favorite thing is waking Tay & Bray up in the morning giving them big hugs and kisses and seeing their sweet smiles," she said in the caption. "I love being a bonus mommy and I'm so proud of them." She ended the post by writing, "My besties "
The Selling Sunset star also called El Moussa's kids her "best friends" in her Instagram post from Jan. 27. "I got so lucky with these kids and the situation I came into back in 2019," Young captioned a set of family photos. "They are so loving and smart and very very strong minded (like their father) pushing me some days and It's not always perfect, it's very hard some days. But these kiddos are one of the reason I want to want to [sic] have a baby."
She concluded, "I told Tarek the other day they really are my best friends. "
Source:: Showbiz Cheat Sheet
(Visited 9 times, 1 visits today)