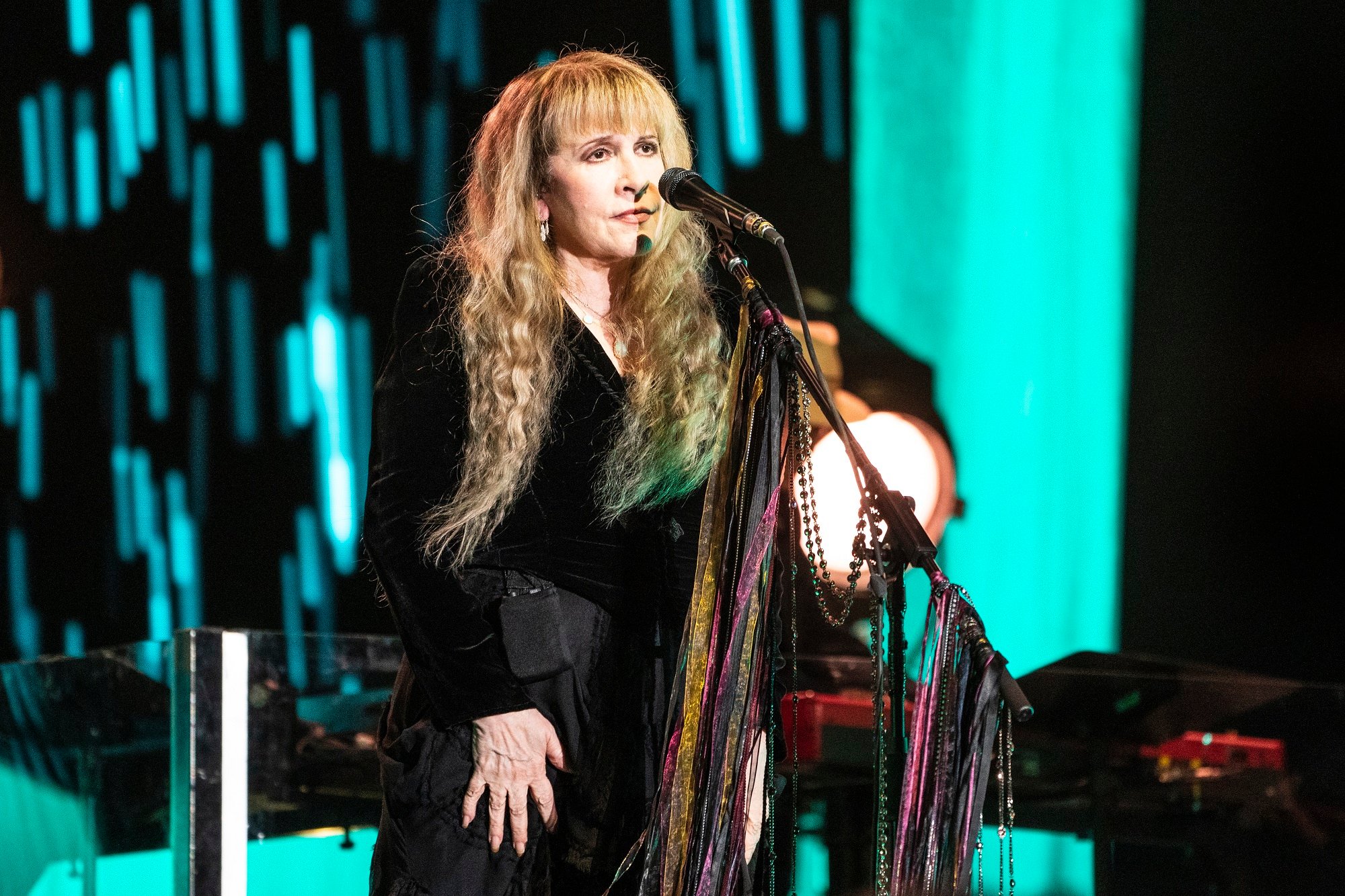 In a surprise announcement, Stevie Nicks revealed she is going on tour in 2023. The famous singer posted a list of solo tour dates and joint concerts with Billy Joel on social media. Here's how fans can buy tickets to Nicks' upcoming tour.
Stevie Nicks | Erika Goldring/WireImage
How to buy tickets for Stevie Nicks' 2023 tour
Nicks' upcoming tour will begin in March, and the singer will headline shows across North America. The concert tour will be promoted through Live Nation and sold on Ticketmaster.
Fans can view more information about buying tickets on Nicks' official website. There will be 14 solo concerts headlined by Nick, and nine concerts with both Nicks and Joel performing.
There will be a pre-sale for tickets on Jan. 26. The Live Nation pre-sale for Nicks' solo dates will be held on Ticketmaster and it will begin at 10 a.m. local venue time. The pre-sale for Nicks' concert tour will last until 10 p.m. local venue time.
For fans who cannot participate in the pre-sale, tickets will go on sale on Ticketmaster for the general public on Jan. 27 at 10 a.m. local venue time.
The legendary @stevienicks is heading out on tour to a city near you ? Grab your tickets this Friday at 10am local time here https://t.co/PMVUFxZO8f pic.twitter.com/RZvbcdKGXw
— Live Nation (@LiveNation) January 23, 2023
Stevie Nicks will put on multiple concerts across North America
For her upcoming tour, Nicks will perform in cities in the U.S. and Canada. Her solo concerts will begin in March and conclude in June. The complete list of Nicks' solo tour dates can be viewed below.
Stevie Nicks tour dates:
March, 15: 2023: Seattle, Washington at Climate Pledge ArenaMarch 18, 2023: Las Vegas, Nevada at T-Mobile ArenaMarch 23, 2023: San Francisco, California at Chase CenterMarch 26, 2023: Sacramento, California at Golden 1 CenterMarch 30, 2023: Oklahoma City, Oklahoma at Paycom CenterApril 2, 2023: New Orleans, Louisiana at Smoothie King CenterApril 5, 2023: Birmingham, Alabama at The Legacy Arena at BJCCMay 12, 2023: Raleigh, North Carolina at PNC ArenaMay 16, 2023: Knoxville, Tennessee at Thompson-Boling ArenaMay 22, 2023: Atlanta, Georgia at State Farm ArenaMay 25, 2023: Orlando, Florida at Amway CenterJune 20, 2023: Toronto, Ontario at Scotiabank ArenaJune 23, 2023: Chicago, Illinois at United CenterJune 27, 2023: Louisville, Kentucky at KFC Yum! Center
Two more shows added! Tickets go on sale Friday, Dec. 16 @ 10am local time. @billyjoel and I can't wait to see you. https://t.co/5oMQl8wnpw
Citi pre-sale: Mon 12/12
Venue pre-sale: Tue, 12/13
Live Nation pre-sale: Thur, 12/15 pic.twitter.com/Ero2jvcAoP
— Stevie Nicks (@StevieNicks) December 8, 2022
Related
Lindsey Buckingham Thinks He and Stevie Nicks Did Not Have 'the Luxury of Closure' Because of Fleetwood Mac
Stevie Nicks will tour with Billy Joel
In addition to touring different arenas on her own, Nicks will perform in stadiums during her tour on certain dates with Joel. The complete list of stadium dates with Joel can be viewed below.
Stevie Nicks with Billy Joel …read more
Source:: Showbiz Cheat Sheet
(Visited 3 times, 1 visits today)