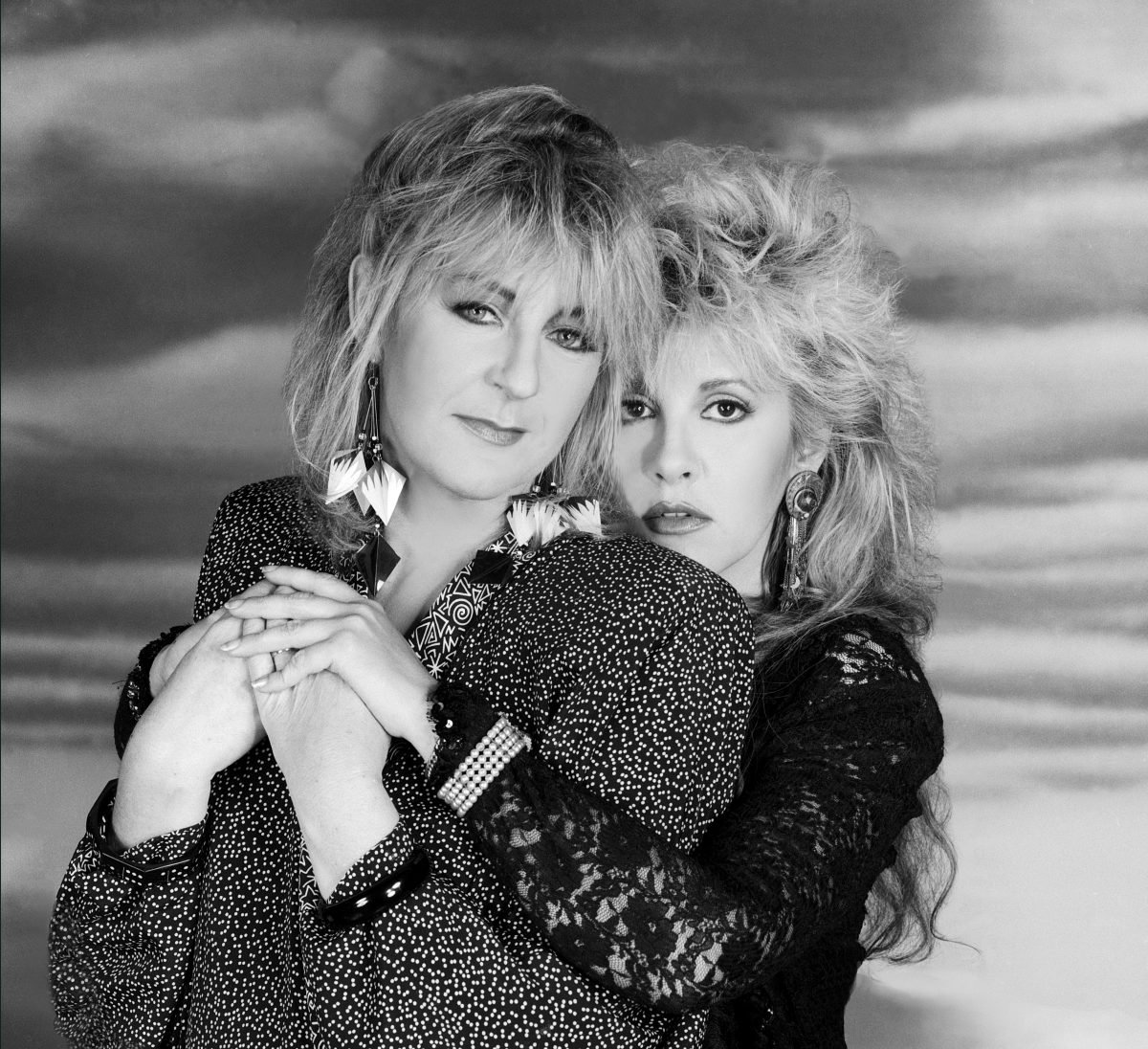 During the recording of Fleetwood Mac's Rumours, both Stevie Nicks and Christine McVie were in the midst of a split from their longtime partners. The fallout from the breakups was exacerbated by drugs, alcohol, and the pressure of recording an album. Though the recording studio provided the entire band with a house, Nicks and McVie quickly realized that this setup wouldn't work out. They decided to move into two neighboring apartments.
Christine McVie and Stevie Nicks | Aaron Rapoport/Corbis/Getty Images
Stevie Nicks and Christine McVie got along from their first meeting
Before Nicks and then-boyfriend Lindsey Buckingham could join Fleetwood Mac, they had to meet with the existing members of the band. Co-founder Mick Fleetwood initially only wanted Buckingham, but the guitarist insisted that he was part of a package deal. Before the meeting, Fleetwood told McVie she had the power to veto Nicks' admission.
"We made a pact that we would never accept being treated as second-class citizens in the music business. That when we walked into a room none of the uber-rockstar group of men would look through us. And they never did."
Christine McVie and Stevie Nicks, Fleetwood Mac pic.twitter.com/JVoRX0tt6v
— Eric Alper (@ThatEricAlper) October 9, 2021
"It was critical that I got on with her because I'd never played with another girl," McVie told The Guardian. "But I liked her instantly. She was funny and nice but also there was no competition. We were completely different on the stage to each other and we wrote differently too."
They met for the first time at a Mexican restaurant in Los Angeles, and McVie said that she thought Nicks was "a bright, very humorous, very direct, tough little thing."
The two women became neighbors during the recording of 'Rumours'
The band recorded the Rumours album in San Francisco. Their recording studio provided the band with a house where they could all stay. After one night, however, Nicks and McVie had had enough.
"That house was like the riot house," Nicks told Uncut. "There were girls everywhere and everybody was completely drunk the whole time. Me and Chris decided we couldn't be there. The next day we moved out and got two matching apartments next to each other."
The men didn't like it when Nicks and McVie had boyfriends around, but they had no qualms about bringing their girlfriends around the band. To avoid it, the two women felt it was better to just rely on each other.
Stevie Nicks and Christine McVie got along because of their senses of humor
Both Nicks and McVie said that they didn't have much in common, but their friendship worked regardless.
"We're totally different, at complete opposite ends of the personality spectrum," McVie said. "The one thing we had in common, which bound us together, was a sense of humor through all the pain."
Stevie Nicks and Christine McVie. pic.twitter.com/KHkmVpwkr4
— Gabe Ortíz (@TUSK81) October 11, 2021
Nicks said it was a relief to have another woman in the band with …read more
Source:: Showbiz Cheat Sheet
(Visited 11 times, 1 visits today)