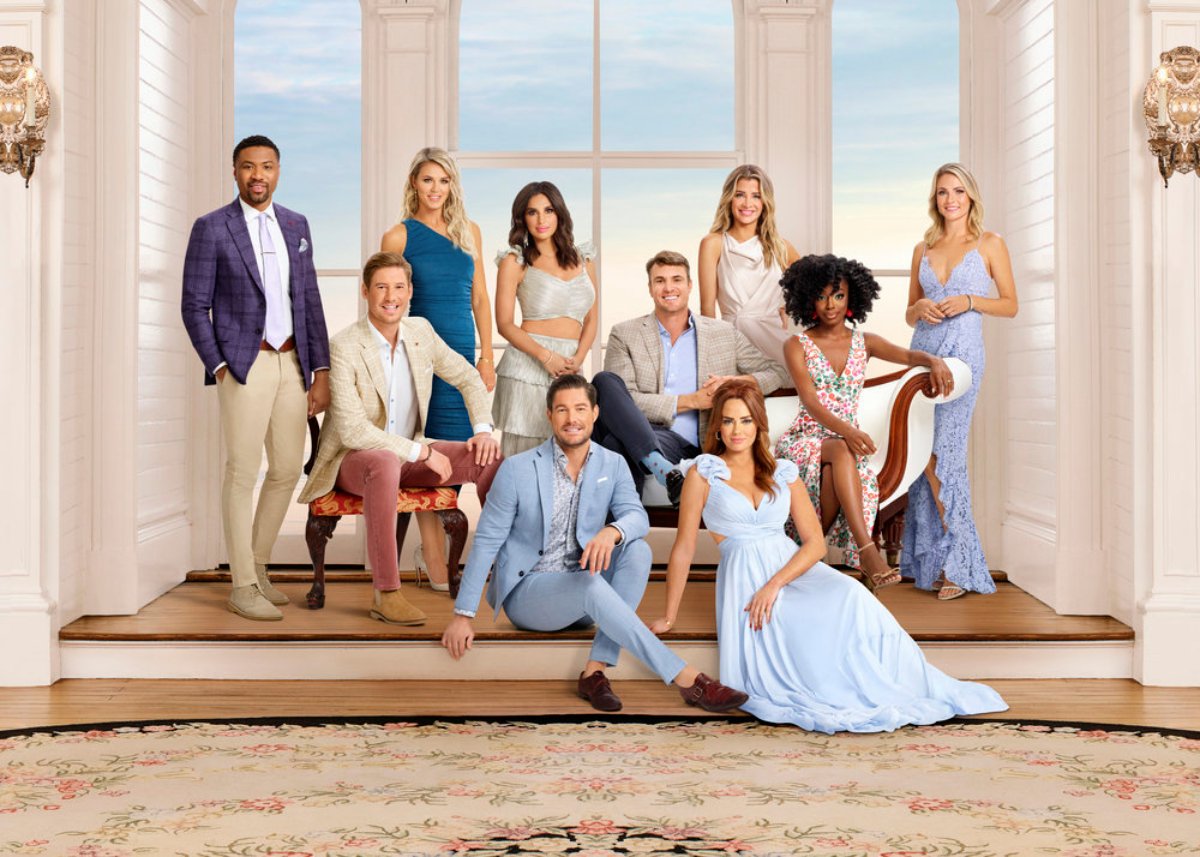 The cast of season 8 of 'Southern Charm' | Stephanie Diani/Bravo
'Southern Charm' star Naomie Olindo is happy to be back in Charleston
The last time fans saw Naomie was in Season 6 before she left Charleston and moved to New York to live with her boyfriend
Southern Charm Season 8 is finally here after 18 months without new episodes. OG's Kathryn Dennis, Shep Rose, and Craig Conover are back along with Austen Kroll and Leva Bonaparte. And, Naomie Olindo has returned to the main cast after taking a break in season 7. 
Newbie Olivia Flowers will also join the main cast this season, along with Venita Aspen, Taylor Ann Green, and season 7 guest star Chleb Ravenell. Madison LeCroy and John Pringle will be back, but this time they are friends of the show instead of main cast members. 
Of course, Patricia Altschul and her son Whitney Sudler-Smith will show up as friends of the cast in Southern Charm Season 8. There's also a good chance that Conover's girlfriend Paige DeSorbo and a few of her Winter House friends could stop by for an episode or two.
Before we watch the Season 8 premiere of Southern Charm let's take a look at where we last left our favorite Charlestonians.
The cast of season 8 of 'Southern Charm' | Stephanie Diani/Bravo
'Southern Charm' star Naomie Olindo is happy to be back in Charleston
The last time fans saw Naomie was in Season 6 before she left Charleston and moved to New York to live with her boyfriend Dr. Metul Shaw. But her move north didn't last very long.
In the summer of 2021, Naomie revealed to her Instagram followers that she had split from her boyfriend of three years after she discovered he was cheating. The major breakup came just weeks after they moved to NYC together.
View this post on Instagram
A post shared by Naomie Olindo (@naomie_olindo)
After the split, Naomie returned to Charleston as a single woman. But because she had quit Southern Charm, the show didn't automatically take her back. She revealed on The Skinny Confidential Him & Her Podcast that she had to "beg" her way back on.
"I was like, 'Guys, please, I know I quit, and I know I told everybody to f**k off, but please I'm very depressed and I really want to come back. I don't know what I'm going to do if I'm back in Charleston' and they're like, 'All right,'" Naomi said.
Craig Conover is in the middle of the drama
A lot has changed for Craig since fans last saw him at the Southern Charm Season 7 reunion. He's been spending time on Winter House with Paige DeSorbo, and now they are officially a couple. The question is, how will Craig deal with the return of his ex, Naomie?
In late 2021, Craig said on Watch What Happens Live that Naomie was "really happy" and "relieved in a weird way" after her split from Metul. He said his ex was happy to be back in Charleston, and things happen for a reason.
View this …read more
Source:: Showbiz Cheat Sheet
(Visited 3 times, 1 visits today)