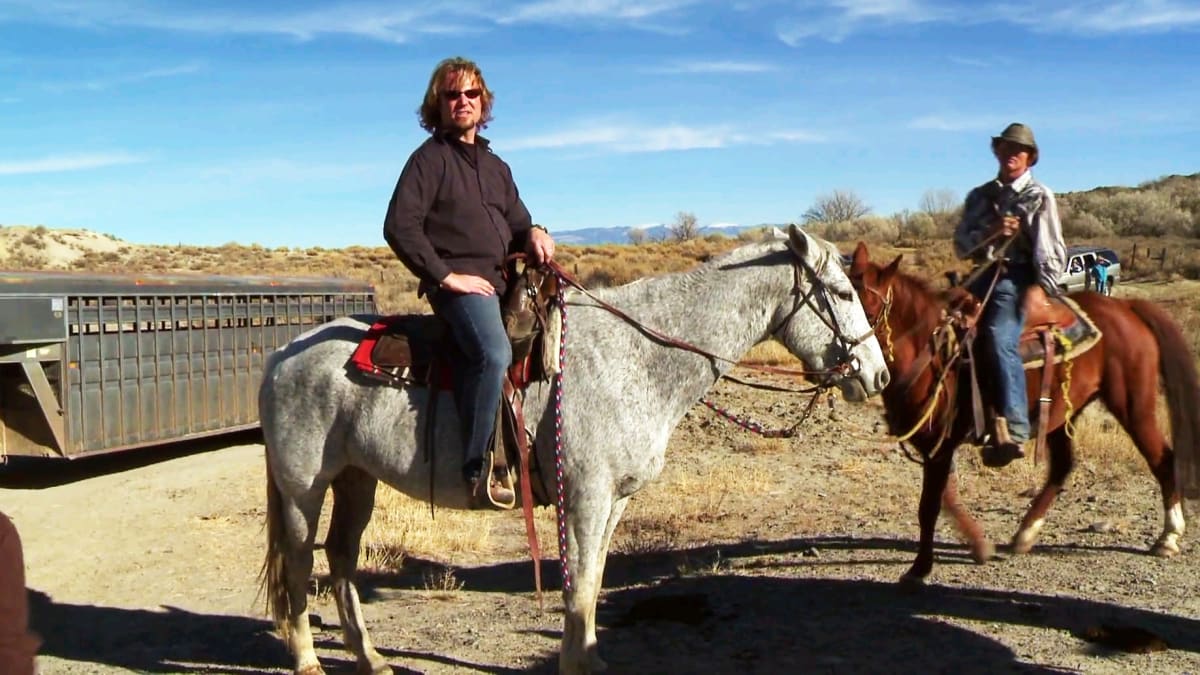 Kody Brown, 'Sister Wives' | TLC
All about the Brown's polygamist compound on a ranch in Wyoming
On June 21, 2022, Kody's nephew, Benjamin went on a podcast, Year of Polygamy Podcast, on the episode
Benjamin Brown is a TikTok comedian who also happens to be Sister Wives star, Kody Brown's nephew. He recently opened up about being raised in the Apostolic United Brethren (AUB) and on the Brown family ranch in Wyoming. In the interview, Benajmin revealed secrets about the ranch life. He then reveals how abuse on the compound has forever shaped by his difficult childhood.
Kody Brown, 'Sister Wives' | TLC
All about the Brown's polygamist compound on a ranch in Wyoming
On June 21, 2022, Kody's nephew, Benjamin went on a podcast, Year of Polygamy Podcast, on the episode King Benjamin and a Tale of the AUB. He revealed what it was like to live on the "Mormon polygamist compound" aka the ranch in Wyoming. He said that the Browns moved onto the ranch after either Ebenezer Brown or one of his direct descendants to help start up a town called Lovell, Wyoming.
Sister Wives fans have heard the stars of the show talk about the ranch Kody grew up on. They mention it in the family's memoir, Becoming Sister Wives: The Story of an Unconventional Marriage. Benjamin lived and worked on what he called a "polygamist compound" where everyone was part of the "United Order" or followers of the fundamentalist Mormon offshoot, the AUB.
Benjamin's grandfather lived there with his three wives and his father with his two wives. According to Benjamin, at any given time, there could be 20 to 30 people on the ranch, most of them being children.The family rarely went to town, the kids were all homeschooled, everyone worked on the ranch, and the family went to church at a neighbor's house.
The truth about abuse on the compound
When the Browns did leave the ranch, they had to be quiet, hidden, and go undetected. He felt that the outside world was "evil" and was constatly after them. Due to polygamy being illegal in Wyoming, Benjamin was concerned that his father would end up in jail and the would be taken away from his parents. He said, "Given what happened later, it's probably what should have happened."
Benjamin says child abuse and neglect happened all of the time on the ranch. He describes a culture within the compound that normalizes it.
He said, "As an adult, now, I can see it. That's one of the tricky things. Now, I think the relationship that the world of Mormon fundamentalism has with the modern world, is that there is real harm happening. There is real child abuse. there is real neglect happening in these places. But it's of a nature that makes it very difficult to us to know exactly how to alleviate it. It's happening in a very different way."
Labor trafficking on the Wyoming ranch
The TikTok star revealed that he was a victim of labor trafficking by his own parents on the ranch. Benjamin described AUB belief that the end is near and that they need land for the righteous …read more
Source:: Showbiz Cheat Sheet
(Visited 4 times, 1 visits today)