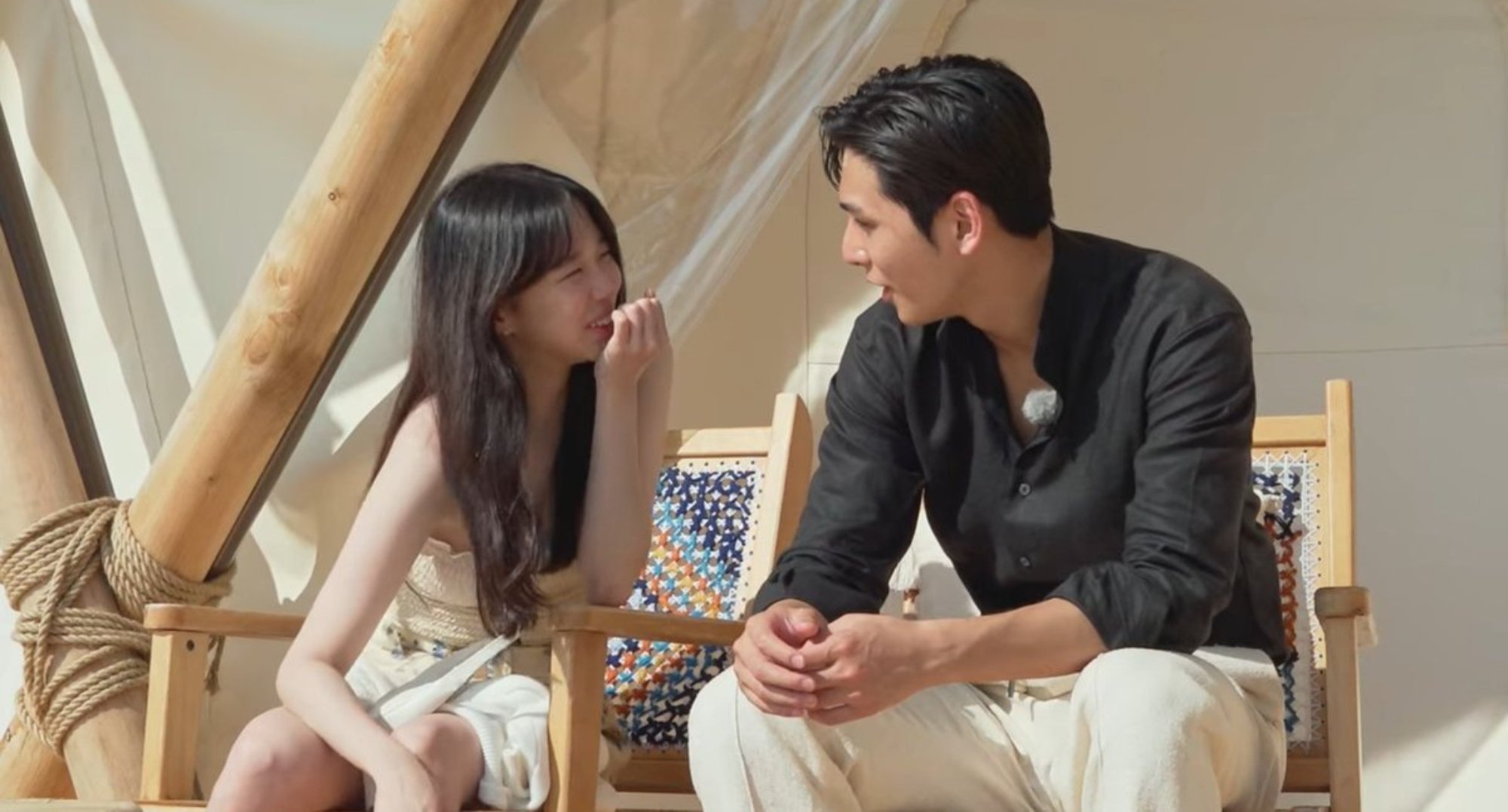 Since the end of Netflix's Single's Inferno Season 2, there are only a few relationships fans are confident are dating in real life. While Seo-eun and Yoong-jae have seemingly confirmed they have been dating for a few months, fans are still curious about Se-jun and So-e. The two became a fan-favorite when Se-jun arrived on the island. Since the Single's Inferno Season 2 finale, Se-jun has teased his devotion to So-e, but Nadine may have cracked the case wide open on whether or not they are dating.
So-e and Se-jun dating rumors after 'Single's Inferno' Season 2 | via Netflix
Se-jun broke his Instagram protocol to post photos with So-e
Fans cannot stop talking about So-e and Se-jun's heartwarming interactions on Single's Inferno Season 2. Se-jun is described as her knight and shining armor. He saved her from her broken heart over her feelings for Yoong-jae. On Single's Inferno Season 2, he clarified that he saw her as more than just a friend. Through his kindness and attention toward her, So-e admitted she finally learned what it felt like to be loved. Se-jun became the most liked male contestant on Single's Inferno Season 2.
It was no surprise when Se-jun picked So-e as the person he wanted to leave the island with, and fans were over the moon when she chose him as well. While fans got the final couples they wanted, the question still remained of who ended up dating.
Fans strongly speculated that So-e and Se-jun did develop a bond over the past few months since the original filming of the series. On Instagram, Se-jun only posts work-related photos as a tailor at Ascottage. But he broke his own rule by posting sweet and close selfies with So-e. The two Single's Inferno Season 2 contestants looked smitten with each other, and Se-jun showed his admiration for So-e. He later posted his co-worker's Instagram photo of So-e visiting him at work.
But the rumors of So-e and Se-jun officially dating have been given more fuel thanks to Single's Inferno Season 2 contestant Nadine.
So-e's response to Nadine's question about Se-jun furthers 'Single's Inferno' Season 2 dating rumors
Since the dating series, the cast of Single's Inferno Season 2 have become close friends. They did a reaction video with Netflix as they watched the series for the first time together. Many cast members have also gotten together for dinner and fun hangouts. They have also commented on each other's Instagram posts. Recently, Dong-woo and Yoong-jae started an Instagram Live and invited Nadine and So-e to join.
Dong-woo and Yoong-jae spent time together doing Yoong-jae's favorite pastime, camping. Nadine was in Jeju Island while So-e's location was unknown, as she explained she could not show her face on camera. According to Koreaboo, it was Nadine's seemingly innocent question that caught fans' attention.
Nadine asked if Se-jun was awake, but the speed of So-e's answers had fans slightly shocked. In Korean, …read more
Source:: Showbiz Cheat Sheet
(Visited 5 times, 1 visits today)