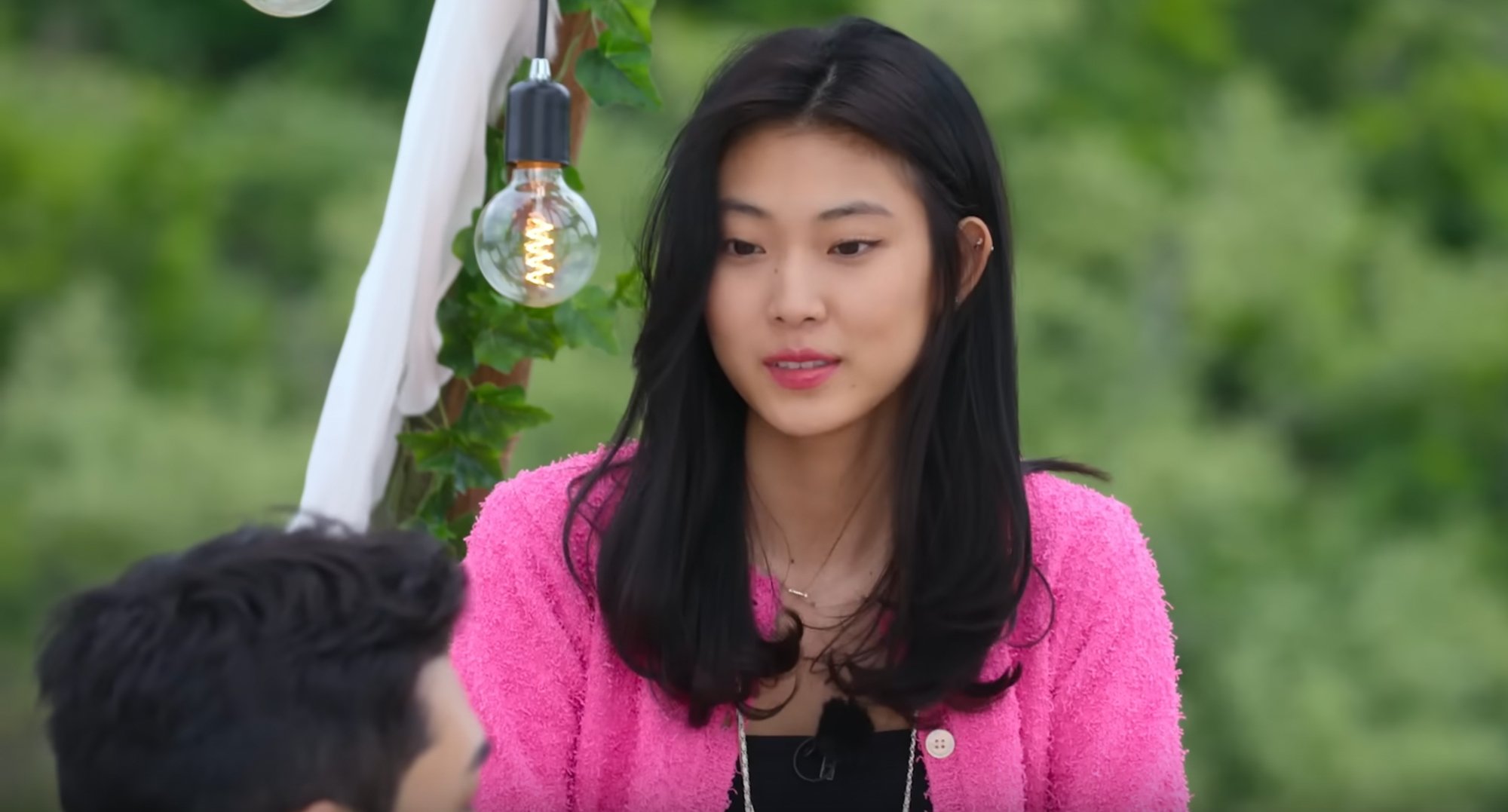 Lee Nadine has become the talk of the town since starring as a cast member in Netflix's Single's Inferno Season 2. The Harvard pre-med student had an impressive resume but was unlucky in finding a love interest while on the deserted island. Since the dating series's finale, the rumor mill suggested she was dating Han-bin. But Nadine sets the record straight about how the series's editing is tied into it.
Lee Nadine with Dong-woo and Han-bin in 'Single's Inferno' Season 2 | via Netflix
Nadine posted a secretive photo with a guy on New Year's
While on Single's Inferno Season 2, Nadine became a favorite and different thanks to her American upbringing. But it proved an attractive trait as male contestant Dong-woo tried to make her feel comfortable by speaking to her in English. But as fans know, during their Paradise date, Dong-woo drew the line and effectively changed their romance to friendship on Single's Inferno Season 2.
The arrival of Jin-young created a quadruple love story, as Nadine developed an interest in him. Fans agreed the two had a natural chemistry, and conversations flowed easily. Many rooted for them as an endgame couple on Single's Inferno Season 2. Their Paradise date proved they have a lot in common, like Nadine also having military experience. But Nadine's long future in medicine also swayed Jin-young.
By the Single's Inferno Season 2 finale, fans knew the two would not leave the island together. Before the end of the series, Nadine got caught in a dating rumor with her Single's Inferno Season 2 co-star Han-bin. They seemed close in the few scenes they had together. Nadine posted a photo of a New Year's celebration with a man whose identity was concealed. Fans soon speculated it to be Han-bin due to the familiar ring he often wears.
Since then, Nadine has not revealed her relationship status. But she did call out Single's Inferno Season 2 for its editing and cutting out scenes that catered to a specific storyline.
Nadine explains certain relationships she developed were cut out of 'Single's Inferno' Season 2
In an interview with Elle Singapore, Nadine sets the record straight about how the series pushed for a certain agenda. She explained the series did portray a portion of her personality, but "given that it was a dating show—and a Korean one at that—many other aspects of my character were inevitably left out."
The editing done on Single's Inferno Season 2 seems to be a problem, like the first season. Nadine further explains that the series had made strategic scene cuts to "advance particular plotlines." But fans might find that her following statement is in response to her dating rumors with Han-bin.
Nadine explains, "I think these omitted conversations would have added more context to the connections and relationships I have with the cast members now." While the series did not highlight this, fans noticed in the background how Nadine had become close with …read more
Source:: Showbiz Cheat Sheet
(Visited 1 times, 1 visits today)