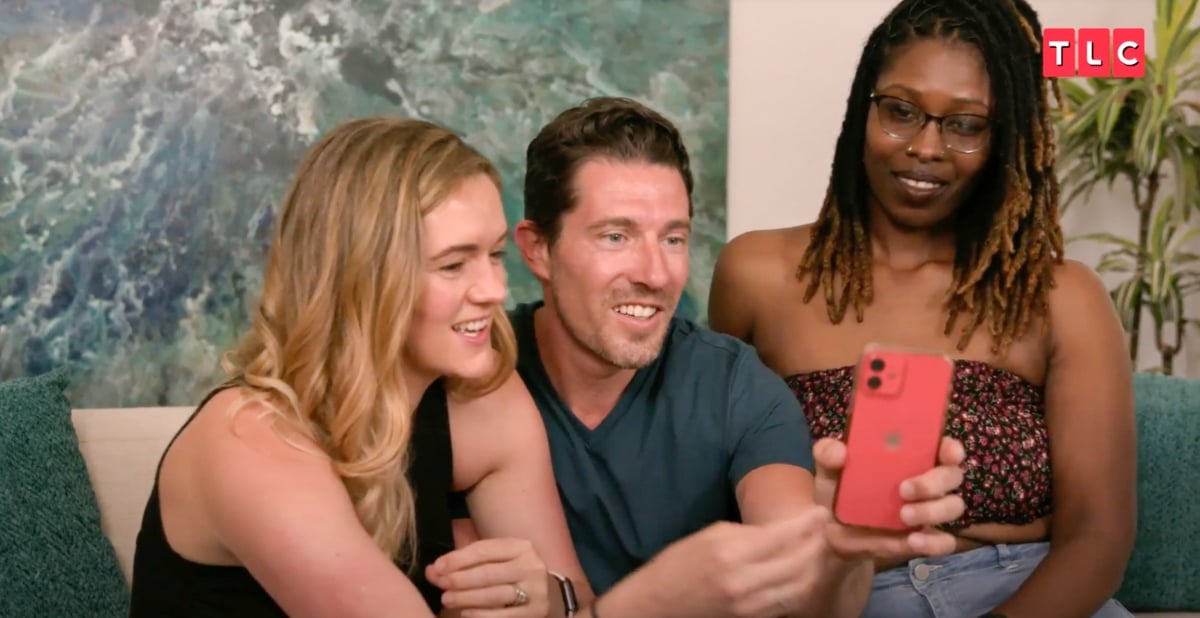 In Seeking Sister Wife Season 4, Dannielle and Garrick Merrifield continue to get to know their potential sister wife, Lea Newton. However, Lea isn't happy with Dannielle acting as the "gatekeeper" of Garrick and stopping her from exploring intimacy with him. Will Lea be a good fit for the Merrifield family?
Dannielle Merrifield, Garrick Merrifield, Lea, 'Seeking Sister Wife' Season 4 TLC
Dannielle Merrifield says Lea and Garrick can't have sex yet
On the June 20 episode of Seeking Sister Wife, it's still Lea's first day with Garrick and Dannielle after flying to California to meet the couple. So far, it looks promising between her and Garrick.
Garrick and Dannielle Merrifield, 'Seeking Sister Wife' Season 4 | TLC
The sparks are flying, and she hopes to "steal a kiss" from Garrick by the end of her trip. However, Dannielle doesn't want her husband to get intimate with Lea before they get to know her more.
Lea asked Dannielle, "So, what are your boundaries, like how do you feel about my interaction with him and stuff?" Dannielle replied, "To me, the boundaries are no sex. That's the commitment for life. We don't take it lightly, and that's you becoming one."
Lea calls Dannielle the 'gatekeeper' of sex with Garrick
While Dannielle and Garrick are still courting Lea, they plan to keep intimacy for when they are sure about having her join the family. However, Lea isn't thrilled about Dannielle's boundaries. She tells the cameras, "I'm seeing Dannielle as a bit of a gatekeeper and a guide in our relationship." She continued, "I feel that we might need a little bit more room to be able to grow naturally."
Lea Newton, 'Seeking Sister Wife' Season 4 | discovery+
Lea tells Dannielle, "Well, you can rest assured, I'm not trying to sleep with your husband, girl. I'm just trying to get to know him." Dannielle says, "I believe you. I trust you."
However, Lea takes offense to this and tells Dannielle that she should be the cautious one. Lea tells her, "I never have gave y'all a reason to not trust me."
Is Lea a good fit for the Merrifield family?
It's still day one of Lea getting to know the Merrifieds, and while there are sparks, there is also tension. When Lea told the couple she would be working 12-hour shifts as a nurse, Garrick called it a "red flag." Dannielle agreed that this didn't show the type of team player attitude required for polygamy.
However, Lea is adamant that she wants to continue her career and doesn't want to be pressured to work less. Dannielle tells the cameras, "Lea's character is very bold, and that can be intimidating or could lead to conflicts sometimes. I could see that being an issue.
Perhaps Dannielle is right, and Lea's bold personality could cause division within the family. Fans will have to keep watching to find out if Lea's relationship with Garrick will continue or not.
Seeking Sister Wife airs Mondays at 10 pm EST …read more
Source:: Showbiz Cheat Sheet
(Visited 7 times, 1 visits today)