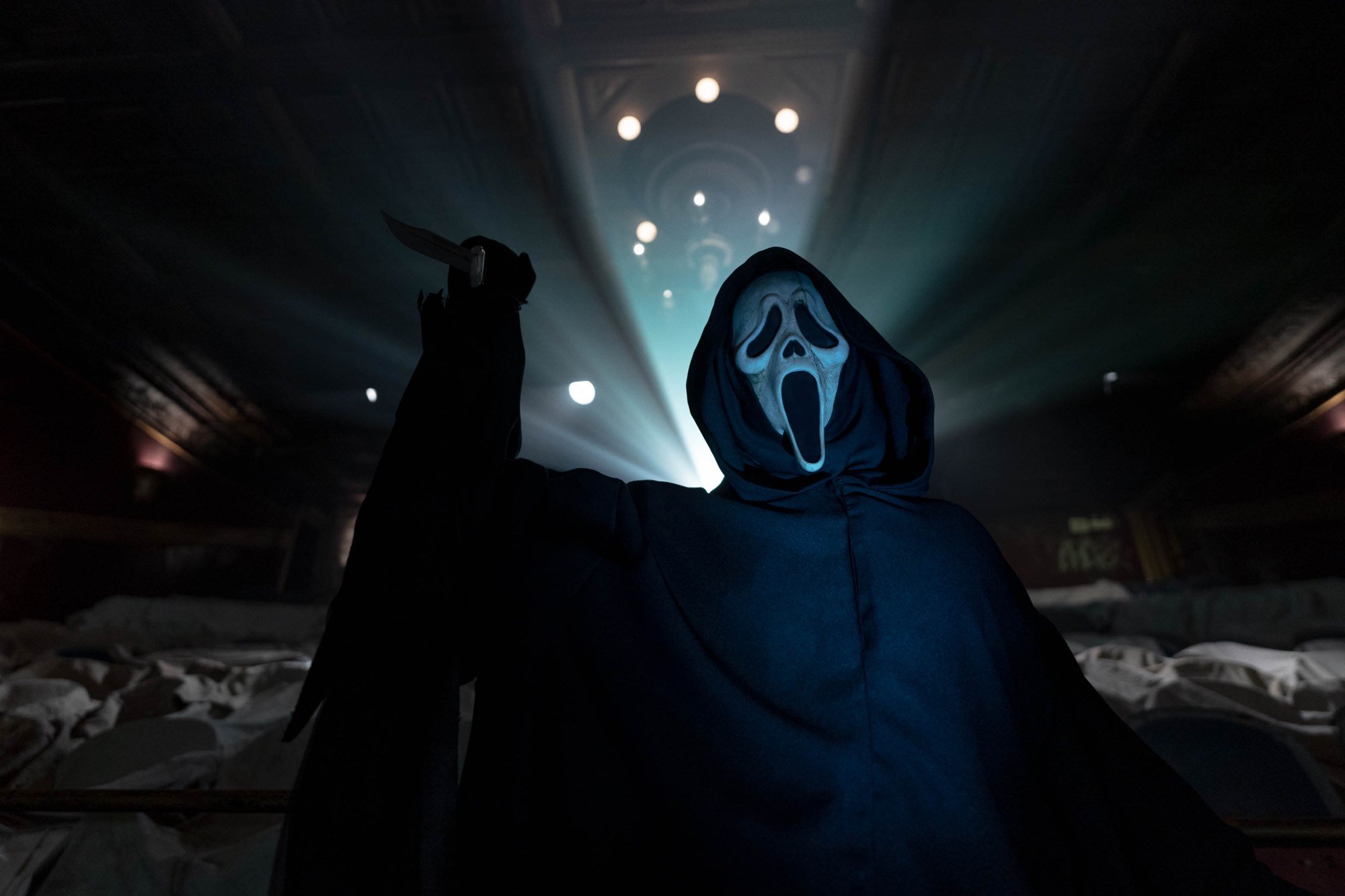 The Scream franchise was given a new life by Matt Bettinelli-Olpin, Tyler Gillett, and Chad Villella for the first time since Wes Craven's Scream 4 in 2010. The year 2022 mixed legacy characters with new ones for future Ghostfaces to hunt. There's a variety of places that the Scream horror franchise would go from here, so why not space?
'Scream' brought the self-aware franchise to New York City
Ghostface | Paramount Pictures
The grand return to Woodsboro in 2022's Scream introduced Melissa Barrera's Sam Carpenter, Jenna Ortega's Tara Carpenter, and their friend group. Legacy characters Sidney Prescott (Neve Campbell), Gale Weathers (Courteney Cox), and Dewey Riley (David Arquette).
After narrowly surviving, the Carpenter sisters packed up along with friends Chad (Mason Gooding) and Mindy Meeks-Martin (Jasmin Savoy Brown) to head to New York City in Scream VI. However, they aren't able to escape the terror of Ghostface for long.
Much of the sixth installment's marketing focused on the change in setting. However, it wasn't the first time that the franchise left Woodsboro, as Scream 2 took place at the fictional Windsor College in Ohio, and Scream 3 was set in Hollywood.
Each time Scream moves from one space to another, it redefines the playground in which Ghostface operates. It would be surprising if the new team didn't want to keep playing with the environments, as the franchise has in the past.
The 'Scream' franchise should make its way to space
The Scream franchise prides itself on its self-aware nature that lovingly pokes fun at the horror genre, at large. The rules of franchises, sequels, and "requels" are frequently discussed, as the characters try to figure out how to survive the latest killer to wear the Ghostface robes and mask. When franchises have nowhere else to go, where do they turn to?
The joke is that storytelling goes to space, time travel, Hell, or some other outlandish location, so why can't Scream do the same? Bettinelli-Olpin, Gillett, and Villella would be able to pull this off with the same self-aware approach that they've brought to the franchise revival thus far.
"In space, no one can hear you scream" is the famous tagline from Ridley Scott's Alien, which is almost too perfect not to play off of. Scream would find a fresh new batch of horror movies to poke fun at in space, bringing to mind more than just the Alien franchise. Event Horizon, Jason X, Dracula 3000, Leprechaun 4: In Space, among others.
Unless the story of the Carpenters somehow went to space, it would have to introduce new characters. Nevertheless, it would be a fun direction for the franchise that constantly looks for new attributes of the horror genre to make fun of.
'Scream' could go anywhere
how cool would it be if they actually started making the STAB movies to go along with the @ScreamMovies…
I always loved the concept of a movie within a movie!! #SCREAM #Scream6 pic.twitter.com/TUuXUulk0M
— Brandon Hilton (@BRANDONHILTON) December 8, 2022
Related
'Scream …read more
Source:: Showbiz Cheat Sheet
(Visited 2 times, 1 visits today)