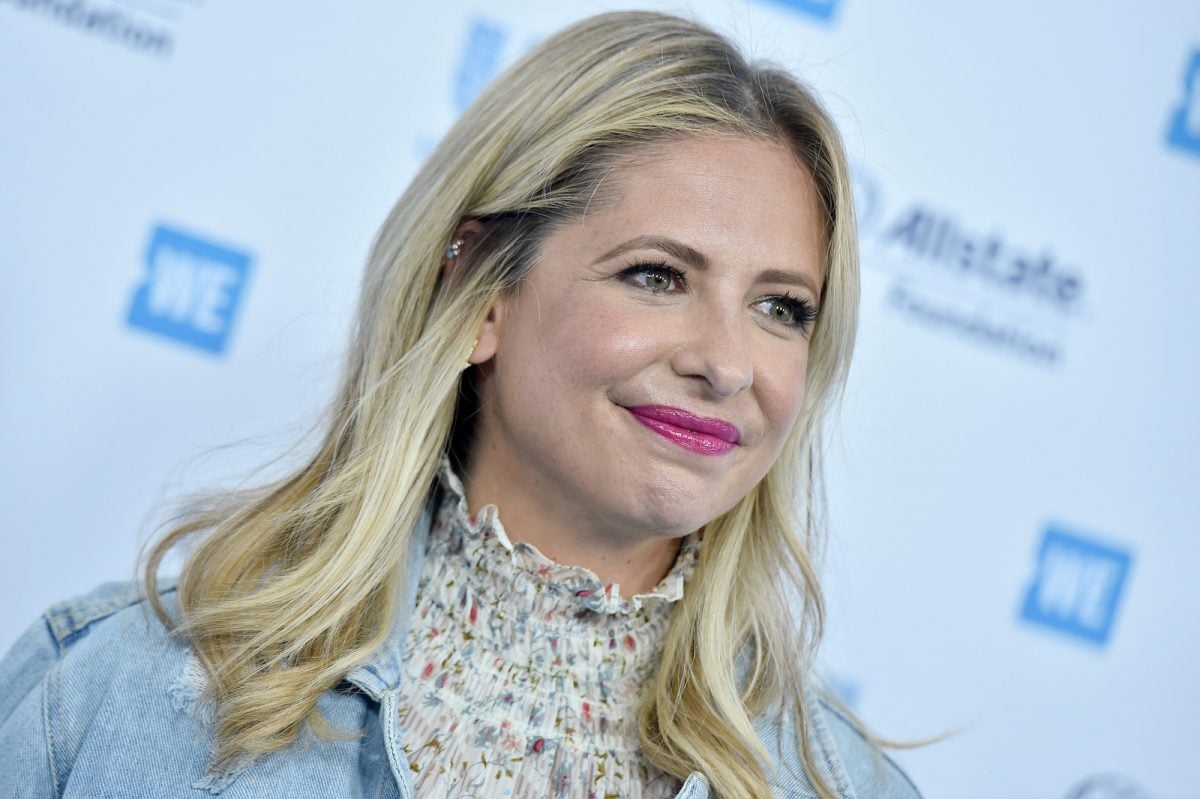 Sarah Michelle Gellar | Axelle/Bauer-Griffin/FilmMagic
"It's been tough physically, obviously, but it's also tough emotionally," she explained. "And I have a new understanding. I was lucky enough in 2020 to isolate with my family and not really be alone. And now I sort of understand that emotional side of what you go through when you really are isolating by yourself and what that does."
She shared how she is spending her time in isolation
Gellar added, "It brings up a lot of emotion. And, you know, when you take it really seriously and then all of a sudden, it happens … It's life. This is going to happen to people. But also to understand, to those people that say, oh, it's just a cold. Like, I'm here to tell you that maybe if you're lucky, it is. But for a lot of us, it's not that experience."
Before being hit with Covid, Gellar partnered with Wells Fargo Active Cash Visa® Card to encourage people to activate their passions and get credit for trying new things. So she laughed about being isolated at home with her laptop and the credit card. "It was really interesting today to be talking about Active Cash and joy," she said. "Because it has a whole new meaning to me and the things that I want to do when I'm out of my bedroom. Eventually at some point in time."
She felt pretty lousy for a long time, but once Gellar started to feel better she decided to make the most of her isolation and did some online shopping. "Like this morning, I was like, you know what? I'm going to online shop today because when I'm out of here, I'm going to look fabulous. I'm going to get myself some new clothing because that's what brings me joy while I'm here right now. And it's going to keep me occupied when they deliver a box of clothing that I can try on in my isolation."
Why does Sarah Michelle Gellar love Wells Fargo Active Cash Card?
Gellar said Active Cash is her go-to card for many other purchases. "I joke that I won the sweepstakes because I got to sort of have that money management conversation," she said about her partnership with Active Cash.
"We all have to reevaluate. There's things we need, but there's also things that we want," she remarked. "And it's OK because the things that we want that bring us joy, that make us happy, well, guess what? That makes us more productive. It's all a big cycle and it goes together. And what we have to do now as we're sort of reentering life is ask what are those things that bring us joy and how do we encourage us to not just do them once, but to do them again?"
"And so I liked what Wells Fargo and Active Cash was trying to do in that sense of let's bring ourselves some joy, whether it's a hobby or something you haven't done," Gellar added. "For me, it was go to the hair salon the first time after we were allowed to go out again and getting my hair done. It just felt so good."
"So how do we encourage ourselves to do those things that bring us joy?" Gellar asked. "Because then that radiates off us and it has that effect on the people around us. My husband always says we can't always affect the situations around us, but we can affect how we react to them."
Enter a sweepstakes at Sarah Michelle Gellar's Instagram to win big
Wells Fargo and Gellar are sweetening the offer to anyone who wants to pursue their passions with an Instagram sweepstakes launching on June 24th and on the @sarahmgellar Instagram channel. The sweepstakes, which ends July 1st will give 10 people a chance to win funds ($400 each) for their hobbies, and two of them will get a 30-minute financial consultation with Marsha Barnes, a certified financial, social worker, and founder of The Finance Bar, to help kick off their passion projects.
No purchase necessary. Must be a legal U.S. resident 21 or older to enter. Sweepstakes ends at 11:59:59 PM Pacific Time on 7/1/22. Limit: one entry per person. Restrictions & conditions apply. Refer to the link in @sarahmgellar bio for full rules & details. Void where prohibited.
Buffy the Vampire Slayer star Sarah Michelle Gellar didn't plan to post about having coronavirus (Covid-19) but after having a rough time with the virus she felt compelled to share her experience.
"It's funny, I debated about posting, because first of all, I disappeared," she told Showbiz Cheat Sheet about the post she shared on Instagram. "So people are going to think something's up with me."
Gellar wrote on Instagram about getting Covid: "Thankfully I'm vaccinated and boosted. But to people out there that say, 'it's just a cold' … maybe for some it is. But for this (relatively) young fit person, who has struggled with asthma and lung issues her entire life, that is not my experience."
She added, "Even with therapeutics and all my protocols, it's been very tough. I know I'm on the road to recovery but it's certainly not been an easy road."
Sarah Michelle Gellar said Covid was tough physically but also emotionally
Gellar said there's also an emotional side to having Covid. "But I think more than that, it's for people to understand," she said. "I mean, I have been so careful for two and a half years as someone who is in good shape and is relatively young but has underlying conditions. And it's been really tough."
Sarah Michelle Gellar | Axelle/Bauer-Griffin/FilmMagic
"It's been tough physically, obviously, but it's also tough emotionally," she explained. "And I have a new understanding. I was lucky enough in 2020 to isolate with my family and not really be alone. And now I sort of understand that emotional side of what you go through when you really are isolating by yourself and what that does."
She shared how she is spending her time in isolation
Gellar added, "It brings up a lot of emotion. And, you know, when you take it really seriously and then all of a sudden, it happens … It's life. This is going to happen to people. But also to understand, to those people that say, oh, it's just a cold. Like, I'm here to tell you that maybe if you're lucky, it is. But for a lot of us, it's not that experience."
Before being hit with Covid, Gellar partnered with Wells Fargo Active Cash Visa® Card to encourage people to activate their passions and get credit for trying new things. So she laughed about being isolated at home with her laptop and the credit card. "It was really interesting today to be talking about Active Cash and joy," she said. "Because it has a whole new meaning to me and the things that I want to do when I'm out of my bedroom. Eventually at some point in time."
She felt pretty lousy for a long time, but once Gellar started to feel better she decided to make the most of her isolation and did some online shopping. "Like this morning, I was like, you know what? I'm going to online shop today because when I'm out of here, I'm …read more
Source:: Showbiz Cheat Sheet
(Visited 5 times, 1 visits today)