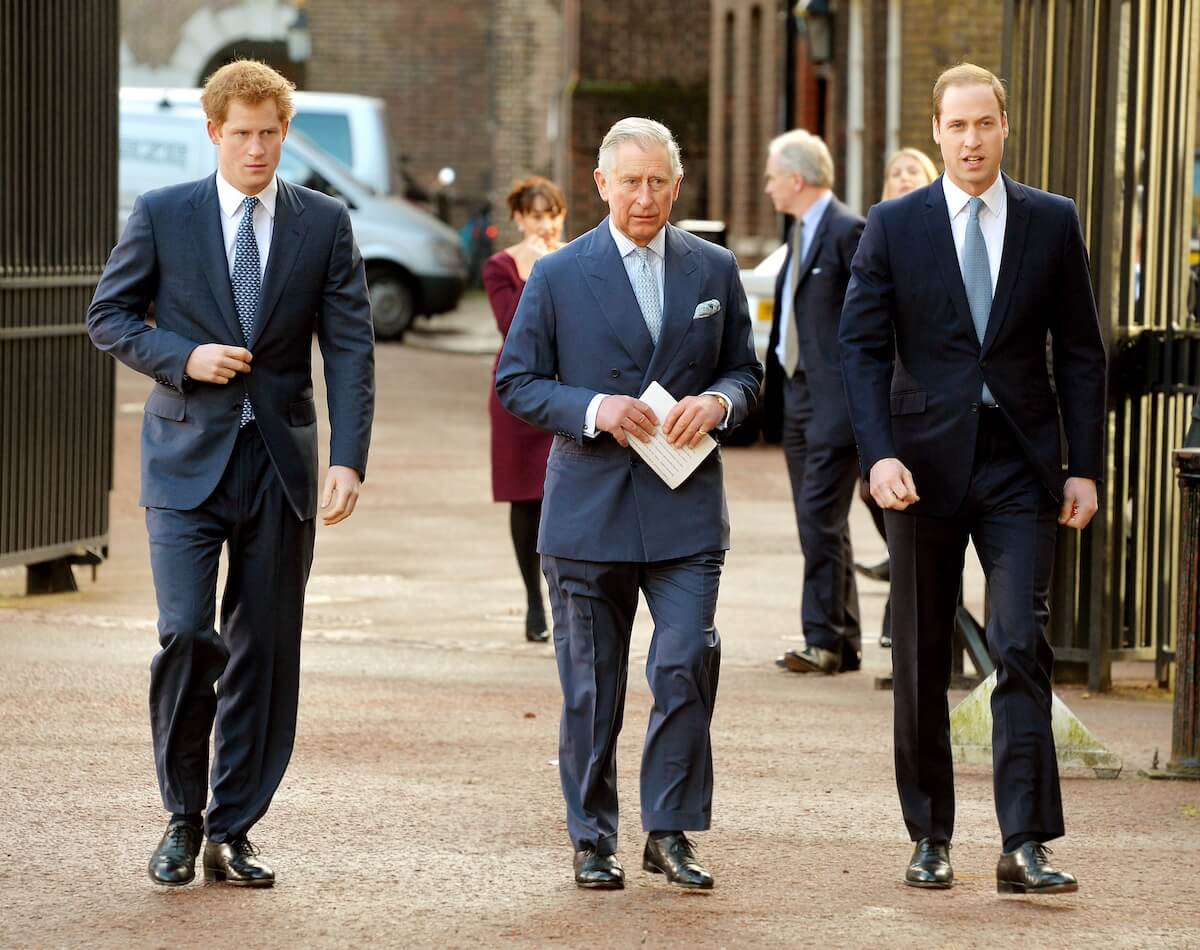 Prince Harry, King Charles, and Prince William | John Stillwell/WPA Pool/Getty images
Royal expert says it's unlikely that Prince Harry called King Charles on his birthday
Prince Harry and King Charles have not always had the closest relationship, and it's been far more strained through the years. Controversy struck once more when rumors swirled that Prince Harry had declined an invitation to his father's 75th birthday party. However, a spokesperson for Harry clapped back, saying that Harry and his wife, Meghan Markle, never received such an invite. The spokesperson also indicated that Harry would give his father a call on his birthday; however, one royal expert doesn't think it happened.
Prince Harry, King Charles, and Prince William | John Stillwell/WPA Pool/Getty images
Royal expert says it's unlikely that Prince Harry called King Charles on his birthday
Charles celebrated a milestone birthday on November 14, and as he did when turning 70, he hosted a birthday party with his family and closest friends. Harry and Meghan, however, alleged that they were never invited to the party, though we don't know the details; it's possible that it was just a brief dinner and didn't warrant flying halfway across the world. Either way, a spokesperson for Harry and Meghan said the Duke of Sussex was planning to call his father and wish him a happy birthday. However, one royal expert isn't having it.
Speaking about Harry's alleged phone call, royal expert and author Angela Levin told GB News (via Express) that she doesn't "think" a phone call took place. "I don't actually believe that he rang," she said, adding that she "can't say for sure" whether he did or didn't. However, she then went on to explain her thought process.
"King Charles has his day very carefully worked out and he doesn't just take phone calls that happen by chance; you can't ring him directly because he doesn't have a mobile," she said. Levin also added Charles "would have protected himself" from a phone call like that because he wanted to have a "lovely" time on his birthday. A phone call from Harry might have created tension.
King Charles and Prince Harry | Matt Dunham/WPA Pool/Getty Images
Related
Royal Expert Slams Meghan Markle As 'To Blame' For Prince Harry Hating His 'Family' and 'Country'
Prince Archie and Princess Lilibet reportedly sent a birthday video to King Charles
Rumor has it that Harry and Meghan did celebrate Charles' birthday in some capacity. The couple reportedly had their two children, Prince Archie and Princess Lilibet, send a video to Charles wishing him a happy birthday. Charles has not yet met the couple's younger child, daughter Lili, but it does appear that they at least let him have a relationship with his grandkids.
Nobody has actually seen the video, but Express reported that a source close to the family said it does exist. It suggests that Archie and Lili could help bridge the gap between the Sussexes and the rest of the family. If Charles can keep a relationship with his grandchildren, it could help mend things between him and his son.
Prince William and Kate Middleton also have young …read more
Source:: Showbiz Cheat Sheet
(Visited 1 times, 1 visits today)