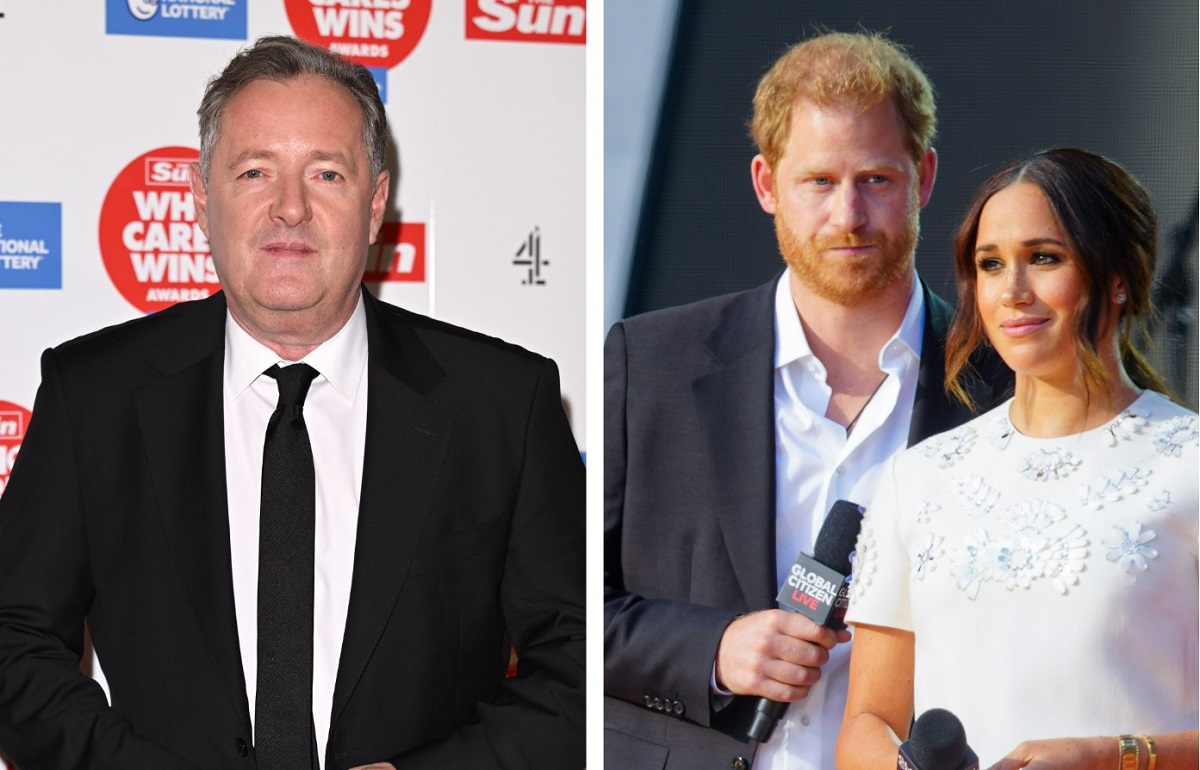 (L) Piers Morgan at the Sun Awards | Karwai Tang/WireImage, (R) Prince Harry and Meghan Markle at Global Citizen's Live event | Gotham/WireImage
Morgan's guest wrote 'Courtiers: The Hidden Power Behind the Crown' 
King Charles III's coronation is set to take place in May and as some details of the event are being released one question that keeps popping up is: Should Prince Harry and Meghan Markle be invited?
After Queen Elizabeth II's death, even though the Duke and Duchess of Sussex moved across the pond and spoke about the family in multiple interviews most people did not question if they would be invited to the king's coronation. However, feelings on whether they should be asked to attend changed following the release of the couple's Netflix docuseries as well as the prince's memoir Spare. Piers Morgan recently discussed this topic with one of his guests who told him: "That's why you're not king."
(L) Piers Morgan at the Sun Awards | Karwai Tang/WireImage, (R) Prince Harry and Meghan Markle at Global Citizen's Live event | Gotham/WireImage
Morgan's guest wrote 'Courtiers: The Hidden Power Behind the Crown' 
On an episode of Talk TV's Piers Morgan Uncensored, the host spoke to royal correspondent for The Times Valentine Low who is also the author of the book Courtiers: The Hidden Power Behind the Crown.
Low is the journalist who reported the allegations of bullying made by former palace staff against the Duchess of Sussex.
In his book, Low claimed that staffers who had worked for Meghan at one point referred to themselves as the "Sussex Survivors' Club" and felt they were "played." He wrote: "Those who once worked with [Meghan] … came to be so disillusioned that they began to suspect that even her most heartfelt pleas for help were part of a deliberate strategy that had one end in sight: her departure from the royal family."
Prince Harry and Meghan Markle leave Westminster Abbey after the state funeral of Queen Elizabeth II | Phil Noble – WPA Pool/Getty Images
Author tells Morgan 'you're not king' during their on-air chat
On his show, Morgan asked Low for his thoughts on whether the prince and former Suits star will be invited to King Charles's coronation.
Low believes that they absolutely will be and said the royals would look "petty" and "vindictive" if they didn't extend the invite.
"I think Harry and Meghan will certainly be invited because for King Charles not to invite his son would really be seen as petty and vindictive," Low opined. Before he could finish, Morgan interjected: "I wouldn't invite one of my sons if he'd done that to the family."
Low then replied: "That's why you're not king, Piers."
Valentine Low thinks Charles will invite Prince Andrew and Harry and Meghan to his coronation.
Piers: "I wouldn't invite one of my sons if he'd done that to the family."
Valentine: "That's why you're not King, Piers."@valentinelow | @piersmorgan | @TalkTV | #PMU pic.twitter.com/aD7VxWF0eK
— Piers Morgan Uncensored (@PiersUncensored) January 24, 2023
Related
Prince Harry and Meghan Will Be Banned From Balcony at Coronation so Private Conversations Don't End up in Next Book, Commentator Argues
Royal fans share if they think Charles will invite …read more
Source:: Showbiz Cheat Sheet
(Visited 1 times, 1 visits today)