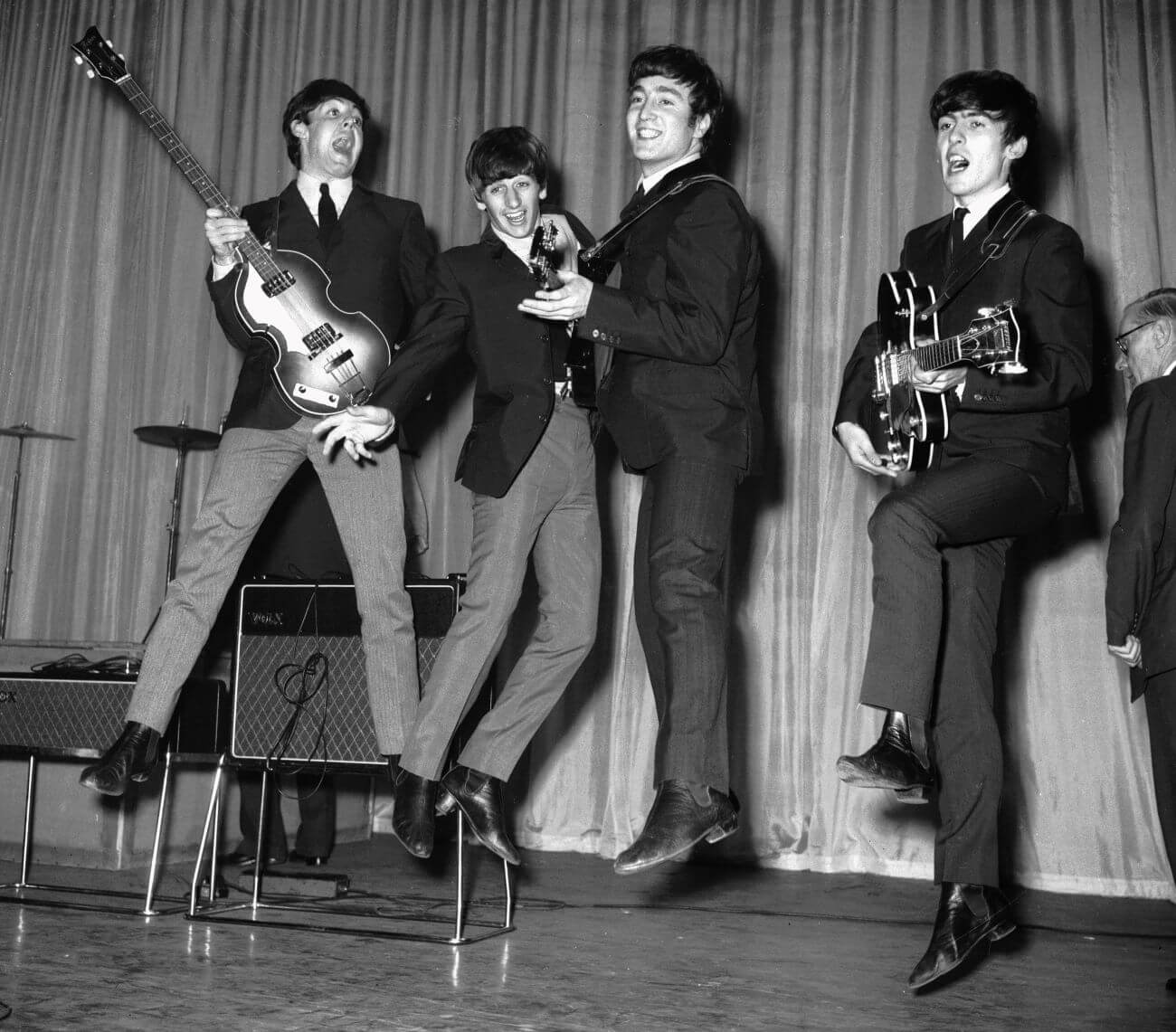 By 1966, John Lennon, Paul McCartney, George Harrison, and Ringo Starr had grown tired of touring. The Beatles had dealt with several brushes with disaster, and noise from the crowd made it practically impossible to hear the music they were playing. Starr said that going on tour was wrecking the band's ability to play music. Considering the music they put out after they stopped touring, he was right.
The Beatles | Central Press/Hulton Archive/Getty Images
The Beatles decided to stop touring in 1966
After several years of touring, it became too much for The Beatles. They had faced natural disasters, political unrest, and unruly fans. It was a relief for them when they decided to stop touring in 1966.
You're watching the band on 20 June, 1965, playing the Palais des Sports at the Place de la Porte de Versailles in Paris – they're on a 14-day European tour. ⁠ https://t.co/qX2bA7pe1U pic.twitter.com/LSw25gb2pd
— The Beatles (@thebeatles) March 6, 2023
"There was a certain amount of relief after that Candlestick Park concert," Harrison told Rolling Stone in 1987. "Before one of the last numbers, we actually set up this camera — I think it had a fisheye, a very wide-angle lens. We set it up on the amplifier, and Ringo came off the drums, and we stood with our backs to the audience and posed for a photograph, because we knew that was the last show."
Ringo Starr said touring had a negative impact on The Beatles' music
Part of the reason touring lost its allure to the band was that they couldn't even hear each other on stage. At first, it was fun to switch up the lyrics, knowing no one would notice, but even that got old.
"It was wrecking our playing," Starr said, per The Beatles: The Authorized Biography by Hunter Davies. "The noise of the people just drowned anything. Eventually I just used to play the off beat, instead of a constant beat. I couldn't hear myself half the time, even on the amps, with all the noise."
Starr said it was so loud that they could pretend to sing.
"We'd get put in silly positions in the halls so we'd be too far away from each other," he explained. "Onstage we used to play things faster than on the records, mainly because we couldn't hear what we were doing. I used to come in at the wrong time sometimes because I'd no idea where we were at. We just used to mime half the time to the songs, especially if your throat was feeling rough."
He said that they all grew to resent touring, which eventually caused them to stop doing it altogether.
"No one eventually enjoyed touring," Starr said. "You can't really. Once you've got to manufacture it, it doesn't work. You've got to give to receive. Some nights we'd feel it had been terrible. We didn't give anything. That was when we decided we should give it up, before others started disliking it as well."
Ringo Starr was right about the …read more
Source:: Showbiz Cheat Sheet
(Visited 1 times, 1 visits today)