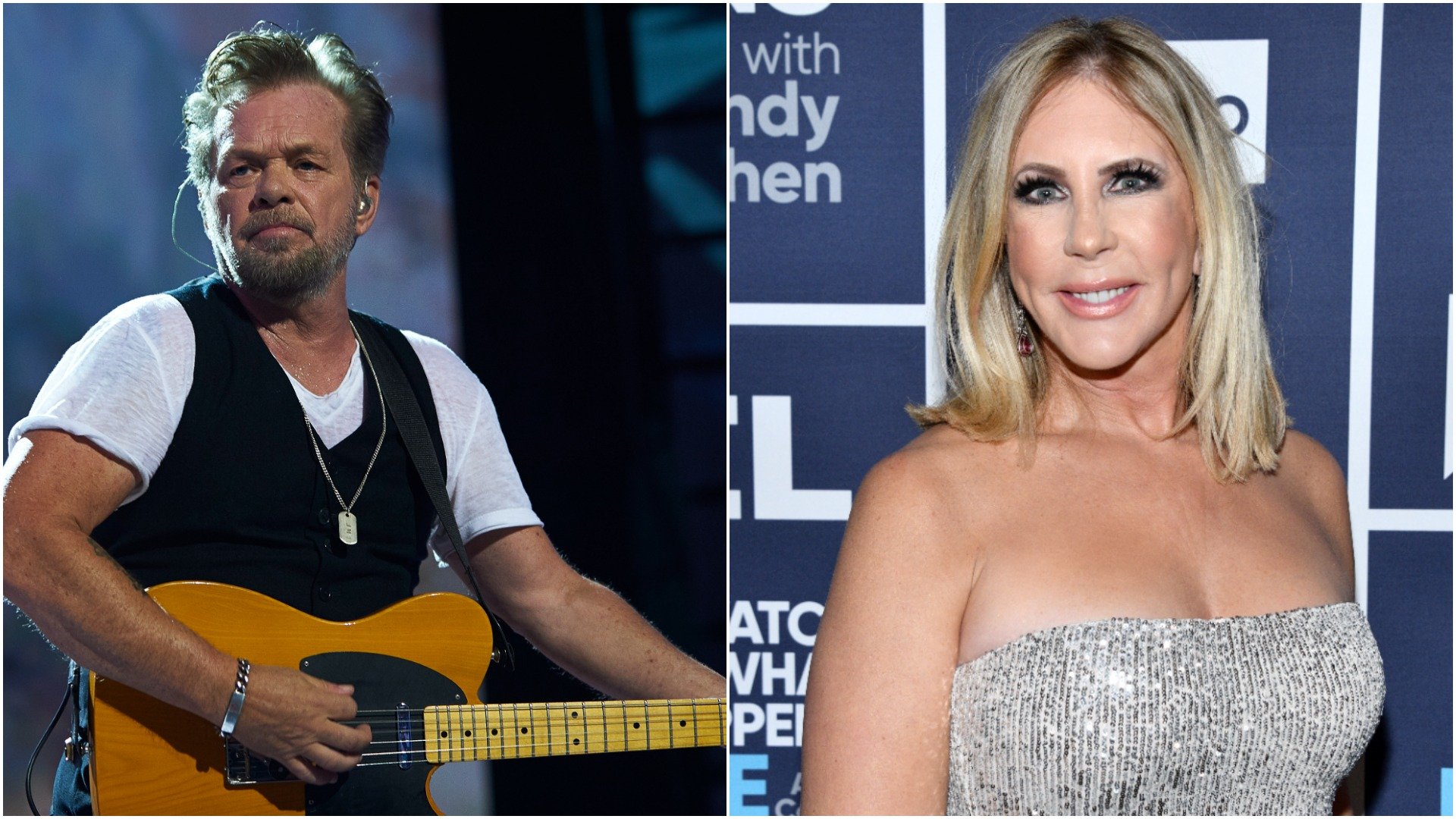 Vicki Gunvalson from The Real Housewives of Orange County is not having a good time on the dating scene and wondered if John Cougar Mellencamp was on the market.
She recently shared that she was not into dating apps but the guys she's been dating aren't really doing it for her. SUR manager Peter Madrigal from Vanderpump Rules recently offered to host Gunvalson at the restaurant to show her that good guys really do exist. But during a discussion with pal Tamra Judge and Teddi Mellencamp on their podcast, she wondered if maybe Melllencamp's dad might be a possibility.
Teddi Mellencamp doesn't think Vicki Gunvalson should date her dad
Gunvalson admitted the last date fell short, so she asked Mellencamp on her Two T's in a Pod podcast, "By the way is your dad single?"
John Cougar Mellencamp performed at Farm Aid 2017 and Vicki Gunvalson from RHOC appeared on WWHL | Shelley Lipton/Icon Sportswire via Getty Images/Charles Sykes/Bravo/NBCU Photo Bank via Getty Images
Mellencamp insisted, "You do not want to date my dad." Judge asked how old Mellencamp's rocker father is. "I don't know, 65?" she replied.
But Gunvalson said she has an age limit. "The maximum I'll go is 63. But I'll do 65 if he's really good."
Mellencamp then cited another problem with Gunvalson dating her dad. "He's not tall enough for you. I heard you need a six foot requirement." Gunvalson then agreed. "He's maybe 5 [foot] 9 [inches]," Mellencamp shared.
Then Judge joked, "I kinda feel like you're not young enough for him," she said to Gunvalson.
Vicki Gunvalson shares her list of what she wants in a man
With Mellencamp basically out of the running, Gunvalson then shared her date wish list, which was pretty lengthy. "Number one, they must love Jesus," Gunvalson said. "Age 55 to 63. I want to be treated like a lady. I want a family man. I want them be self-sufficient. Someone I could laugh with. Someone who will adore me. Likes to travel, new experiences. Someone to cook with me and drink wine and laugh with me. But not be an alcoholic. I can't do the drugs and alcohol thing. Attracted to me."
You'll NEVER BELIEVE who I'm reuniting with https://t.co/tRtCKxgIWu pic.twitter.com/qeQUteN5Od
— Vicki Gunvalson (@vgunvalson) July 2, 2021
RELATED: 'RHOC': Vicki Gunvalson Compares Her Relationship With Steve Lodge to Lala Kent's Randall Emmett Heartbreak
"He has to be confident, but not egotistical. Must be loyal and committed. No lies," she added. "Someone to love my friends and my family. Nonsmoker. No drugs. Not focused on social media."
Mellencamp piped in: "Nonsmoker? You thought the Cougs was gonna be appropriate? He smokes 24/7." Gunvalson does like a man in cowboy boots. "A Midwestern guy, someone who respects me and my crew, someone who likes boating, the rivers, someone who's not intimidated by my success."
The wounds are still fresh from her breakup with Steve Lodge
Gunvalson's list …read more
Source:: Showbiz Cheat Sheet
(Visited 5 times, 1 visits today)