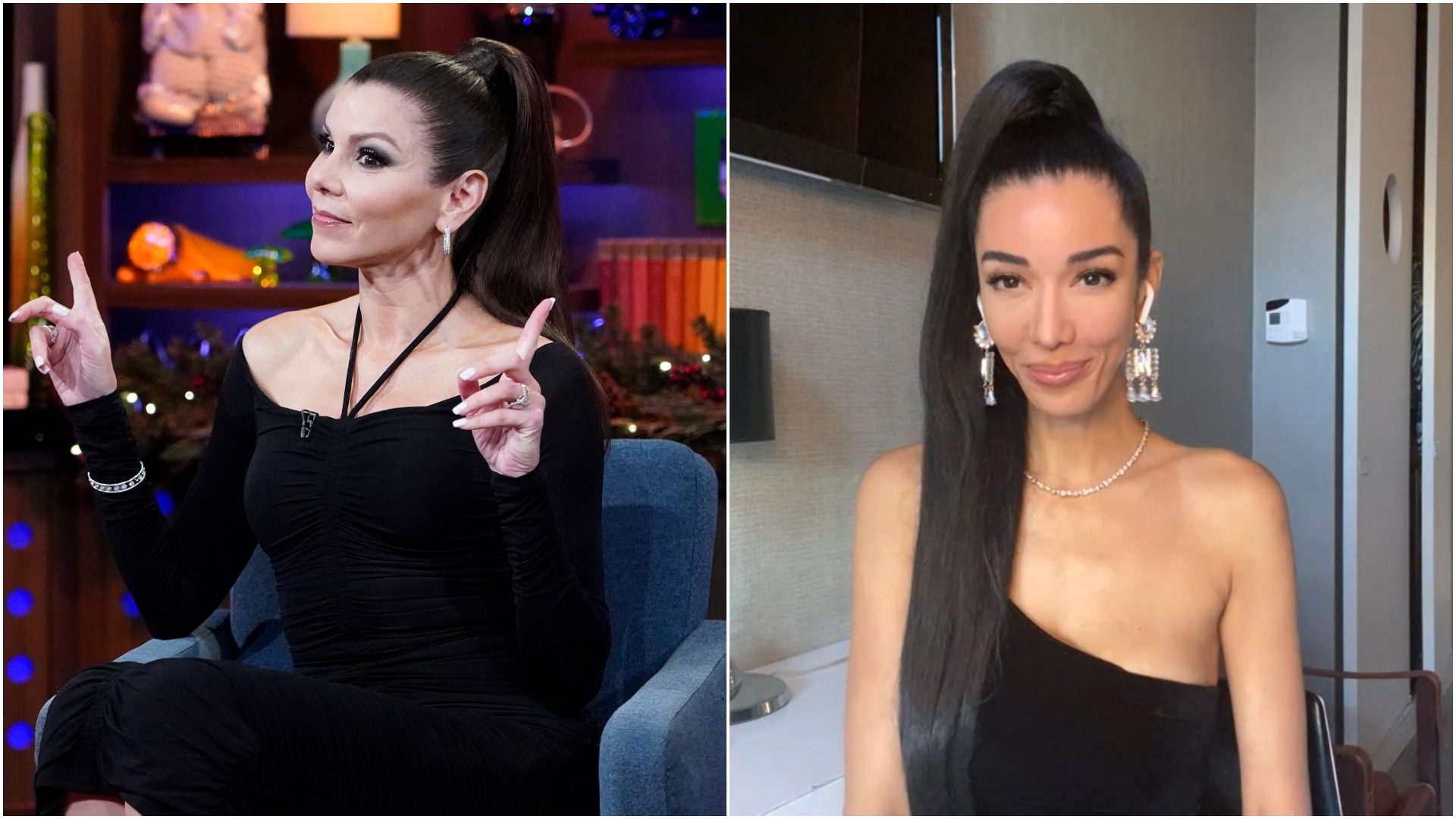 Heather Dubrow isn't taking Noella Bergener's shade lightly. After Bergener dragged Dubrow on The Real Housewives of Orange County, calling her a narcissist, Dubrow is sharing receipts and has Tamra Judge in her corner.
Bergener went to Dubrow's house to clear the air but ended up muddying the waters with her remarks about how Dubrow accessorized her podcast studio. "I had my suspicions before but this is pretty concrete evidence. This is a shrine to a complete and really, really good narcissist," she shared in a confessional during the latest RHOC episode. "This is thorough. If I wasn't so creeped out, I'd be impressed."
Heather Dubrow shared text exchange with Noella Bergener after the visit on 'RHOC'
Dubrow shared her text exchange with Bergener on Instagram. Dubrow told Bergener she was thinking of her that she was sorry for what she was going through. Bergener replied, "Thank you so much. That is very kind of you. [heart emojis]." Then Dubrow wrote that she was happy Bergener was free the next day (for her daughter Max's book signing party) and she hoped life would get better for Bergener.
Heather Dubrow and Noella Bergener from RHOC appeared on WWHL separately |Charles Sykes/Bravo/NBCU Photo Bank via Getty Images
She captioned the text exchange. "When you thank her for coming to your house to clear the air and move forward because you're working all weekend, and she comes over and pretends not to know and trashes your business and your character. Well, all of this and more at the reunion!"
Tamra Judge replied that Noella Bergener won't last long on the show
Dubrow added that she planned to discuss the exchange on her podcast too. Judge piped in on the Instagram thread and said she didn't see a future for Bergener on the show. "NOT COOL AT ALL! I've worked with housewives like that before & it sucks! But don't worry they don't last long," she wrote along with a laughing/crying emoji. "Loved to know who you 'slammed'. Cuz that's so your style." She added on the TV Deet's Instagram share, "Good for Heather!"
View this post on Instagram
A post shared by Heather Dubrow (@heatherdubrow)
Meanwhile, Emily Simpson has grabbed the popcorn and is here for it. She wrote, "Can't. Wait. For. The. Reunion." Gina Kirschenheiter added a few red hearts to the post.
On her podcast, Dubrow discussed her interaction with Bergener, which she said was the most frustrating for her. "I invited her over, she rags on Terry and I doing a [quote] infomercial," she shared on her podcast, Heather Dubrow's World. "And says I did it on purpose. And then comes to my studio and calls me a narcissist."
Heather Dubrow said Noella Bergener is telling lies about her
"Whatever Noella's talking about didn't happen," Dubrow said …read more
Source:: Showbiz Cheat Sheet
(Visited 6 times, 1 visits today)